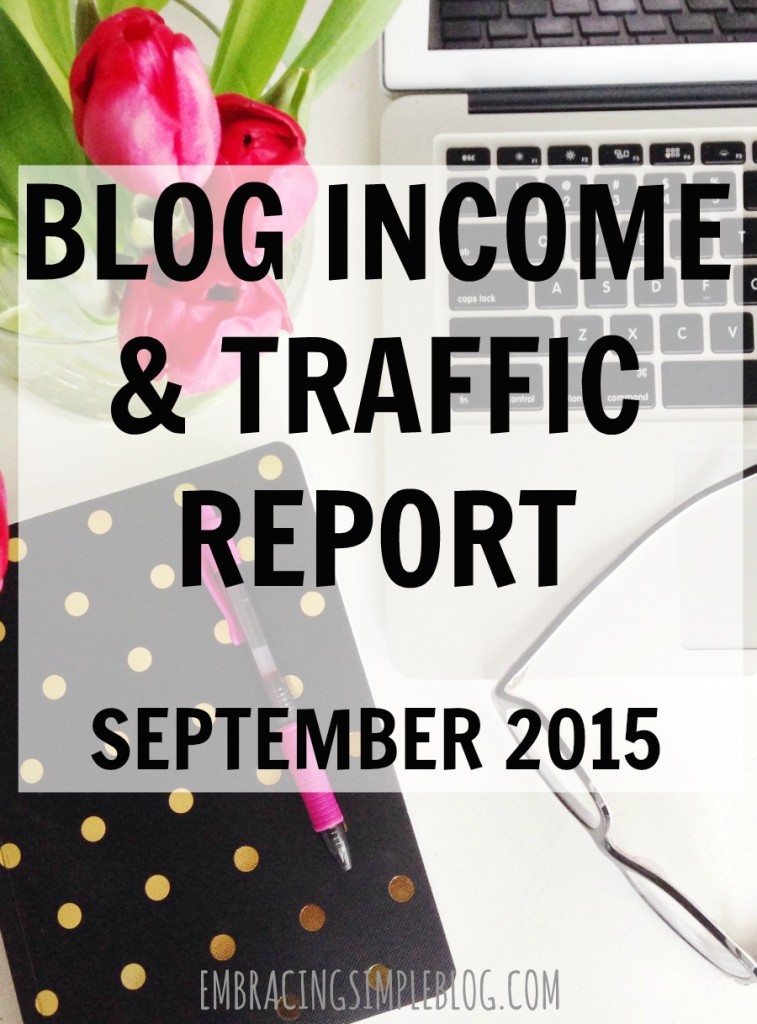 Hi Friends!
I hope October is treating you well so far. September was a crazy busy month for me with recovering from our road trip we went on earlier in the month, and October is proving to be even busier. I think I've come to terms with the fact that when I'm busy doing things I love and truly enjoy though, it's the best kind of busy there is! 🙂
I'm back with another income report, so let's jump in!
If you're new here – The reason that I share my blog income reports is because I think it's a great way to show that it is possible to earn an income online doing something you enjoy and are passionate about. I want to provide inspiration and encouragement to those of you reading who have doubts about your abilities to be able to make an income through blogging. This is also a great forum for me to share my experience in trying to earn an honest income from my blog, and all of the tips and tricks that I learn along the way.
If you are interested in starting a blog, I created a tutorial to help you start a blog of your own in only 4 easy steps.
September 2015 Blog Income and Traffic Report:
-This post contains affiliate and referral links-
Income
The income below is for money earned during the month of September but not necessarily paid out during the month of September. It's also important to keep in mind that these numbers do not reflect the taxes I will need to pay on this income.
Total Income: $493.60 (-$137.59 compared to last month)

Expenses
The P.O. Box & Tailwind expenses are actually a yearly expense that I paid in entirety for a year, but I feel like breaking it out into monthly increments helps to see a more accurate picture of my total expenses compared to income.
Total Expenses: $14.67
September 2015 Net Profit: $478.93
 Traffic Report
Income Analysis
September was a month of a lot of inspiration for me! Although my income was less than what I saw in August, I was encouraged by the small increase in traffic I saw. I also came up with a lot of ideas for where I want to take Embracing Simple and have some fun things in store for the next few months that I'm really excited about! Although blogging is definitely a lot of work, I find the time I spend on it to be so enjoyable and rewarding. I'm looking forward to the future and seeing some of my ideas come to fruition!
Because I know that it can be discouraging to see a decrease in income from one month to the next like I personally saw last month, I want to give you a huge spoiler alert and let you know that so far, October is already blowing September out of the water and will be my best month by far. Don't get discouraged if you experience what you consider to be setbacks with your own blog, just keep on working hard and I promise that things will start to improve!
September's blog happenings:
1. I switched from Board Booster to Tailwind for my Pinterest scheduling
In July's income report, I was singing my praises to Board Booster and how much it had helped me streamline my time spent on Pinterest. While that was definitely true and I noticed an immediate surge in the amount of traffic I was getting from Pinterest, that slowly turned into a decline in traffic over the past few months.
Why the decline?
I think it's mostly to do with the fact that Board Booster isn't an API partner, so Pinterest doesn't favor the use of their scheduling tool when considering placement within the smart feed. I was losing eyes on my pins and was not happy about it!
I was pretty bummed when I started to see the significant decline in my traffic from Pinterest, and knew that I had to do something about it if I wanted to see my traffic pick back up and continue to grow. I decided to invest in an annual subscription to Tailwind that ends up working out to $10/month because I purchased an entire year in full. I went with the annual plan instead of the monthly plan because the monthly plan would have worked out to $15/month with a limit of 400 pins/month, and the annual plan not only gives you unlimited pins, but ends up being $60 cheaper over the course of the year. It was a no-brainer to me to go with the annual plan!
I only switched over to Tailwind the very last weekend of September, but have already seen a significant increase in not only repins and followers, but traffic to my site has absolutely skyrocketed compared to what I usually receive from Pinterest. I've had several days already where I've received around 2,000 page views in one day from Pinterest alone!
If you are using Board Booster or pinning manually right now, I really encourage you to check out Tailwind. Within just a few days of switching over, I had already made up for the cost of my investment with just the income I earned from Adsense, not to mention other streams of income. You can try out a free trial to make sure it's a good fit for you before you actually commit; I really recommend at least giving it a try if you are serious about bringing more traffic to your blog.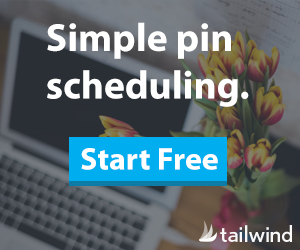 2. I created a group board on Pinterest
Creating a group board on Pinterest has been something I've been wanting to do for quite some time, and I finally made it happen at the end of September! My group board is called "A Life Well Lived" and is full of awesome tips for all things related to living well.
Simplifying, self-development, productivity, health, money-saving tips, and more ideas to make life easier and more enjoyable can be found there. You can follow the board here if it sounds like the topics are right up your alley, and feel free to follow the instructions at the top of the board if you are a blogger and would like to contribute.
3. I started creating my Savor the Holidays mini course
This is something I am so so excited about!!!
I've never created a course of my own before and I am just having so much fun pouring my heart and soul into this endeavor. I won't bore you with all the details in this post, but feel free to check it out here if you want to read more about it. If you are interested in becoming an affiliate, check out my announcement below.
I'm sure I will be sharing more about the process of creating an eCourse in future income reports!
 Top posts of September 2015:
Announcements:
1. I'm looking for bloggers who are interested in joining my affiliate program for my new course
I am looking to partner with any bloggers who are interested in becoming affiliates for my Savor the Holidays mini course I mentioned above. Please contact me if you are potentially interested and I'll send you more details.
2. I'm sending out my first blogging tips newsletter for my blogger friends this Thursday
Back in the Summer I decided that I would like to start a newsletter jam-packed full of blogging tips just for my fantastic blogger friends…..and I keep promising I am going to send out my first newsletter and then I completely fall through on that promise!
Well friends, no more crying wolf! 😉 I am officially sending out my first newsletter on Thursday this week, and it's going to be epic <– this is me pretending I'm one of those cool people who can effortlessly say things like "epic".
I'll be sharing my top tips for how to get more out of Pinterest and you are not going to want to miss it! So be sure to sign up below to receive my blogging tip newsletters if you haven't already.
3. Still accepting guest posts
I've had a few wonderful bloggers submit guest posts the past few months and it's been really fun to see some fresh perspectives and writing styles in this space. I've decided to continue accepting guest posts for those of you that are still interested in being featured on Embracing Simple. You can find my guest post guidelines here.
If you're interested in starting a blog, don't forget to check out my tutorial to learn how to start a blog of your own in only 4 easy steps

Thank you from the bottom of my heart for all of the encouragement and support! I hope you're having a wonderful start to your week 🙂
[Photo source: Ashley Ella Design]