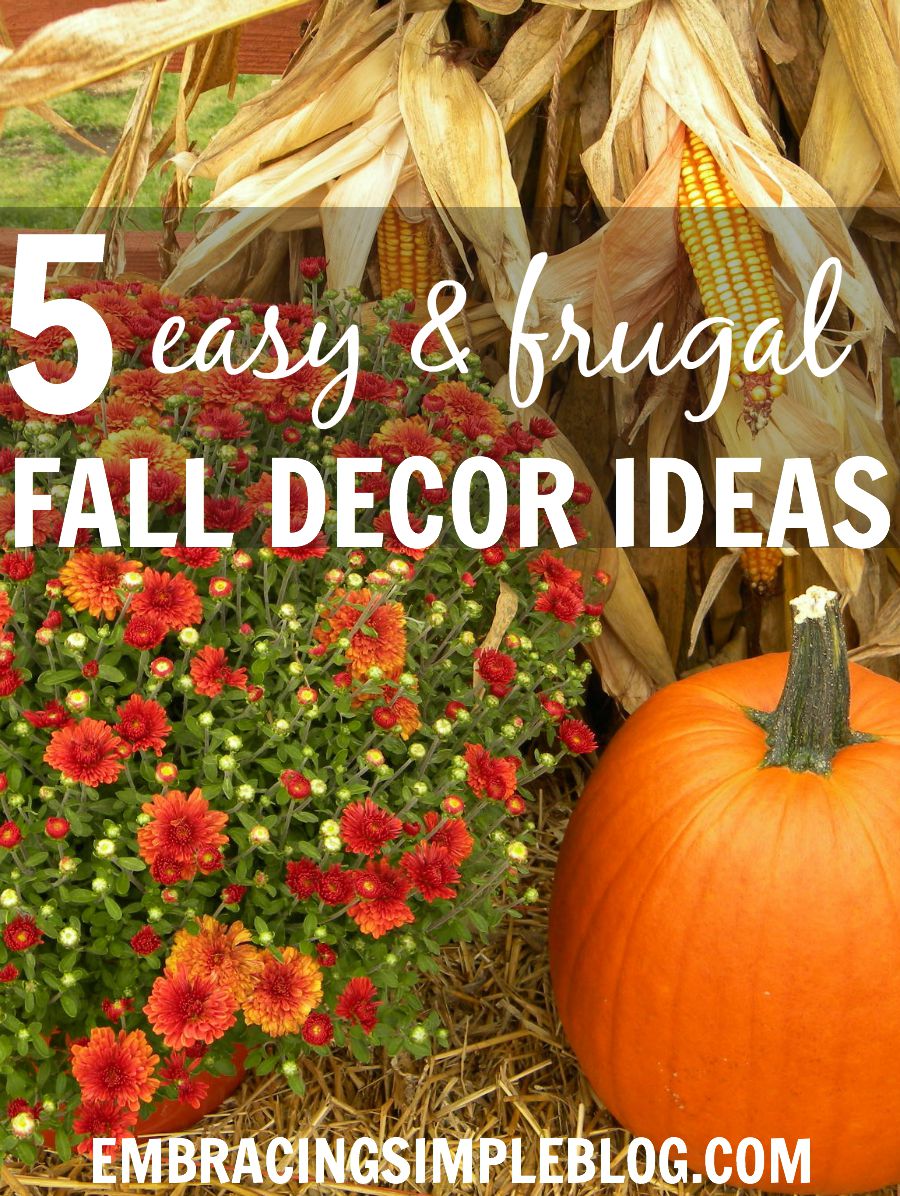 The start of fall is so refreshing to me. As much as I love summer, there's something about the crisp air, colorful leaves, and fun fall activities that I really look forward to.
This might be a little on the early side, but I usually like to put my fall decor up shortly after labor day weekend. By the end of August, I'm ready for some cooler weather and being able to wear sweaters and jeans on a daily basis.
I love fall decor, but I'm not the craftiest person and can't make half of the cute things I see on Pinterest. So I tend to gravitate towards inexpensive options that require zero crafting on my part, and don't take up a huge amount of space when I need to store them after fall is over.
I don't typically share decor ideas here (because I'm by no means an interior designer or even pretend to know what looks good), but I thought this would be a fun way to kick off the impending fall season. I'm sharing some of my favorite easy and inexpensive fall decor ideas that I find to be practical too in terms of the time they take to put up and take down with small kids around. I hope you enjoy!
5 easy and inexpensive fall decor ideas:
1. Clear vase + filler
Invest in some artificial fall leaves or some vase filler (I love this one with faux pumpkins, berries, and pine cones). It adds a festive touch when placed into a clear vase. I have a vase similar to this one and I fill it with different items depending on the season. It's a nice way to cut down on the amount of decor I have for every season since it's something I can leave out year-round and then just decorate by putting small items into.
2. Small gourds and pumpkins
This is probably one of my favorite ways to decorate for fall! I love going to a local pumpkin patch and stocking up on small gourds and pumpkins to scatter throughout the house. They are cheap, last for several weeks, and then I can just toss them when it's time to decorate for Christmas. If you aren't into the idea of having real pumpkins or gourds in your home, you can also invest in some small artificial pumpkins and gourds to be able to reuse year after year.
3. Burlap banner
I will admit, I'm kind of a sucker for burlap. How cute is this "Trick or Treat" banner? I like that it would make a big impact either on a mantel if you have one, or on a wall, and wouldn't require much space to store when Halloween is over. Perfect for anyone living in a small space with not a ton of storage!
4. Dish towels
I don't typically put a lot of seasonal decor in my kitchen, just because I like to keep the counters as cleared off as possible. But I do like changing out my dish towels on a seasonal basis. It's a fun and pretty clutter-free way to add a pop of fall festiveness to your kitchen without going too crazy. I'm digging this fall foliage dish towel.
5. Wreaths
I inherited a beautiful fall leaf wreath (say that 10x fast) when my Grandma passed away a few years ago, and it's so special to me. Not only does it remind me of her when I put it up at the start of every fall, but I really enjoy pulling up to our house and seeing my house "decked out" with a fall wreath on the door. It's very welcoming to pull up to! I found this mini berry and leaf wreath and think it would be great either on a front door or placed on a table with a candle in the middle.
What's your favorite easy and inexpensive fall decor to put up in your home? Are you looking forward to the crisp air and changing leaves as much as I am?