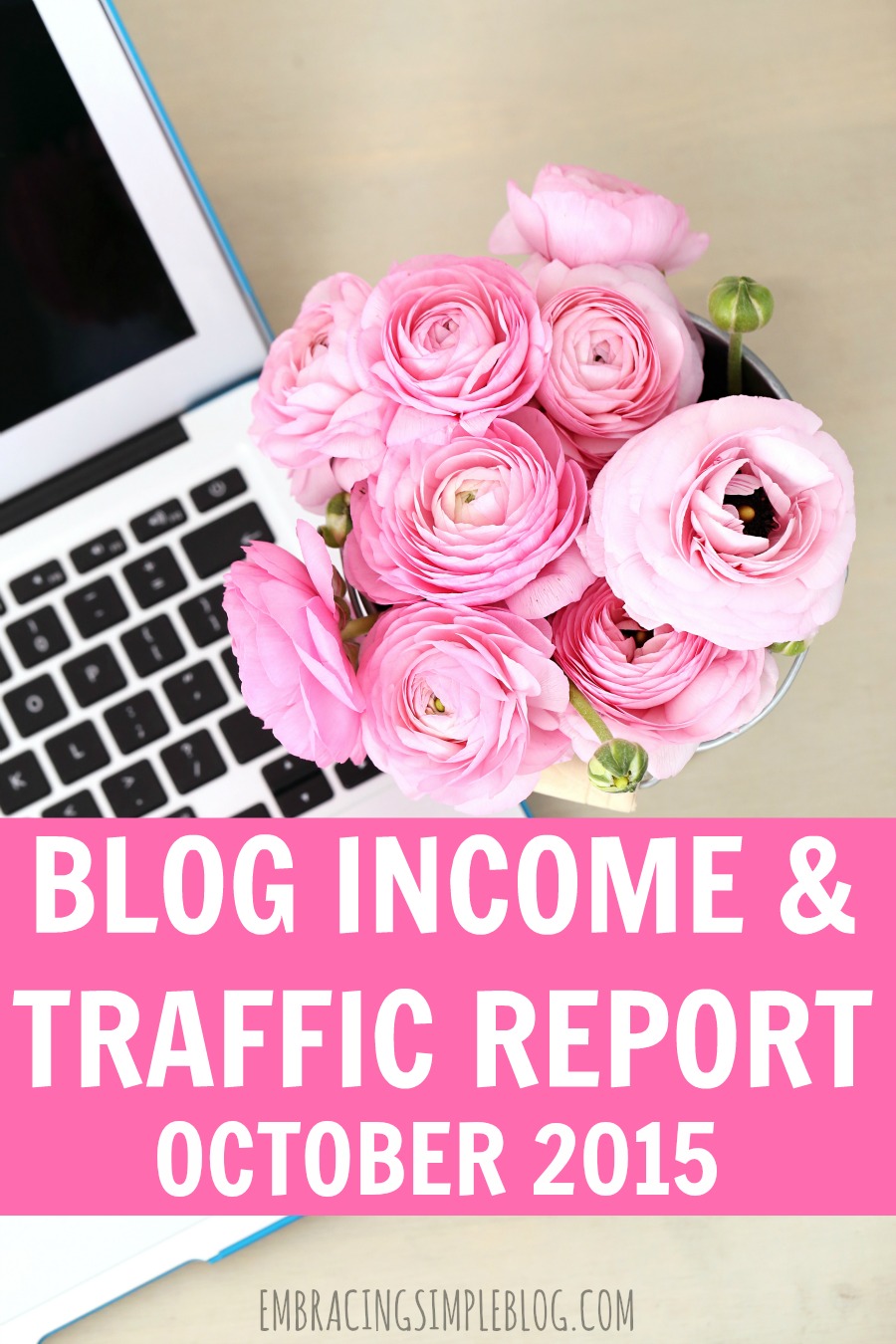 Hi Friends!
I hope November is treating you well so far. October was a great month for me, both in my personal life and on the business side of things.
I spent much of October prepping for Savor the Holidays, which is my first-ever course I created and I am so excited about it! I'm really proud of how it turned out and had such a blast putting it together. I've realized how much of a passion I have for creating solutions that help others to live a life they love, and I am looking forward to be able to do more of that in the future!
I'm back with another income report, so let's jump in!
If you're new here – The reason that I share my blog income reports is because I think it's a great way to show that it is possible to earn an income online doing something you enjoy and are passionate about. I want to provide inspiration and encouragement to those of you reading who have doubts about your abilities to be able to make an income through blogging. This is also a great forum for me to share my experience in trying to earn an honest income from my blog, and all of the tips and tricks that I learn along the way.
If you are interested in starting a blog, I created a tutorial to help you start a profitable blog of your own in only 4 easy steps.
October 2015 Blog Income and Traffic Report:
-This post contains affiliate and referral links-
Income
The income below is for money earned during the month of October but not necessarily paid out during the month of October. It's also important to keep in mind that these numbers do not reflect the taxes I will need to pay on this income.
Google Adsense – $50.04
Sponsored Posts – $850.77
GoDaddy – $283.39 –> How to Start a Blog
IZEA – $201
Amazon Associates – $54.67
Additional Affiliate Programs – $48.23
Total Income: $1,488.10 (+$994.50 compared to last month)

Expenses
The P.O. Box & Tailwind expenses are actually a yearly expense that I paid in entirety for a year, but I feel like breaking it out into monthly increments helps to see a more accurate picture of my total expenses compared to income.
Total Expenses: $25.28
October 2015 Net Profit: $1,462.82
Traffic Report
I received 57,884 page views in the month of October.
Income Analysis
I was honestly very pleasantly surprised with how much my income increased from September to October, and am feeling like all the hard work I've put into Embracing Simple this year is really starting to show. I've been thoroughly enjoying blogging and this wonderful community my readers have created and I really love that I get to continue being a work-from-home Mom.
I feel like pinching myself sometimes because it just seems so surreal that I have the opportunity to create an income from blogging and doing something I love so much all while getting to work from the comfort of my own home and being at home with Little Miss. If that's not the american dream, then I don't know what is 🙂
If you are a stay-at-home Mom looking to earn an income while still getting to be home with your babies, or currently work in an office but would love to be self-employed, I truly encourage you to start a blog of your own. Not only does it present a really fun way to make money online, but it can open up other opportunities for you too, like becoming a freelance writer!
I've been so enjoying this blogging journey and can't wait to see what the coming months have in store for my blog.
 Top posts of October 2015:
If you're interested in starting a blog, don't forget to check out my tutorial to learn how to start a profitable blog of your own in only 4 easy steps.

Thank you from the bottom of my heart for all of the encouragement and support! How was your October? Let me know in the comments below!