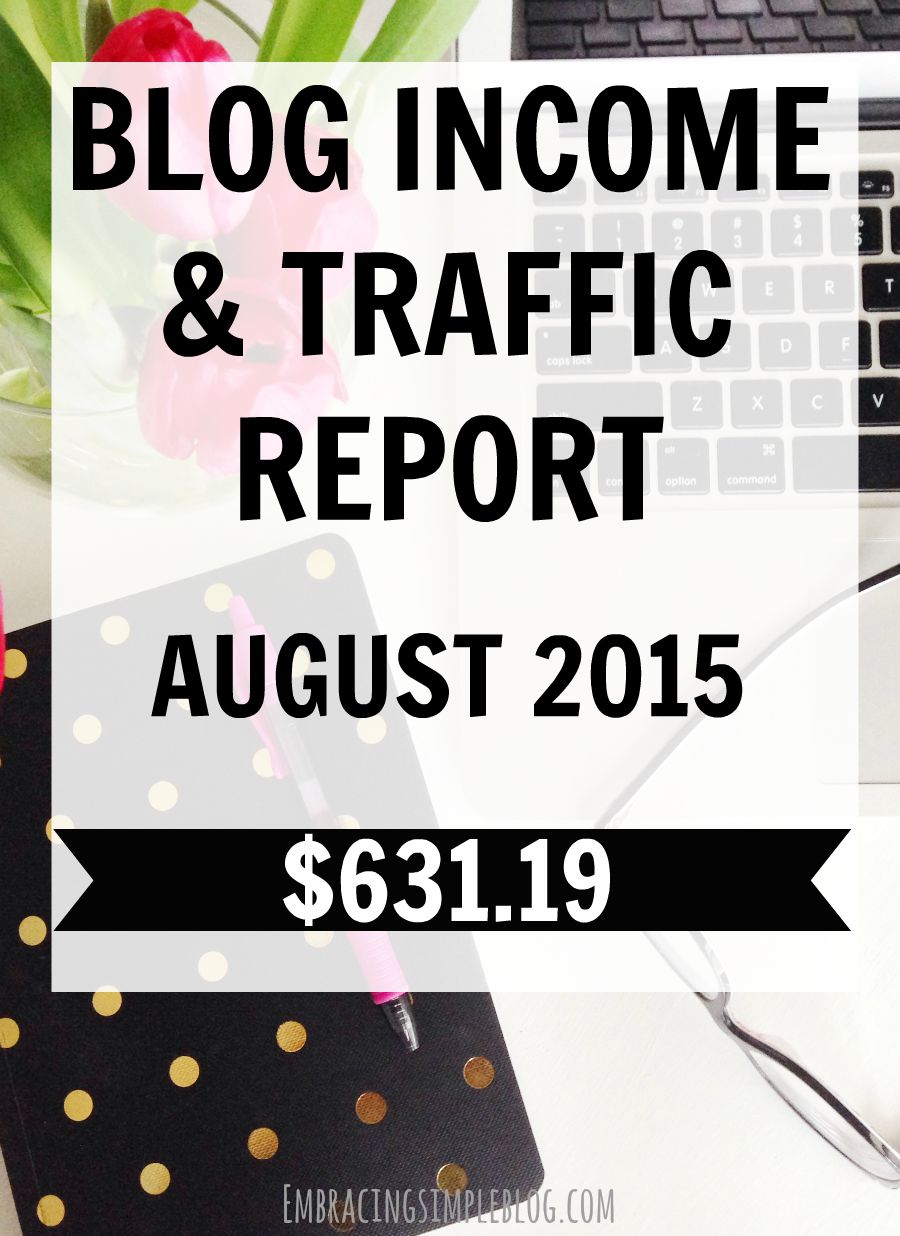 Hi Friends!
I hope September is treating you well so far. This month's income report is a little late due to our road trip in late August/early September, I feel like I'm still recovering from it! I've discovered that traveling with a toddler is definitely a bit exhausting, my hubby and I both felt like we needed a vacation to recover from the vacation 😉 . The memories we created together were absolutely worth the effort though!
I'm back with another income report, so let's jump in!
If you're new here – The reason that I share my blog income reports is because I think it's a great way to show that it is possible to earn an income online doing something you enjoy and are passionate about. I want to provide inspiration and encouragement to those of you reading who have doubts about your abilities to be able to make an income through blogging. This is also a great forum for me to share my experience in trying to earn an honest income from my blog, and all of the tips and tricks that I learn along the way.
If you are interested in starting a blog, I created a tutorial to help you start a blog of your own in only 4 easy steps.
August 2015 Blog Income and Traffic Report:
-This post contains affiliate and referral links-
Income
The income below is for money earned during the month of August but not necessarily paid out during the month of August. It's also important to keep in mind that these numbers do not reflect the taxes I will need to pay on this income.
Total Income: $631.19 (+$337.78 or a 215% increase from last month)

Expenses
The P.O. Box expense is actually a yearly expense that I paid $56 for the entire next year, but I feel like breaking it out into monthly increments helps to see a more accurate picture of my total expenses compared to income.
Total Expenses: $14.67
August 2015 Net Profit: $616.52
 Traffic Report
July 2015 – 66,578 page views
August 2015 – 68,188 page views (+1,610 or a 102% increase from last month)

Income Analysis
August was a good month for me, but I have to admit that I've really been experiencing a bit of a blogging slump for the past month or so. I'm not sure if the lazy days of the end of summer just got to me, or if it was because I was preparing for our family trip, but I wasn't feeling the usual hustle that I usually do.
I still love blogging, but I hardly spent any time promoting my blog in August compared to how much I normally do. I did find it interesting that I still saw a significant increase in the income Embracing Simple brought in compared to July though. I'll talk more about that below!
What I Learned This Month:
1. Page views don't really matter
Of course every blogger or writer who puts their writing out there publicly wants people to read it! But I'm realizing more and more that you can still make an honest income from blogging without having hundreds of thousands of page views.
This past month I learned that my page views aren't directly related to the amount of income I earn. Case in point, I saw a 102% increase in page views from July to August and a 215% increase in income from July to August. Those percentages aren't even close to being the same, so it tells me that although both are in an upward progression, an increase in page views does not directly correlate to an increase in revenue generated.
This should be great motivation for any of you that have been feeling discouraged by the amount of page views you currently have. If you want to make an income from blogging, it just goes to show that it is possible to earn income without being someone who has 100K+ page views a month.
2. It's okay to not feel 100% passionate 100% of the time
As I mentioned above, I've been in a bit of a blogging slump lately. For a few weeks, I was actually questioning whether I should continue to blog because I felt like I had lost my passion and my fire for it. And to me, that's the only real reason I do all of this. I truly love it and enjoy spending my time on it!
Those feelings of doubt have since subsided and I've felt my passion return these past few days, but by going through that short period of time where I was questioning myself, I realized that it's okay to feel that way sometimes. In fact, I think it's healthy to question what you are spending your time and energy on (blogging requires a lot of both those from me).
I've also realized that it's pretty impossible to feel fiery passion 100% of the time. We are all human and need breaks every once in awhile to reignite that sense of purpose and drive within us.
I don't care who you are or what you do, but there are always going to be periods of time where you fluctuate as to how much you enjoy your work. If you are going through one of those periods right now or in the near future, I encourage you to use those feelings to your advantage and really spend some time reevaluating your situation and asking yourself your purpose for doing what you do. Perhaps you're like me, and questioning yourself will reignite that flame, or maybe it will reveal that you need a change of direction.
3. I have a love/hate relationship with sponsored posts
You can see above that I didn't do any sponsored posts in August. That is not for lack of opportunity to do sponsored posts, but because I didn't find any sponsored post opportunities that I felt like would be a perfect fit for this space.
I could honestly make a cool $1,000/month off sponsored posts if I said "yes" to every single one that came my way. But that's not what this blog is about, or what I'm about. While it's tough to turn down the chance to generate more income from this blog, I respect my readers and myself more than exposing us all to products, courses, or brands that don't align with our beliefs or have the potential to provide value to our lives.
While September has brought sponsored post opportunities my way that align with our values, I am making it my mission to continue to be vigilant about only saying "yes" when I feel like it will benefit my readers.
If you are a blogger, I think it's so important to remember that your readers should always be put first over anything else. I am able to earn a small income from my blog solely because I have wonderful readers that continue to support me on a daily basis, and without them none of this would be possible! I should only hope that the gratitude I feel for that consistent support never escapes me.
 Top posts of August 2015:
Announcements:
1. I'm still planning on doing a newsletter for my blogger friends
Last month I decided that I would like to start a newsletter just for my fantastic blogger friends. It's going to be completely dedicated to discussing all things blogging and I'm really excited about it! I was hoping to have my first official newsletter go out in August, but it just wasn't possible with preparing for our trip and wrapping up some freelance projects I had going on. I have plans to get out the first one soon though! 🙂
So be sure to sign up using the form below if you are interested in receiving blogging tips from yours truly!
Some of the topics I'd like to cover in the newsletter include:
My Pinterest strategy
How to enable Rich Pins for Pinterest
A Board Booster tutorial
Ad placement
Promoting your blog
Tips for making connections & networking
How to find sponsored post opportunities
How to create a newsletter and freebie incentive
2. Still accepting guest posts
I had a few wonderful bloggers submit guest posts in August and decided to continue accepting guest posts for those of you that are still interested in being featured on Embracing Simple. You can find my guest post guidelines here.
If you're interested in starting a blog, don't forget to check out my tutorial to learn how to start a blog of your own in only 4 easy steps

Thank you from the bottom of my heart for all of the encouragement and support! I hope you're having a wonderful start to your week 🙂
[Photo source: Ashley Ella Design]