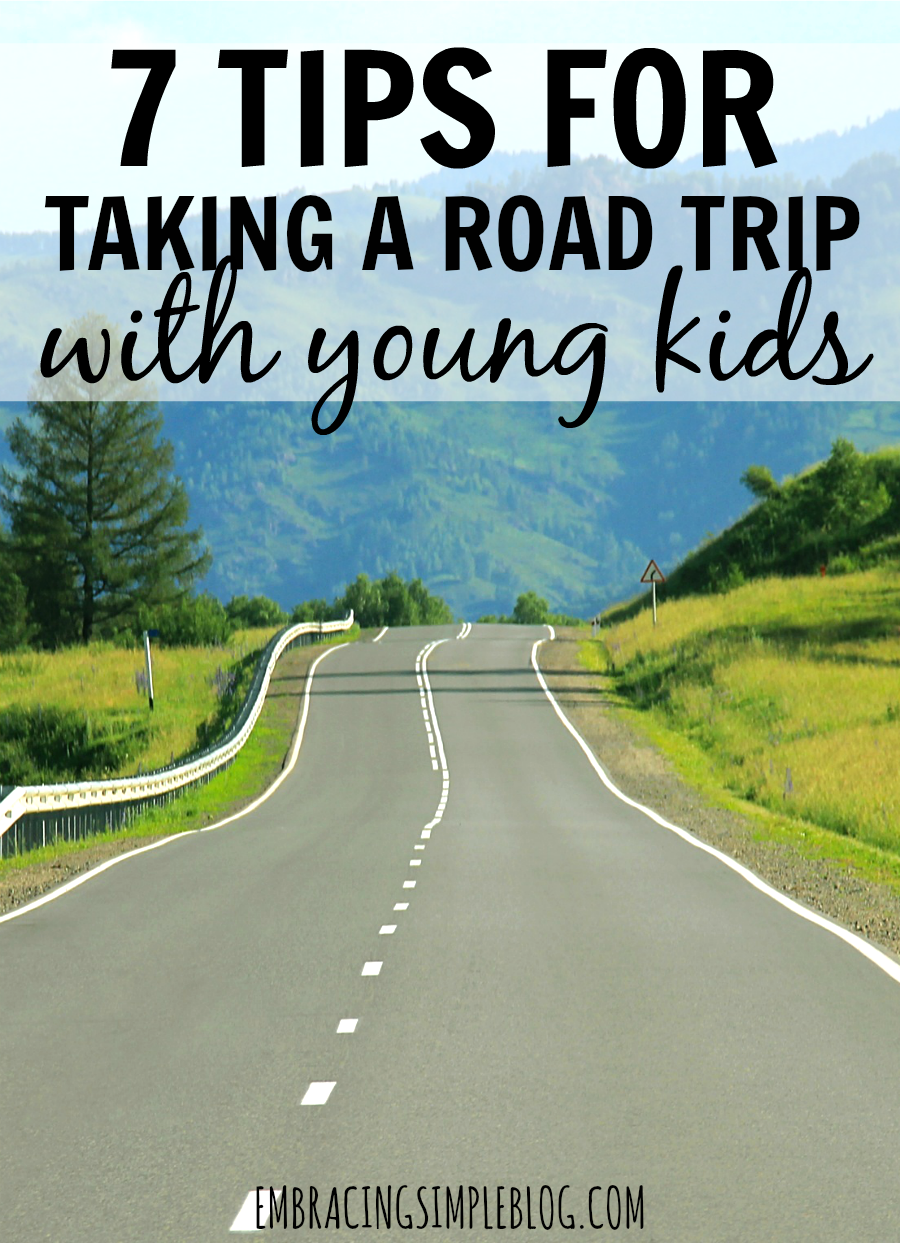 I'm excited to finally share some photos of our road trip with you today! As you all know, we took a week-long road trip from Chicago to The Smoky Mountains (Gatlingburg, TN to be specific) and Charlotte, NC.
We had a super smooth drive down there and Little Miss was seriously an angel for the first few days of being in the car, eating in restaurants, and being out of her element. But then things got a little hairy, as they quickly do with a toddler in tow, and we learned some very valuable lessons in traveling and taking a road trip with a toddler!
I wanted to share what tools and strategies we found helpful in traveling with our 14-month-old in hopes that this will help any of you that are planning on traveling with small children in the near future.
Tips for Taking A Road Trip with A Toddler:
1. Pack a never-ending supply of snacks
When I say never-ending, I mean pack the amount of snacks you think you would all eat in a month's time, and then maybe double that. Okay, maybe I'm exaggerating. But literally the worst thing that can happen to you besides getting into an accident or breaking down on the side of the road is going to be running out of snacks.
I worry about Little Miss choking while in the car, so we kept her snacks to either liquid-type foods or really small pieces of dry foods that don't present such a choking hazard. We also are obsessed with this super cute flower snack container for letting her feed herself small dry snacks, it helps keep the amount of cheerios that end up in her car seat at bay. We use it pretty much everyday at home too either when we are running errands or are out for a walk, so it's definitely not exclusive for road trips.
Our favorite toddler snacks for in the car:
Cheerios (I usually get the Trader Joe's equivalent because they are consistently the cheapest)
Our favorite adult snacks for in the car:
2. If your kid is sleeping, do NOT stop
There were probably five separate occasions where I almost peed my pants, but we were definitely not about to stop if the babe was sleeping. If you think your toddler is about to drift off, but there's a 1% possibility you might have to use the restroom in the next hour, get off at the next exit or be prepared to hold it until your little cherub wakes up.
I can promise you, it's not worth accidentally waking them up just because you need to go to the bathroom or fill up the gas tank. Be prepared so that you won't find yourself in a situation accidentally waking up your kiddo.
3. Bring engaging toys
While snuggling baby dolls bought us a little bit of peaceful time in the car, I found that some toys were definitely more engaging than others, and helped to really make our road trip go as smoothly as possible.
Try to give some thought into what toys will actually capture your child's attention for more than just a few minutes so that you can strategically pack those with you and have easy access to them during your drive.
Some of our 14-month-old's favorite toys for the car:
A plastic mirror (we just use the one that came with her baby gym set from when she was younger, she loves to look at herself and give the cute toddler in the mirror kisses. Adorable, right?)
The little egg shaker that comes with this music set (we left the rest of the set at home)
4. Give one toy at a time to entertain them longer
This step is key! I gave her one toy at a time to play with, and then when she was starting to get bored with that particular toy I would switch it out for a new one. This process helped to keep her occupied much longer than if I would have just dumped all the toys next to her at the get-go.
5. Be prepared for eating at restaurants
Eating at restaurants with a toddler isn't always the most fun experience ever. We pretty much never take her out to eat at home, and after day 2 on our trip, we re-discovered the reason for this 😉 . She was pretty good considering we were eating out for three meals a day, but next time we take a trip, we are definitely going to try to just rent a house/condo with a kitchen to make some of our own meals.
The tools that we found very helpful for eating out at restaurants with a toddler:
Disposable Bibs (we love to use the Baby Bjorn Bib at home, but find it too big and clunky to stash in the diaper bag)
Small toys to keep in diaper bag that you only pull out at the restaurant (crayons, paper, Little People, etc.)
Disposable placemats (great to use as a plate if your toddler is in the throwing everything stage)
6. Don't be ashamed to let them watch a movie
We downloaded Frozen on our iPad just in case we would need it for back up if things got bat shit crazy, and low and behold, they did 😉 .
My hubby is amazing and found this super cheap iPad mount for my car on sale for $13 prior to our trip. While we were hoping to not really have to use it, it was the best thing we have ever bought….at least I thought so when we were able to dock the iPad in it and turn on some Frozen to have some peace in the car, hah!
Little Miss is still in the "I'm going to chuck this at your head to express my displeasure" stage, so giving her a huge iPad to hold while someone was driving in throwing range wasn't really an option. This allowed us to safely mount it to a headrest in the second row and will also be able to mount to our front row headrests in a few years when we turn her car seat around to forward face. Considering we already had the iPad, it was a really cheap solution for an "in car" entertainment system.
7. Plan your driving time to overlap during naps or sleeping whenever possible
I cannot stress this enough. If your child will nap in the car, it is so much more pleasant for everyone involved if you can incorporate a nap into your driving time.
We have this sun shade on the window that her car seat is next to so that she can sleep without the sun in her face, and it worked out really well for our trip since she ended up taking a lot of naps in the car.
Do you have a toddler or small child that you've taken a road trip with? What tools/tips did you find helpful in making sure it went as smoothly as possible?
There are affiliate links in this post. If you choose to make a purchase, I will receive a small commission at no additional cost to you. I only recommend products that I love myself and that I think would benefit you too. Thank you for helping to support Embracing Simple in this way!