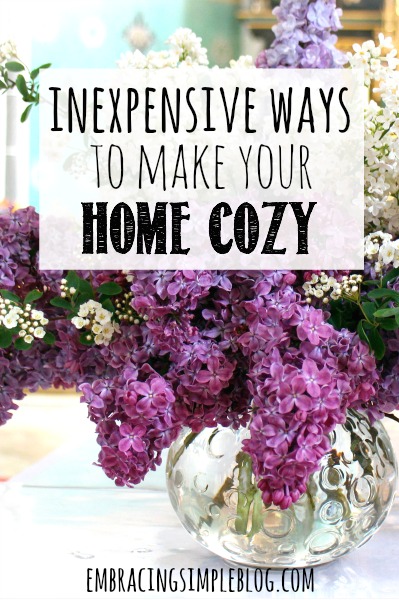 Since adding a baby to our family last year, we've been spending significantly more time at home. My home has always been my happy place that I enjoy being in, but I've been really wanting to decorate a bit more and add a touch of more coziness to our house.
We purchased the house we're currently in over three year ago and still haven't done much with decorating. I think that part of it is I have a difficult time spending money on any decor unless I'm completely in love with it, which I suppose is a good thing overall! It just leaves our house feeling a bit empty and lacking of character or a cozy factor.
I've been on a mission to make our home cozy lately and trying to find as many inexpensive ways as possible to do so, without just bringing in a bunch of cheap junk that would only add clutter. I've put together a list of simple and inexpensive ways to make your home cozy that I wanted to share with you all! I know I can't be the only one who is always trying to make my home seem more welcoming and cozy overall!
Here are inexpensive ways to make your home cozy:
Throw pillows and blankets
If you're crafty (I'm certainly not), you could probably just buy a throw pillow insert and then some pretty fabric on sale to make your own pillow covers. But if you're like me, then finding pretty throw pillows and blankets on sale does the trick! Pillows and blankets draped over couches in your main living space can really facilitate relaxation and encourage your family and guests to get comfortable and to make themselves at home.
Plants
I don't have any semblance of a green thumb, but I do enjoy house plants when I go to someone else's home! Because I can't seem to keep anything other than my child alive in this house, I do enjoy picking up the occasional small bouquet of flowers to brighten up my kitchen counter and add some life to the space. It's such an instant pick-me-up too! I usually get them for just a few bucks at Trader Joe's. There's something about fresh flowers or greenery that make a room feel so welcoming!
Family pictures
When I enter someone's home and see pictures of their family and loved ones up on the walls, I definitely feel more at ease and instantly comfortable. I think that there is a fine line between cozy and cluttered though, especially when it comes to hanging decor on walls. I think the best approach is to focus on a few big pictures to display rather than dozens of smaller ones that can appear cluttery.
Decor that is meaningful
I have a small antique-looking bell placed on one of the shelves in our family room that was in my Grandma and Grandpa's home for years. When they both passed away, I was fortunate enough to be able to bring it into my own home. I love not only the appearance of the bell, but how I feel when I catch a glimpse of it. It brings back warm memories of my grandparents and what loving people they were. We have a few other pieces of furniture and other decor items that tell a similar story, and I love being able to have items in my home that are not only useful and loved, but hold some deep meaning behind them as well.
Hang string lights
I've seen these globe string lights in a few homes now, and think they add such charm and warmth to any space (indoor or outdoor) for an instant cozy feel.
Floor or table lamps
Overhead lighting or dark rooms tend to make for a very uninviting vibe. Both floor and table lamps can add a very cozy vibe to bedrooms and family rooms and really change the dynamics of the room. Overhead lighting reminds me of supermarkets or offices and just doesn't make me feel very relaxed. Lighting lower from the ceiling really brings a space together I think!
Fire
If you are one of the lucky ones that has a fireplace in your home, light that baby up and use it! We unfortunately do not have a fireplace and don't see it fitting within our budget for probably a few more years depending on if we stay in our current home, but I adore the flame from a good candle almost as much. I know I've mentioned it a few times before, but there's nothing like the warm glow of a flame to add an instant coziness factor to any home! We have a few wall sconces too that are some of my favorite things in my home, and are a great way to be able to enjoy a nice flame while keeping young children and pets safe.
What are some other inexpensive ways to make your home cozy that you've found?