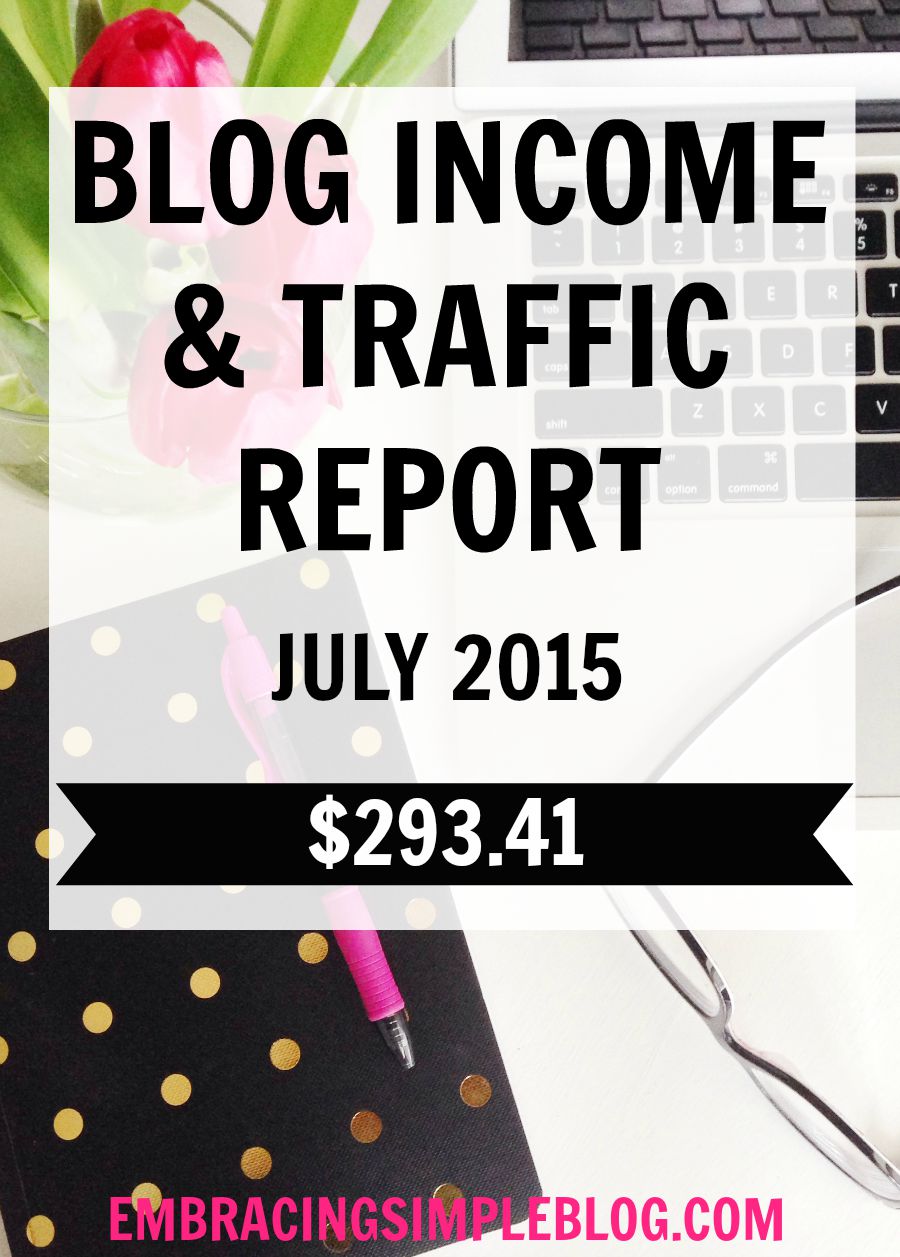 Hi Friends!
I hope August is treating you well so far! I'm back with another income report, and I want to thank you all so much for the support and encouragement you showed me after sharing my first ever income report last month.
It was very scary to put myself out there and be a bit vulnerable by sharing that post, and I really really appreciate the positive feedback you all gave. You are truly the absolute best readers in blog history and I'm very thankful for you all! 🙂
July was a great month for me and I'm excited to be able to share my progress and lessons I've learned this past month. In addition to sharing my blog income, I decided to start sharing my blog traffic and expenses as well. I think it is a crucial piece of information that can be very helpful in seeing how everything is intertwined and how income and traffic are related.
If you're new here – The reason that I share my blog income reports is because I think it's a great way to show that it is possible to earn an income online doing something you enjoy and are passionate about. I want to provide inspiration and encouragement to those of you reading who have doubts about your abilities to be able to make an income through blogging. This is also a great forum for me to share my experience in trying to earn an honest income from my blog, and all of the tips and tricks that I learn along the way.
If you are interested in starting a blog, I created a tutorial to help you start a blog of your own in only 4 easy steps.
July 2015 Blog Income and Traffic Report:
This post contains affiliate and referral links.
Income
The income below is for money earned during the month of July but not necessarily paid out during the month of July. It's also important to keep in mind that these numbers do not reflect the taxes I will need to pay on this income.
Google Adsense – $86.32
Sponsored Post – $200
IZEA – $3
Amazon Associates – $4.09
Total Income: 293.41 (361% increase from last month)

Expenses
The P.O. Box expense is actually a yearly expense that I paid $56 for the entire next year, but I feel like breaking it out into monthly increments helps to see a more accurate picture of my total expenses compared to income.
P.O Box – $4.67
Board Booster – $10
Total Expenses: $14.67
July 2015 Net Profit: $278.74
 Traffic Report
Since I've yet to share any traffic statistics here (woohoo for a first!), I'm just going to share all of my page views from every month since I started this blog so you can see the progression for yourself.
January 2015 – 2,869
February 2015 – 6,314
March 2015 – 8,597
April 2015 – 43,110 (I got over 23,000 page views in one day from a post that went "viral")
May 2015 – 20,771
June 2015 – 49,940
July 2015 – 66,578
I thought that my blog traffic was totally tanking in the beginning of July, but now I believe it was just related to the 4th of July holiday because after that first week I definitely saw a spike in traffic. I've heard that summer can be very slow for a lot of bloggers, so I was encouraged seeing growth in my own blog. I think that the growth during summer is mostly due to the fact that I'm still a relatively new blogger and not yet established, so I would probably expect to see traffic slow down during summertime in the coming years.
Income Analysis
I seem to be steadily increasing my income each month since I initially started earning a little bit of an income back in April. I've outlined the gross income I've earned each month below so you can see all the numbers together:
April 2015 – $13.79
May 2015 – $36.54
June 2015 – $81.28
July 2015 – $293.41
I'm very happy with this upward progression in both traffic and income! I did learn quite a few lessons this month though and it's been a very humbling experience. I'll share more on that below.
What I Learned This Month:
1. Board Booster is worth paying for
(update: I ended up later switching to Tailwind. Click here to read why)
I made the leap this month and decided to invest in Board Booster, which is a scheduling tool for Pinterest. I have to say that this has been one of the best decisions I've made since I started my blog.
I had been spending typically 20-30 minutes every single day of the week (Saturdays and Sundays included) pinning my pins to various group boards, and it was getting downright exhausting. And since around 60% of my total blog traffic comes directly from Pinterest, I definitely couldn't give up on pinning alltogether! I made the decision in early July to finally sign up for Board Booster, and it has been nothing short of amazing. I found the initial setup required to get all my boards up and running to take a bit of time, but now I literally don't have to do anything to keep up with it.
It's the ultimate set-and-forget scheduling tool and I couldn't recommend it more for promoting your blog posts on Pinterest!

2. My Adsense mistake that cost me
One thing I am really kicking myself for is that early in July I accidentally removed one of my top earning ads and didn't realize it until several days had gone by. I logged into my Adsense account just to check on things and saw a dramatic drop in my earnings that wasn't typical of a normal variation.
I realized that I had been playing around with placement of a few things near that ad and accidentally deleted the code for it, ugh! So as a result, I lost out on almost a week of earnings from that particular ad. In the big scheme of things, it's really not a huge deal, but I was pretty bummed out that I did that without even realizing it.
Oh well, you live and you learn right? Lesson to be learned – double check all your ads if you make any changes within the general area they are placed!
3. Install Google Analytics
I also made the mistake of not properly installing Google Analytics until the very end of June. What a mistake! I now have to rely on JetPack for all of my statistics for most of the life of my blog, and many brands require you to show Google Analytics screenshots in order to work with them so that's been not so fun for me to have to pass up opportunities just because of that. If you haven't already installed Google Analytics on your own blog, please do it right now! I want to save you the trouble that I've been going through in not having the proper statistics source.
 4. Newsletter & freebie incentive
I finally created a newsletter through Mail Chimp and now offer free printables that I created for subscribers. It took me quite some time to figure out how the heck to set everything up to get the printables delivered to subscribers after they confirmed their subscription, but I'm really happy I did it. You can subscribe here if you'd like to see what I'm talking about!
Announcements:
1. I'm starting a newsletter for my blogger friends
I decided that I'm going to start a newsletter just for my fantastic blogger friends (that's you). This is something different from my other newsletter I mentioned above, as it's going to be completely dedicated to discussing all things blogging.
I would really like to go more in-depth with sharing my blog and business strategies with you all, but I don't want to overwhelm my site with that information since not everyone who visits Embracing Simple is interested in those topics. Some of the topics I'd like to cover in the newsletter include:
My Pinterest strategy
How to enable Rich Pins for Pinterest
A Board Booster tutorial
Ad placement
Promoting your blog
Tips for making connections & networking
How to find sponsored post opportunities
How to create a newsletter and freebie incentive
I haven't quite decided on the frequency of these newsletters yet, but it will likely be a monthly newsletter that will follow my income report and will provide a more in-depth analysis of what I learned the past month, as well as tips and tricks that I'd like to pass onto my fellow bloggers.
You can sign up below if you are interested in receiving blogging tips from yours truly! And let me know in the comments below what topic you'd like me to cover first.
2. Now accepting guest posts
If you are interested in submitting a guest post to be featured on Embracing Simple, I'd love to have you. You can find my guest post guidelines here.
If you're interested in starting a blog, don't forget to check out my tutorial to learn how to start a blog of your own in only 4 easy steps

Thank you from the bottom of my heart for all of the encouragement and support! I hope you're having a wonderful week 🙂
Photo source: Ashley Ella Design