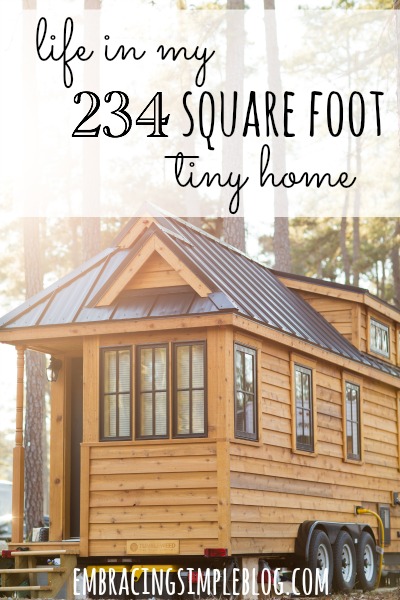 A few weeks ago I had the privilege of being able to connect with a tiny home owner through a comment she left on one of my blog posts – the internet is amazing, friends! I have been so fascinated by the concept of tiny living lately and how people are able to take that leap to live such a simplified life.
I had the awesome opportunity to interview the fabulous Lora at The Tiny House Teacher, who lives in an absolutely adorable 234 square foot tiny home (pictured above) with her dog Rocket. She is truly an inspiration to me, and I think that you will really love the wisdom and experience from tiny living and downsizing her life that she has to share. I hope you enjoy her passion and advice as much as I did!
Why did you decide to move into a tiny house?
I think one of the questions that people ask me the most is, "why did you decide to move into a Tiny House?" I have to say, it was a complex decision that required a lot of self-reflection and planning. About a year ago, I found myself in a job that wasn't very fulfilling, and that was relatively toxic for me. I knew I wasn't really enjoying life, but I wasn't sure what needed to change to make it better. I started really thinking about what I wanted my dream life to look like, and I realized I wanted more freedom, less stress and a lot less debt. Once I determined what I wanted, I started looking for ways to achieve those goals.
Then I picked up a copy of Tammy Strobel's book, You Can Buy Happiness (and It's Cheap) on a business trip. In her book, Tammy described the journey she and her husband took to simplify their life, reduce debt and live more intentionally. It involved them moving a number of  times over a couple of years and eventually ending up in a Tiny House. Originally I thought a Tiny House was crazy!
It was such a different lifestyle, that I had a hard time thinking about what it would look like for me. But the more I thought about it, the more I realized living in a Tiny House would allow me to live a life that reflected my values and goals. I saw a Tiny House as a way to be more intentional with how I was living my life.
I wanted to slow down and spend less. I wanted the freedom to move more if I wanted to, and mostly I just wanted to get to a point where I didn't have to work full-time in a job that I no longer enjoyed. My Tiny House is helping me reach my goals and has opened up opportunities I never expected.
A lot of people wonder why I didn't just move into an RV, but for me a Tiny House felt a lot more like home. I didn't want to feel like I was in a temporary living situation when I moved, and my Tiny House allowed me to really create a space that had everything I needed and reflected my personal style. I absolutely love it!
How was the process of downsizing all of your possessions to fit into your tiny house? What were some of the most difficult things to pare down?
In some ways the downsizing process was a breeze, in other ways it was incredibly challenging. I have lived in 13 states, 22 cities and 28 houses…I have moved a lot! I am also super organized, and even owned my own professional organizing company for a number of years. When I moved from my 1,800 square foot townhouse to my 234 square foot Tiny House, I thought it was going to be a breeze…
It was easy for me to analyze and organize what I had, and it was easy to eliminate some of the stuff. It was simple to get rid of the extra office supplies, and it wasn't too taxing to clean out the junk drawer or the extra sets of sheets for a guest room I was no longer going to have. But downsizing was still challenging. It stretched me in ways I hadn't been stretched before. It required me to really analyze what had value to me and why. It also required me to take a long look at the things I had accumulated over the years, and decide which things still fit who I was and who I wanted to be.
It took a lot of energy for me to analyze how I used my space in my old townhouse and to understand what "things" made my house feel like a home. It took even more energy to unload the things I knew no longer added value to my life. I spent three months unloading more than 80% of what I owned. At times it was incredibly challenging, but I reminded myself that every load I donated or sold allowed me to get a little closer to the life I really wanted to live.
The hardest things for me to part with were my books. I had 5 full bookcases of books in my house prior to my move. I now have one bookcase (that I had specially designed to fit in my Tiny House). For me, books represented who I was, and the idea of parting with them was tricky. But what I realized, was that it was experiences and memories that gave the books meaning to me. Once I was able to separate my attachment to the object with the idea of the object, things got a lot easier.
What have been the biggest benefits of tiny living?
Tiny Living allowed me to change jobs, move across the country and simplify my life. It allowed me to unload possessions that no longer added value to my life, and encouraged me to really decide what was important to me. I think the biggest benefits for me so far are fewer expenses and more free time.
Tiny Living has helped me save money in terms of the amount I spend on my household bills, like a mortgage and utilities. It has also encouraged me to shop less and save more. Since I moved into my Tiny House I have started my own business, reduced my debt and generally started enjoying life more.
Tiny Living has also encouraged me to pursue experiences rather than the collection of things. Although I am certainly not a minimalist at heart, I still have way too many books and dishes to qualify, I spend a lot more time doing things than buying things. A small space encourages you to get outside and it allows you to travel more because it takes less time and money to maintain. I am constantly amazed at how simplifying my daily routine and my living space has encouraged me to grow as a person in ways I wasn't expecting.
What advice do you have for someone who wants to live a more simplified and downsized life, but isn't quite ready for tiny house living?
I think simplifying is about aligning your time and money to your values and goals. A lot of us got on the work-to-spend treadmill without really analyzing why. We live in a culture that encourages consumption and promotes the idea that working more will allow us to buy more, which will ultimately bring us happiness. Or at least that's sort of what the "American Dream" promised. I certainly don't think everyone belongs in a Tiny House, for some it simply wouldn't fit their family or their lifestyle, but I do think there are lessons to learn.
However, before you can decide what you need to simplify, you first must understand what you want your dream life to look like. I think we often forget to really stop and think about why we are doing the things we do or why we are buying the things we buy. We do most of these things on auto-pilot, not because we are bad people or lazy, but simply because it's what we have always done. The first step to simplifying is deciding which people make your life better, figuring out what stuff adds value to your life, and making a conscious choice about which activities you want to pursue. Understanding what's important in life can go a long way in helping us simplify.
Because most of us have to trade time for money to at least some degree, the first big step to simplifying can be reducing expenses and eliminating debt. For most of us, eliminating debt reduces stress. It can also help you cut back on how much you "have to work" to maintain your lifestyle, if that's a goal. In other cases, reducing debt can increase the amount of money you have for travel or for experiences that add value to your life. Just remember it is almost always easier to reduce how much we spend than it is to increase how much we make.
I also encourage people to simplify their things. Most of us are collectors by nature, at least to a certain extent. Letting go of the things we no longer use or want allows us to not only reduce the amount of stuff we have to maintain and care for, but it can also be a blessing for someone else.
Aligning our time and money to the people and things we value most is probably the quickest way to simplify your life. It requires work and there are almost always trade-offs, but it is a lesson that can be applied no matter what size house you live in.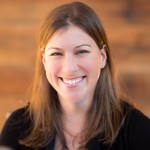 Lora Higgins is the author and owner at The Tiny House Teacher, helping others pursue their Tiny House Dreams and build lives full of meaning and free of excess. She loves reading, triathlons and ballroom dancing. She is also the author of Dream Big, Live Small, available on Amazon.
What are your thoughts on living in a tiny home? Do you think you would be able to downsize your possessions to the extent that Lora did?
If you have any questions on tiny living, simplifying, or anything else your heart desires, feel free to leave them in the comments below. Lora will be replying to your comments 🙂
Resources to help you simplify your life:
There are affiliate links in this post. If you choose to make a purchase, I will receive a small commission at no additional cost to you. I only recommend products that I love myself and that I think would benefit you too. Thank you for helping to support Embracing Simple in this way!