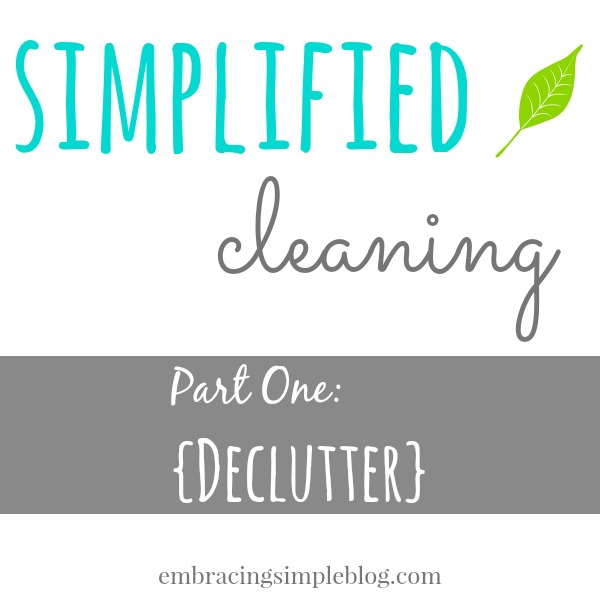 Believe it or not, spring is right around the corner! Even in Chicago we've been enjoying some warm above freezing temperatures the past few days, and it's been absolutely wonderful. Seeing as most of you are probably starting to get into spring cleaning mode, I thought this would be the perfect time to share some tips I use for simplifying the process of cleaning my own home. I'll be breaking this Simplified Cleaning Series down into 4 parts throughout the course of the next 4 weeks.
The first and most essential part that we'll be discussing today is decluttering. Why is this the most essential part? Well, the less clutter and stuff you have in your home, the less there is to clean. Who doesn't want less to clean? I've talked about the mindset behind simplifying and downsizing, but now it's time to get into the nitty-gritty of how to actually go about decluttering your home and simplifying your possessions.
I'll start by saying that I am by no means what most would consider a minimalist, but I do try to keep our stuff in check and limit the amount of things we bring into our home. Mostly because it simply makes my life easier. Everyone has their own definition of what minimalism means to them, so don't be frustrated if you feel like you won't ever be able to get your home up to "minimalist" standards. Do the best you can to keep the items in your home limited to what is only used and loved, and then consider yourself a successful minimalist! 🙂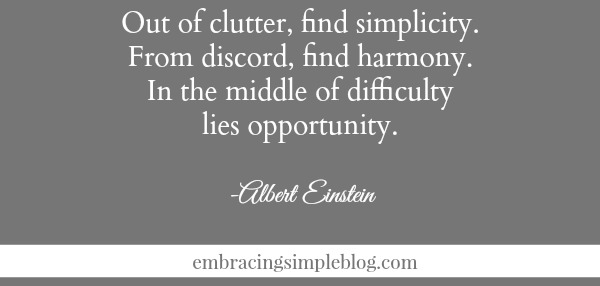 Decluttering tips to simplify your home:
Set a timer for 15 minutes every day. If you feel overwhelmed by the prospect of decluttering your entire home, it can really help to know that after 15 minutes you can take a break. While having a time challenge can add some fun to the process, it also helps in being able to make quick decisions, which means logic will usually prevail over your emotional attachment to items.
Donate or sell items you are parting with. You'll get the warm fuzzies knowing that someone else will enjoy your things even more than you did! If you choose to sell through eBay as opposed to donating all of your items, there are couriers that are specific to eBay delivery like Shiply. Have a look around to see which one suits you best, helping you to part with your items sooner and make more space!
Implement the "One in, Two Out" rule. Every time you bring a new item into your home, you must donate or throw away two others. This is essential to keep your decluttering efforts in tact for the long term.
Take a photo of sentimental items. If you are keeping items purely because of the memories associated with them, taking a photo to keep instead is a great compromise. This way the memory can stay, but the item can go.
Get your family or roommate involved. It takes everyone living in your home to be on board with the decluttering process for it to have lasting effects. Make it a fun project for everyone to participate in, and you'll likely be very pleased with the results.
Use 4 boxes to help you sort. Name them keep, donate, trash, and maybe. Proceed to fill them up accordingly, while trying to keep as much out of the "keep" as possible. See below for what to do with the "maybe" box.
Create a "maybe" box. This is to put the items that you tell yourself maybe I'll wear or use this if a particular situation arises. Chances are, you've probably been telling yourself this for quite some time (I have been guilty of this myself). Put all of these "maybe" items into a box and put it away on a shelf or in a closet out of sight, and then check back in a year. If throughout the course of an entire year you haven't once thought about any of the items in the box, donate the entire box without even looking at the contents inside. This way you you won't become tempted to reintroduce anything into your home.
Remind yourself how great having a decluttered space feels. This especially applies if you are out shopping and spot a non-essential item you are thinking about buying. If you decide you really want to buy this item, then at least follow the "One In, Two Out" rule.
If you haven't worn an article of clothing in a year, it goes. My favorite trick is to turn all of the hangers in my closet backwards, and then turn them around as I wear each item. At the end of the year, my closet tells me exactly what I need to donate with whatever hangers are still facing backwards. No need to put any thought into when the last time I wore it was, because it clearly was a long time ago!
Try to leave emotions out of the decision. I know this is much easier said than done, and something that I struggle with myself. It can be so easy to listen to our emotional attachment to items instead of using logic to figure out what should stay or go. Use logic over emotions to make your decisions as much as possible through the decluttering process. If I listened to my emotions, I would be on the show Hoarding: Buried Alive.
Enlist a friend. Having help from someone who has an untainted view of your stuff can add a fresh perspective and force you to answer the tough questions – such as, do you really need to keep that pair of shoes that you haven't worn in 3 years? It also adds an element of fun and helps you push through with your challenge!
Take it one room at a time. Declutter one entire room before you move on to the next. Having a room to enjoy and reap the benefits of your simplifying efforts is great motivation to keep you going throughout the rest of the house.
Figure out what works for you. Maybe it's dividing your decluttering process up into 15 minute segments so that you don't get overwhelmed. Or maybe you're like me, and thrive off momentum you've created and would be more successful by taking an entire afternoon dedicated to your declutter mission. Customize this simplifying process to fit you and your work style!
Do you have any strategies that help you to declutter your home? Share them below so we can all learn some helpful tips from each other. I'd love to hear from you!
All posts in the Simplified Cleaning Series: