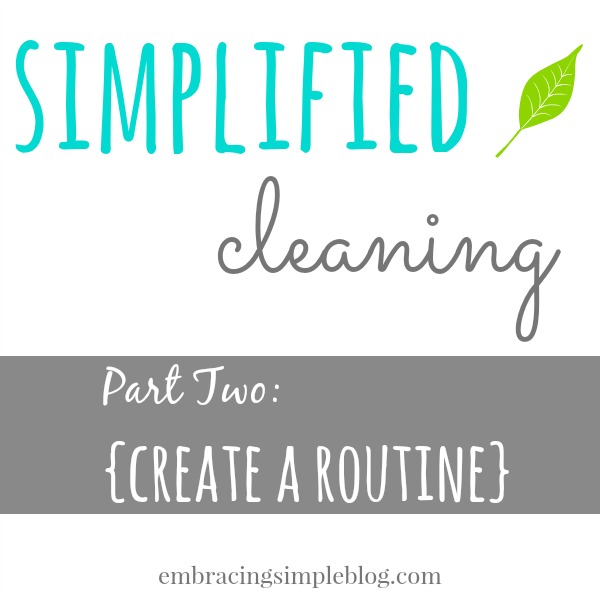 After all of the decluttering you've been doing, I'm sure you're ready to make your home sparkling clean, right?! The good news is that we are covering that today and will be talking all about implementing a cleaning routine!
A few years ago, I developed a cleaning routine that was working really well for me. But once Little Miss came along last June, I found it impossible to keep up with cleaning while working from home and learning the ropes of being a new Mom. It was all just too much, so I bid adieu to my cleaning routine and embraced the crumbs and chaos that my house quickly became.
After a few months of living in a mess, I started to get sick of having to marathon clean every time we were expecting a guest, and just didn't feel good about how my house looked. I am the type of person that thrives in a (somewhat) tidy and clean environment, and my house was anything but. Since we had a newborn, we were spending more time than ever in our house, and the environment was starting to become depressing since it just didn't feel like a space I could relax and want to spend time in.
I decided to bring back my old cleaning routine, but revamped it to make it work for my new lifestyle as a work-from-home Mom. I broke it up so that on any given day I only have to spend 30-45 minutes cleaning, which is doable for me on most days. I also try to avoid cleaning as much as possible on the weekends so that we can focus on family time and getting bigger projects done when my Husband isn't working.
I've found that grouping similar chores together (i.e. dusting all surfaces around the house in one day), instead of focusing on one entire room each day helps me to streamline my time because I only need to pull out a few cleaning tools or products each day, and then I also get into a rhythm with that particular chore.
Of course there are times when I need to veer from this routine, if I'm either too busy one day or something is looking particularly grungy and needs to be cleaned before its designated day. While I don't stick to this schedule 100% of the time, I find that it still really helps me to have my cleaning routine broken down to tackle a little bit each day to keep me from feeling overwhelmed by the task of cleaning an entire home.
I was originally going to make a cute printable out of this routine, but then decided against it because I think that instead of following my routine, you should use this to inspire you to create a routine that works best for you and your home.
Perhaps you don't have a crazy 8 month old crawling around on your floors looking for dust bunnies to eat, so you don't need to sweep every night or even wash your floors every week. If you're a single gal living the apartment life, you can probably clean your entire place in an hour or so and won't find it necessary to split everything up the way I do. Do what makes sense and works for you in whatever season of life you are in! 🙂
My Daily & Weekly Cleaning Routine:
Daily Routine
Morning:
Make bed
Empty dishwasher
Throw in a load of laundry
Evening:
Load dishwasher / wash all pots & pans
Wipe down kitchen table & counters
Sweep kitchen floor
Tidy up toys and other items around house
Fold & put away laundry
Weekly Routine
Monday:
Meal plan (work in progress)
Grocery shopping
Change sheets on beds
Tuesday:
(each done 1x/month)
1st Tuesday – clean oven, microwave, & fridge
2nd Tuesday – wipe down walls, baseboards, door panels, & ceiling fans
3rd Tuesday – clean inside windows & dust blinds
4th Tuesday – wipe down cabinets in kitchen & bathrooms
Wednesday:
Dust all surfaces & wipe down furniture
Thursday:
Vacuum all area rugs
Sweep & mop hardwood floors
Friday:
Clean bathrooms (I only scrub showers/tubs and mop floors every other week)
How do you prefer to clean your home? Do you knock it all out in one day, or spread it out throughout the week like I do?

All posts in the Simplified Cleaning Series: