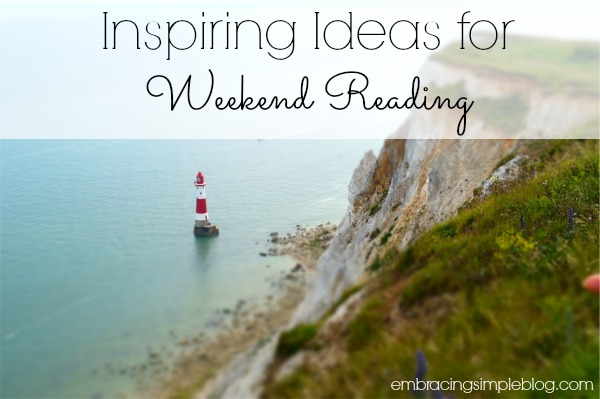 The happiest of Fridays to you!
It's been awhile since I've done a roundup for weekend reads, so I decided it was time to share some of my favorite blog posts from the last couple of weeks. Fix yourself a beverage of your choice, kick back, and enjoy!
Blog posts that inspired me the past few weeks:
How I Let Go Of Caring What People Think on Frugalwoods. How to stop worrying about meeting other people's expectations and start living your life for you.
Sentiment or Function? Which Would You Choose? on LifeStyle Voices. A story on Kay's experience with parting from sentimental items, which is perfect timing for our declutter mission for this week!
What We Appreciate Appreciates on Becoming Minimalist. How having fewer possessions can help you to see how full and rich your life already is, and appreciate what you already have without having to indulge in the "consumer" mentality.
Getting Rid of Negative Self-Talk by Heather Carson. Negative self-talk is something we can all work at eliminating, and Heather shares 5 ways to go about doing just that.
In case you missed anything on Embracing Simple the past week, here's a quick recap of what's been going on:
Book Review + Giveaway: The Mommy Blogger Next Door – My review of an awesome book for either current or aspiring bloggers. I'm giving away a free copy to one reader, and the giveaway ends today (3/13) at 11:59p CST, so be sure to enter if you haven't already!
Non-Clutter Gift Guide: Easter Basket Ideas for All Ages – Some clutter-free ideas for adorable and fun items to put into Easter baskets, there's something for everyone from babies to teenagers.
Simplified Cleaning Series: Declutter – Tips and strategies to declutter your home and possessions to create a relaxing space that you'll love spending time in. Part 1 of 4 in my Simplified Cleaning Series.
You may have also noticed that I now have two new pages up where I share my guide for how to start a blog, as well as some of my favorite resources I use for my freelance business and blog. If either of those topics sound interesting to you, feel free to check those pages out.
Have a fabulous weekend, and happy reading!