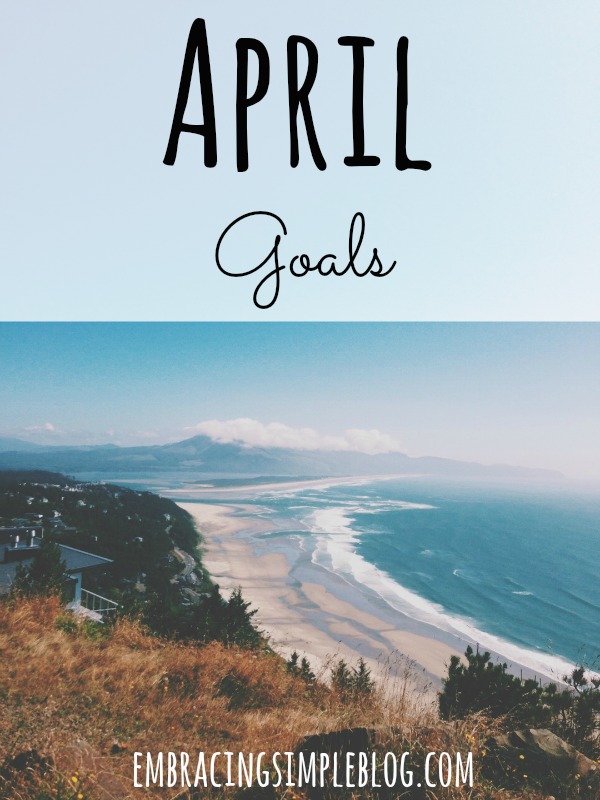 After bombing on my February goals, I'm excited to share my progress in reaching most of my March goals!
This past month was a great one for me and my family. My favorite Brother-in-Law from Florida was able to come visit for a couple of days and meet his little niece, I got asked to be the Matron of Honor in one of my best friend's weddings, and the hubby didn't travel nearly as much for work, so we got to spend a ton of quality time together and tackle some little projects around the house. It was a fun-filled, yet extremely productive month. Here is how my goals shaped up for March, as well as my new goals for the month of April!
March Goals Update

Feel free to read my full post explaining my March goals in detail before diving into this.
Personal Goals:
Workout for 20-30 minutes 3x/week –

PASS

My definition of a workout these days is essentially any kind of constant movement, so it's not like I was lifting weights and running for miles or anything, but I still got a fairly decent amount of exercise in this month. Most of it was due to having some warmer days in Chicago that were in the 50s and 60s, so Little Miss and I went for lots of walks. It was fabulous! There were even a few days that it was snowing or cold and I actually trekked to a nearby mall and did speed walking laps around the mall. I think as it continues to get nicer outside it's going to be easier to fit in some walks most days of the week. I could not be more excited about summer approaching!

Be in bed by 10:00p on weeknights –

FAIL

I started off really strong by being in bed by 10 or 10:30p the first week or so of the month, and then a few sporadic days here and there. But overall I stayed up closer to 11:30 or 12 most nights….whoops. I've probably mentioned this before, but I'm a night owl by nature. It's been a hard habit to break, and something I think I'm going to have to consistently work towards.

Limited TV –

PASS

My goal was to only watch 3 hours of tv per week, and I was able to follow that for the most part. I think the first two weeks of March I probably only watched 1-2 hours of tv each of those weeks, and then the last two weeks I was probably closer to 4 or 5 hours a week. I definitely noticed an increase in my productivity though that directly correlated to how much tv I was watching. I really accomplished a lot this past month!
Declutter and organize my office –

PASS
I was able to completely declutter and simplify my office and am loving it! It has really cleared my mind to be able to focus on my work too. My hubby works from home sometimes as well and we combined our offices when we made his old office into the nursery. He just recently made the bedroom in our basement his new office so that we aren't sharing anymore, and it's been so nice to have my own little space to retreat to and make as girly as my heart desires.
I've been trying to not spend too much money on decorating my office, since we will likely need this room for a second baby at some point, but after clearing all the clutter out I'm feeling inspired to spend a little bit to make it an even cozier space for me to spend time in. I have a mint and white theme in my office and I really love it. The walls are painted a light mint and then I have a white desk and a few decor items that are white as well. I think I'd like to invest in an inexpensive area rug and some cute curtains to make the room a bit quieter and spruce it up a bit. I have hardwood floors in here, so it can echo a bit at times. I'm happy that I followed through with this goal because it's made me really excited to make this little space all my own!
Work Goals:
Do research for my potential microbusiness –

PASS

I finally did some of the light research on how to start my next microbusiness! I've decided that I'd definitely like to pursue this because I think it's going to be something really fun for me to work on. And hey, if I make a little money from it too, then all the better! I'll talk more about this in my April goals below.
Goals for April
Personal Goals:
Limit my sugar intake

I'm allowing myself to put my usual raw sugar in my morning cup of coffee, as well as partake in desserts on special occasions such as Easter and birthday parties. I'm not allowing myself to indulge in any baked goods or other dessert goodness otherwise though. I feel like such a sugar fiend lately and really need to break the habit of feeling like I need to have something sweet everyday. I am literally at the point where I feel like dessert needs to follow up every dinner I eat. I'm going to try to become one of those crazy people who has something like strawberries after dinner and claims it is "dessert". My chocolate and ice cream loving self will report back on how that goes…

List all of the items we want to sell online

We have probably a dozen or so items that we'd like to part with and think will be worth enough to make an effort of selling instead of just donating like we usually do, so I'm going to try to list everything on either eBay or Craigslist and see if we're able to get anything for our stuff. I've been meaning to list some of these things for months, so I really need to just buckle down and do it! Any tips for selling items online you can share?

Keep track of all our purchases

We haven't been keeping the best track of all of our purchases lately, so we essentially have no idea where we currently stand at as far as our spending habits go. I know we aren't frivolous, but it would still be nice to take a closer look at exactly what we are spending money on, and if there are any categories that we are able to cut back on. I made a spreadsheet to keep track of everything and am hoping that we can remember to log all of our purchases during April to get some better insight into where our money is going.
Work & Blog Goals:
Reach 100 likes on my Facebook page

A big thank you to everyone who has already liked my page! I'd love to grow my Facebook presence for Embracing Simple a bit more, and I would so appreciate your help with this one. If Facebook is your thing and you'd like to connect with me there, please like the Embracing Simple page. Feel free to invite any friends or family that you think would enjoy being part of the Embracing Simple family as well, the more the merrier!  🙂

Take the initial steps to start up my new microbusiness

My new side business is going to be based on a physical product, so this is a new type of endeavor for me. I'm used to service offerings that I provide with my freelance business, so having a physical product is something completely out of my comfort zone! I'm going to start an Etsy shop and hope to have it up and running by the end of the summer.

There's some design work and packaging I need to figure out prior to being able to launch, so I'm giving myself a few months to be able to put something together that I'll be proud to have my name on. Are you in suspense wondering what the heck I'm up to? I promise that I'll absolutely be making an announcement when my shop is up and running in a few months, so be on the lookout for that! Any tips you might have on opening an Etsy shop or on selling a physical product are more than welcome, I could really use any advice!
What are some of your goals for April? Share them with me below so we can encourage each other!