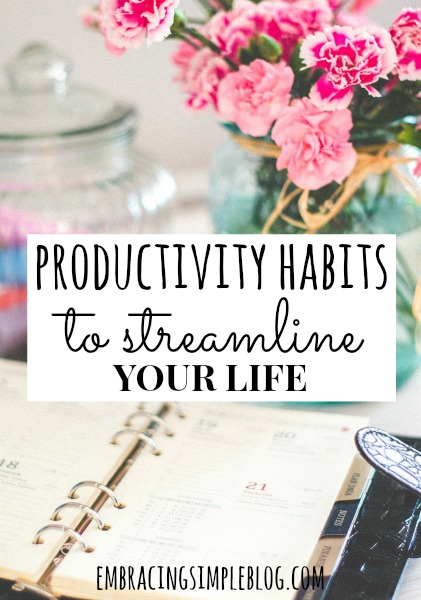 Lately I've been on a mission to streamline my life as much as possible. I just feel so much more peaceful and in control when I'm not running around in a million different directions like a chicken with my head cut off.
I've discovered some productivity habits that really help me to streamline my time and my life in general. I find that by cutting out a lot of the unnecessary, or decreasing how much time I need to spend on my to-dos, I'm left with a lot more time and energy to devote to what I truly love and enjoy doing.
Some of the benefits of a streamlined life include:
Having the time to spend on activities that you enjoy
The ability to bring yourself closer to reaching your ultimate goals
Using your time more efficiently and being more productive as a result
Feeling more at ease and in control of the direction your life is headed
There are many ways that a streamlined life can have a positive impact on your overall well-being and help you feel more empowered when it comes to your future and achieving your dreams. Here are my top productivity habits to streamline your life and help you get on the path to feeling empowered!
Productivity habits to streamline your life:
Simplify your possessions
Physical clutter almost always turns into mental clutter. If you're serious about streamlining your life, this is the best place to start. Once you get the clutter under control, it will be a lot easier to simplify the other areas of your life as well.
For more in-depth tips on how to go about simplifying your possessions and decluttering, feel free to read these other posts I've written on this topic:
Make lists for everything as you go
For example, your grocery list. Keep a notepad out on your kitchen counter or maybe a piece of paper taped to the inside of a cabinet, and then as you run out of milk or other necessities, simply add them to your list. This way you can just grab the list as you walk out the door to go shopping and don't have to spend 15 minutes scavenging through the kitchen trying to figure out what the heck you need. This also helps to prevent you from forgetting anything and having to do another trip shortly after.
Set up routines
Routines don't sound like the most exciting thing to take on, but they really can do wonders for your productivity level. There are cleaning routines, morning routines, workout routines, etc. I think the best approach is to pick one type of routine to help you simplify your schedule and some tasks that you need to accomplish. After that one routine is established, then maybe move on to incorporating another into your life.
Automate
This is a great way to save some precious brain power and energy on remembering to pay monthly bills. Automate as many bill payments as possible so you don't have to fret about paying anything late (or worse, actually paying late and then having to pay for a late fee!).
Create to-do lists
Create a to-do list at night for the next day so you're never left wondering "what exactly do I need to do today?" Take the planning portion out of your morning so that you can just dive in and start tackling your to-dos and your life will become so much easier! The biggest thing is to figure out your top 3 priority tasks for the day, and try to tackle the most challenging one first. Accomplishing your hardest task of the day will likely keep you motivated enough to keep trucking through your list.
Learn to say "no"
If something doesn't align with your priorities in life, don't feel guilty about saying "no" to it. You aren't obligated to do everything in life that is asked of you. You are the keeper of your time, so it is up to you to not let others dictate how you are spending it. When we allow ourselves to become caught up in activities and perceived obligations that we don't enjoy, it doesn't leave much time to spend on what we actually want to do.
Delegate
If there's something a family member or friend is able and willing to help you with, don't be afraid to ask for help if you find yourself feeling overwhelmed. This is something I am still working on because I really hate asking for help of any kind, but life is so much easier and less stressful when you accept help as you need it!
I've also found the Make Over Your Mornings course to be a great resource for revamping my mornings and allowing me to be a lot more productive! Feel free to read more about my experience with this course here.
Are there any productivity habits that you've found helpful in streamlining your own life? Share them below!
P.S. Be sure to subscribe if you haven't already, so you don't miss any upcoming posts 🙂
There are affiliate links in this post. If you choose to make a purchase, I will receive a small commission at no additional cost to you. I only recommend products that I love myself and that I think would benefit you too. Thank you for helping to support Embracing Simple in this way!