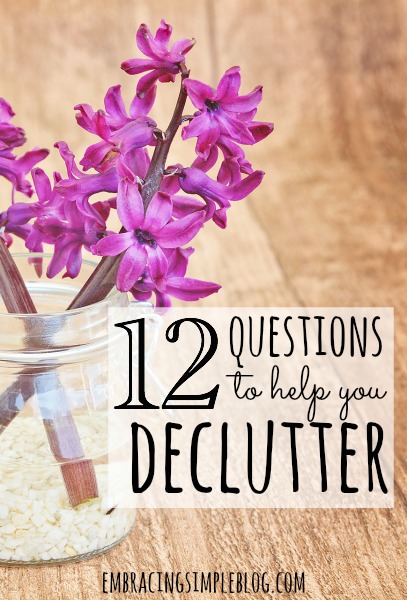 We all have excuses as to why we keep certain items in our home long after they have served their purpose. Whether it's out of shame from spending too much money on it, or the guilt of receiving it as a gift, there is always going to be a reason to not get rid of something. Because of this, it's important to be a bit ruthless when you are in the process of decluttering.
I know from experience that this can be a tough process to go through if you aren't armed with the tools you need to help you get to your end goal – a clutter-free and simplified home!
I've complied a list of 12 questions to help you declutter that I've found to be extremely useful in my own decluttering missions. This is a no-nonsense approach to decluttering and will really help you to determine what you should keep and what you should toss.
If you are having a difficult time deciding what to keep or toss, apply this list of questions to each item and see what your thought process is as you go through them. I can guarantee that running through this list will help provide you with some clarity as to why you may be keeping items that you can truly get rid of!
12 Questions to Help You Declutter:
1. Is this item something I'm currently using?
If not, have I used this item in the past year? If your answer is no, then this item should automatically go. Unless it's an exception like a baby swing or something of that nature that you're planning on using for another child in the near future, there's no reason to keep hanging onto something that you clearly don't need. Even seasonal items such as a snow blower, sweaters, or gardening tools should be used within the time frame of a year, so there's really no excuse to keep these things around if you haven't used them in the past season they apply to.
2. Is this something that I would buy right now if I saw it in a store?
If you wouldn't spend your hard earned money on purchasing that item again, it obviously isn't something that means much to you or brings great value or use to your life. If it broke and you wouldn't buy a replacement for it, donate or toss it!
3. Is the thought of wasting money keeping me from getting rid of this item?
Newsflash: you already wasted your money upon purchasing the item 😉 . Move on! Keeping it around for that reason is only depriving yourself of having a clutter-free home. And you'll likely feel guilty for the money you wasted on it every time you lay your eyes on it. Do yourself a favor and just be rid of it already, you'll feel so much more free!
4. Is this something I love?
No? Then it goes! For example, if you're keeping the sweater that your sweet Aunt Ruth bought you for Christmas 5 years ago purely out of guilt, but you hate the thing and would never wear it, I give you permission to donate it.
5. Am I holding onto this for sentimental reasons?
If you're holding onto something from your childhood that you wouldn't necessarily want your own kids to use when they are older, but just want it for the sake of having it, consider donating it. Shoving your childhood possessions or belongings of relatives who have passed away into a box and not opening it for another decade or two isn't doing those items any justice. One of my top decluttering tips is to take a picture instead and then send the item on its merry way to the donation pile to be enjoyed by someone else!
6. Do I have future plans for this item that never seem to happen or am I saving it "just in case"?
I think this is probably one of the hardest aspects of decluttering and simplifying for a lot of people. The fear of needing something after you've thrown away or donated it tends to keep many people from getting rid of the item at all. The truth is, it's only taking up precious space in your home and is requiring your energy to clean and maintain it.
I had so many items at one point that I was keeping "just in case", or because I had grand plans to fix up that just never seemed to happen. Once I actually purged these items, I didn't miss them one bit! For example, maybe you tell yourself that this item would be the perfect addition to a Halloween costume….yet you've been telling yourself that for years now and have yet to actually act on it. I hate to tell you this, but it's not happening! Get over the idea and just get rid of the item already.
7. Do I have multiples of this item?
Do you have 2 blenders that you never use at the same time? What about those 4 hair brushes in your bathroom drawer? Or the 5 pairs of scissors in your desk? If you have a similar item(s) that serves the same purpose, then get rid of one of them. In most cases, you don't need multiples of the same item and you'll likely not miss the duplicates at all.
8. When I wear this, do I feel confident?
If you are keeping clothing that doesn't make you feeling confident or good about yourself or your body shape, get rid of it this very second.
For the longest time I held onto jeans from high school that I was convinced if I just lost another 5 pounds I would look great in them again. Every time I looked at the jeans hanging in my closet I would feel a longing of wanting to lose weight and feel generally bad about myself that I still wasn't able to fit into those darn things. I felt so much better when I just let go of the past and my former weight and embraced myself at the size I am. There's no need to keep clothing around that no longer fits you. My one exception is maternity clothing, as I'm definitely hanging onto mine from my first pregnancy to be able to wear with baby #2 someday!
9. Could someone else use this more than I do?
If you haven't used the item in quite some time, but know that someone else could really benefit from having it, donate it! Whether it's clothing that you never wear that could be donated to someone less fortunate, or a box of old baby gear you just can't seem to part with (even though your youngest is 10 years old), think about how these items could enrich someone else's life. It makes it a lot easier to part with items when you know that someone else can truly enjoy and use them long after they have proved useful to you.
10. If I were moving to a new home, would I want to pack this item and make the effort to bring it with me?
If you wouldn't want to go through the trouble of carefully packing up the item and potentially paying a mover to bring it to a new home someday, you should really reevaluate keeping it and letting it take up space in your current home.
11. Is this item worth the time I spend maintaining/cleaning/storing it?
Your time is your most valuable resource. If you are spending it cleaning and maintaining things around your home that you don't love or even need, then it is not time well spent.
12. Could I make money by selling this item?
If donating or giving items away doesn't appeal to you, considering selling them instead. If you could make a decent profit and think it would be worth the time spent listing it online, try selling it on eBay or Craigslist. Or even having a garage sale if you find enough items in your home that you want to get rid of. The opportunity to make a few extra bucks might be the motivation you need to get rid of some of your stuff for good.
Ready to get started? Sign up for Simplify, my free 4-week course.
If you want more actionable tips to help you declutter your home, click here to sign up for my free 4-week course!
Which of these questions to help you declutter do you find the most challenging for you to follow through with?