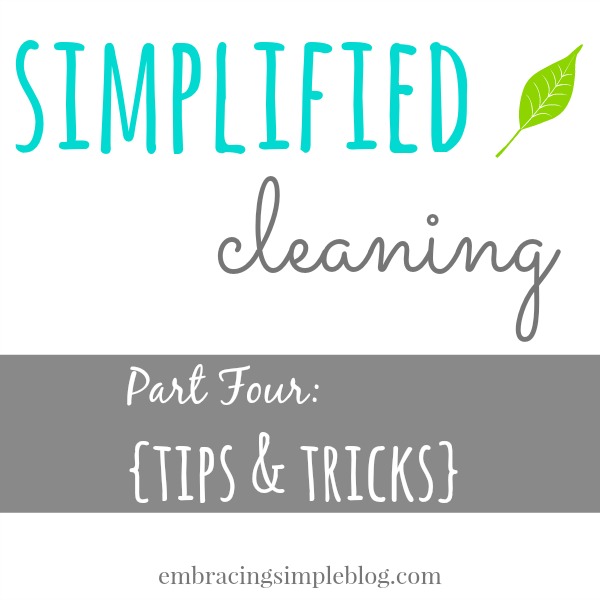 Welcome to the last post in the Simplified Cleaning Series! We've decluttered, created our cleaning routines, and simplified our products and tools. Now, onto some fun "hacks" that help make cleaning quick and easy!
Tips & Tricks for quick and easy cleaning:
If you have a baby or small toddler that wants to be held, snap on a baby carrier like an Ergo and go to town with sweeping, vacuuming, and mopping floors. It's typically the only way I'm ever able to tackle my cleaning for the day, and I've also found it to be a tried and true way to get a baby to sleep with the motions, win-win!
Whenever you are doing something in the kitchen, whether it's waiting for coffee to brew, bread to toast, etc., use that couple of minutes to tidy up or go through a cabinet to see what you might be able to part ways with. You'd be surprised how much you can get done with just a few minutes here and there!
Spray some homemade all-purpose cleaning solution (recipe here) onto a paper towel and then wipe down your cell phone to disinfect it.
Create a DIY liquid fruit fly trap by filling a small cup or bowl with apple cider vinegar and then adding 3-5 drops of liquid dish soap. This is our favorite way to get rid of fruit flies in our home, it works like a charm every time.
Clean out your coffee maker by filling the water reservoir with a mixture of half water and half distilled white vinegar. Turn on and let several cups run through, and then turn it off and let it sit for an hour. Then start the coffeemaker again and let the remainder of the mixture in the reservoir run through. Then discard the vinegar mixture and run just water through the coffee maker a few times until the vinegar odor disappears.
Use kosher salt to clean burnt food off of stainless steel cookware – an awesome tip from Mixing Maroons. Mrs. Maroon has this post with a great detailed how-to!
Use Qtips to dust air vents.
Clean your house from top to bottom so that any particles of dust or crumbs don't land on freshly washed floors.
Clean and disinfect plastic toys in the dishwasher. Place smaller items in a mesh laundry bag so they don't fall to the bottom.
Clean your microwave the easy way without scrubbing your arms off by steam cleaning it! Pour 1 cup white vinegar into a pyrex or other glass bowl with 1 cup hot water and microwave on high for 5-10 minutes. Then carefully take the bowl out and simply wipe out the inside of your microwave.
Dust lamp shades with a lint roller.
Clean your coffee grinder by filling it with uncooked rice and turning it on for 30 seconds.
Throw your shower curtain liner in the wash with a few towels to scrub it clean and then hang it back up to dry.
Do you have additional tips and tricks for quick and easy cleaning that you use? Share with us below! 🙂
All posts in the Simplified Cleaning Series:

*There may be affiliate links in this post.