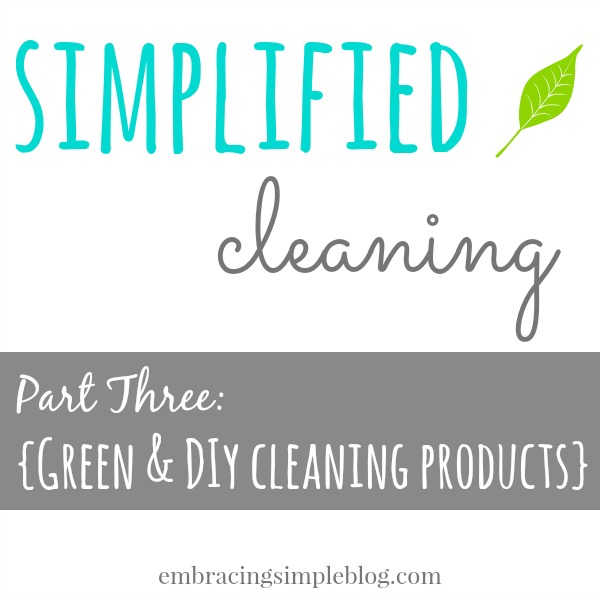 Today I'm sharing some of my favorite natural cleaning products and tools, as well as a few recipes I have for some DIY homemade cleaning products that I swear by.
I try to keep the amount of chemicals I use in our house to a minimum, without over-complicating my life and cleaning routine at the same time. With a baby who likes to lick the floors and eat everything in sight, it makes me feel better knowing she isn't ingesting anything too dangerous. I don't have a ton of extra time to allocate towards making several homemade cleaning products, but I do enjoy knowing exactly what's in the few that I do make. It certainly saves me money too! Here are my favorite green & DIY cleaning products.
My Key Cleaning Tools
Vacuum – ours has no bags that need to be replaced, which is good for the earth and my budget
Steam mop – comes with washable pads so you never have to buy more, and disinfects floors without having to use any other cleaning products
Old rags – eliminates the need for paper towels
Toilet bowl brush
Non-toxic toilet bowl cleaner – if you're wondering why I prefer non-toxic for this…my 9 month old pulled herself up on the toilet into a standing position and LICKED the outside of it this week. #momoftheyear
My homemade all-purpose spray cleaner (recipe below)
My homemade liquid laundry detergent (recipe below)
Dryer balls – we use these in place of fabric sheets to reduce static (and chemicals) while our clothes are drying
That's it, folks! That's pretty much the basics of what I use to clean around our house and clothes. It's easy to feel like you need dozens of cleaning products to accommodate all the different surfaces in your home, but I find it all much more manageable when I simplify the amount of products I need to use. It makes cleaning seem like less of a chore when it's not such a complicated process with a million different tools and products involved.
Now, onto the recipes!
Homemade All-Purpose Spray Cleaner
Ingredients Needed:
Directions:
Mix equal parts water and rubbing alcohol and then sprinkle in a few drops of essential oils if you desire. Done! It doesn't get easier than that, right?
I use it on:
Mirrors
Windows
Granite kitchen countertops (rubbing alcohol is safe to use on granite. However, vinegar is not)
Stainless steel appliances
Door handles
Bathroom countertops
Toilets (except for the inside of the bowl) – I spray onto a cleaning rag and then wipe down
I realize that rubbing alcohol isn't the most natural cleaning product out there, but it's also not the worst either. I use this spray most often on my kitchen countertops and needed something that was safe to use on granite. As noted above, rubbing alcohol is perfectly safe for granite, but common natural cleaners such as vinegar are definitely not. A cleaning solution with a vinegar ingredient instead of the rubbing alcohol would be considered more natural, but just isn't practical for me to use on a routine basis. Cleaning has to be made easy in my house, otherwise it doesn't happen 😉 .
If you aren't the DIY type, I highly recommend Mrs. Meyers Multi-Surface Cleaner as a natural all-purpose spray. It smells really nice!
Homemade Liquid Laundry Detergent
I've been making our laundry detergent for 3 years now, and we've saved a ton of money with very minimal effort by doing so. The entire process takes about 20ish minutes of my time, and the entire batch lasts almost a year for us! I find the process of making it therapeutic too, it's honestly super easy.
Ingredients & Tools Needed:
4 Cups water
½ Cup Borax
5 gallon bucket – I got mine at Home Depot for less than $3
Empty jugs to store in (optional). Old milk and juice cartons work beautifully for this purpose!
Just a note – The washing soda and borax also last for making this recipe multiple times, so the only thing I need to consistently buy about once a year when I make this is the soap bar.
Directions:
Grate the bar of soap and add to a saucepan with water. Turn on medium-low heat and continually stir until the soap dissolves and is completely melted.
Fill your 5 gallon bucket halfway full of hot tap water. Add melted soap, washing soda and Borax. Stir well until everything is dissolved. Fill bucket to the top with more hot water. Then stir, cover (a cookie sheet works well), and let sit overnight to thicken up before using. After it thickens, I then pour it into my empty jugs. A funnel of some sort makes this process much easier!
When you're ready to use, fill your laundry soap dispenser halfway with the soap and then fill the rest of it up with water. Be sure to shake well before each use.
This recipe make 10 gallons of soap when all is said and done (5 gallons of soap mixed with 5 gallons of water since we're adding them together in the dispenser).
I hope you found this helpful! Please let me know if you have any questions about how I use my cleaning tools or make my own products below, as I'm happy to answer them.
Have you ever tried making your own cleaning products before? If not, would you consider it now that you know how easy it can be? 🙂
All posts in the Simplified Cleaning Series: