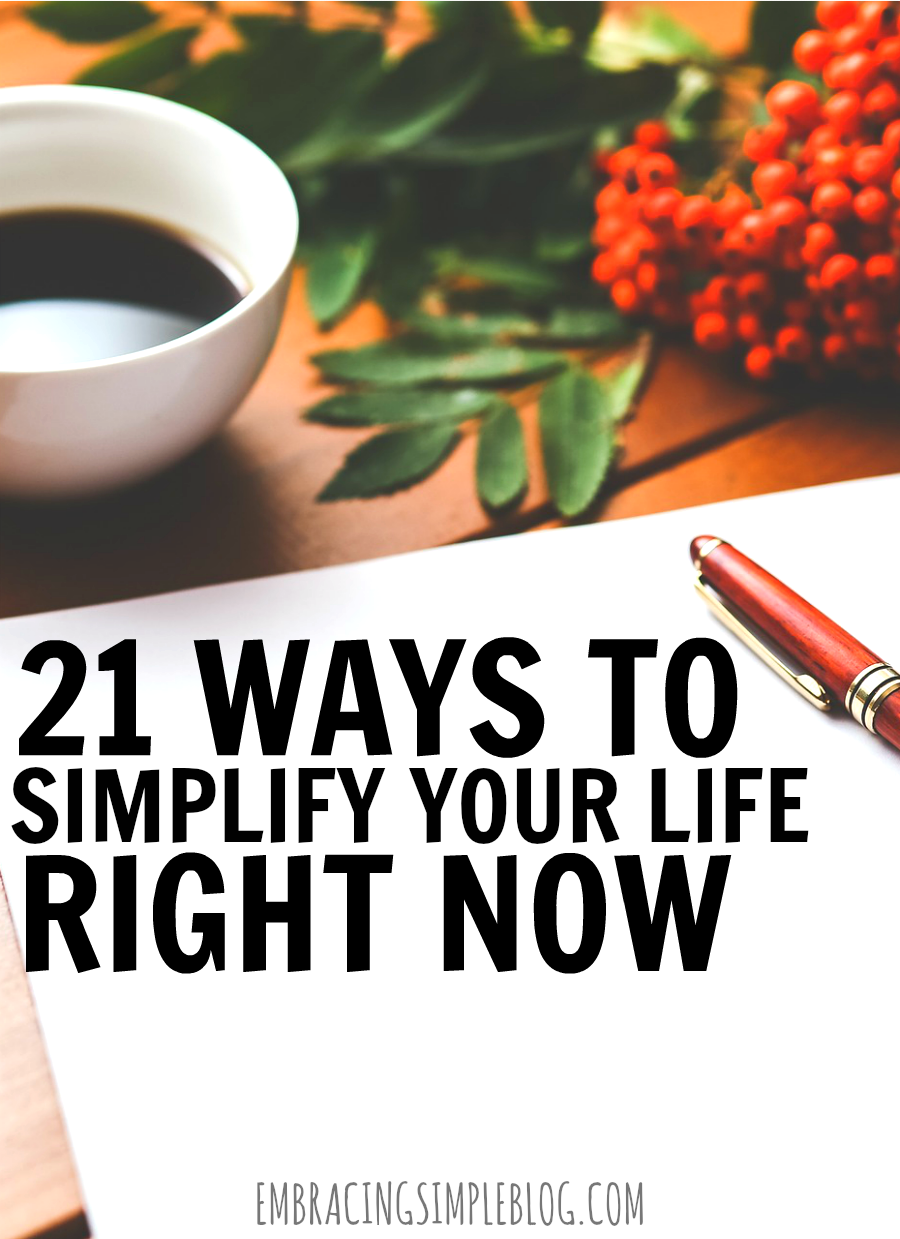 Is your life is a little hectic these days?
Like you wish you could just slow the heck down and savor it all a bit more, but that getting to a simplified state seems like it's an almost impossible task?
I think all too often, we can get caught up in the idea of needing to make big changes in our lives in order to experience big results.
In my experience, I've found that sometimes the smallest of changes are what make the biggest impact over time. It helps that they are much easier to implement too and seem more doable to fit into our busy lives when they only take a few minutes of our time.
It's great to want to downsize and simplify your life, but if you find yourself never actually starting that huge process, it can be really discouraging when the desire to simplify is there, but you just can't seem to make it happen.
Today I'm sharing a few ways to simplify your life right now that don't require too much of your time, but will still reap you awesome results.
21 ways to simplify your life right now:
1. Create a morning routine
Doing this one thing has brought so much peace to my life. I share more about how I implemented the tips I learned from the Makeover Your Mornings course in this post to turn my mornings around, and I cannot recommend creating a morning routine enough. It is a game changer, especially if you have kids!
2. Dump junk mail in recycling on your way into the house
How many times do you bring in the mail and just leave it on the counter, only to finally sort it days later? I've found that rifling through the mail as I walk up the driveway, and then immediately recycling all the junk mail keeps that clutter off of our counters for good. It's also great because then I don't give myself enough time to look through the latest Pottery Barn Kids catalog and want to buy everything 😉 . Boom, instant savings too!
3. Fold and put away laundry immediately
I realize that this isn't always the easiest when you have small children, but I find that doing a complete load of laundry all at once makes doing laundry alltogether not seem like such a chore. I try to fold and put everything away as soon as the dryer finishes its cycle, which decreases the chance for things to get wrinkly and completely eliminates the need to iron anything. We also live in a ranch and our laundry room is the first thing you see when you walk into our house from the garage, so it's really nice to not have piles upon piles of laundry taunting me everyday as we come and go.
4. Donate 10 items currently residing in your closet
Unless you are already a minimalist, I am positive that there are 10 items in your closet right now that you can easily part with. It shouldn't take you more than a few minutes and can make your closet feel so much less cluttered and overwhelming. Not sure what to keep or what to donate? Read this.
5. Turn your hangers in your closet around
Turn every single hanger in your closet backwards. Then as you wear each item and are putting it back into your closet, turn the hanger back to the correct side. All of the clothes on hangers still facing the backwards direction after 6 months should be donated, because you clearly are not wearing them.
6. Start saying "no"
If you are feeling overwhelmed by how many plans you make for the weekend, or find yourself less than excited about going to all the events that you've committed yourself to, I encourage you to start saying "no" wherever possible. I love spending time with my family and friends, but as an introvert, I definitely feel drained by making too many plans for myself. I've learned that it's okay to say "no" every once in awhile or suggest a different date in the near future if you find yourself needing that time for some unwinding.
7. Toss all expired canned & dry goods from your pantry
You know what I'm talking about, the ones that expired three years ago. Spend 10 minutes doing an overhaul of your pantry and toss everything that has expired. Not only will it free up some space, but it will help you to get a better analysis of what edible food you actually have on hand so that you can plan your meals and shopping list better.
8. Carve out time to work on your goals
Do you want to finally start your blog? Perhaps begin a new workout routine? You need to set the time aside in your schedule to make sure that you are setting out to achieve the important dreams you want to accomplish. Put that dedicated time in your calendar right now!
9. Tone down your to-do list
If your to-do list for the day is 30 items long, I can almost guarantee that you won't be able to fit it all in today. Be realistic about what you can actually get done in one day, and have your to-do list align with that. Having over 90% of your list left after a long day of being productive won't leave you feeling very good – let's change that!
10. Empty your inbox
Do you have emails from months ago sitting in your inbox? Get to Inbox Zero and feel zen again!
11. Eliminate as much paper clutter as you can
I'm currently using The Paperless Home as a guide for going almost completely paperless in my own home. I love paper, especially for my to-do lists, but I got so tired of all the paper work and clutter in my office that I decided I'm done with it once and for all.  It's been causing me so much stress to have to sift through everything to find what I'm looking for and I'm so looking forward to finishing this process and having a clutter-free office again 🙂
12. Slow down
I'm guilty of rushing so quickly while running errands or doing things around the house that I could probably knock anyone over who gets in my path. Life isn't a race, it's meant to be savored and enjoyed. Sometimes you need to physically slow yourself down, or you're going to miss it!
13. Get the sleep you need
You aren't doing yourself any favors by getting less than 5 hours of sleep per night. This is coming from someone who slept 3-4 hours almost every night for years, so trust me when I say that you will function 100% more efficiently if you get an adequate amount of shut eye.
14. Set a limit for how much TV you watch
I have tried to completely cut out TV, and it just never works for me. I think I'm a bit of a TV addict! So I've finally comes to terms with the fact that I'm okay with watching a little bit with my hubby every night while we unwind, but I've definitely had to set limits for myself so I am not a total TV junkie. Setting a limit for TV time (say 30 minutes every night, for example) helps to free up your time to accomplish other things and to not just waste it all being a couch potato.
15. Automate some of your bill payments
Do you keep forgetting to pay certain bills on time and as a result are paying late fees and stressing about it? Automate all the bill payments you can so that this isn't an ongoing worry.
16. Stop caring about what others think
I know this is easier said than done, but caring too much about what others think leaves you in a place where you are living your life for what others think you should be, rather than what you want to be. Care less about what others think, and more about what you want.
17. Stop multi-tasking
I get it, it's hard to focus on only one thing at a time. But it can be really hard to get much of anything done well when you are bouncing around from one task to the next and aren't giving anything your complete attention. Stop trying to do a million things at once, and I think you'll find yourself not only producing better work, but being a lot more efficient too.
18. Set out your clothes for tomorrow morning
If you find your mornings being complete chaos while you rush out the door to work, try setting out your clothes the night before so that you don't even have to think about it when you wake up. This one simple change can really make a difference in how you start your day.
19. Clear off your desk
Piles of paperwork, a million pens, tissues, lip balm, a coffee cup, notepads….these are all the things that can easily pile up on my desk on a daily basis. If you find yourself in the same predicament with a desktop cluttered with stuff, take a few minutes to clear it off before you sit down to work for the day. It will help you stay focused on the task at hand and not become distracted by your surroundings.
20. Pack your lunch for work or kids' lunches for school tonight
Just like setting out your clothes the night before, packing your lunches the night before can also help you to have a more simplified morning routine with more peace and a lot less rushing around like a crazy person. Try to make your mornings as easy as possible so that you aren't starting your day frazzled!
21. Stop buying stuff you don't need
Seriously, stop the insanity. Do you really need to be perusing the clearance rack every time you go to Target? I know, that shirt would look adorable on you, but you really don't need it. Bringing more crap you don't need into your house is not enriching your life, it is only cluttering up your space.
Bonus tip – sign up for Simplify, my free 4-week course
Want to simplify your life? Sign up here or click the image below to join this free 4-week course to help you curb the chaos in your life 🙂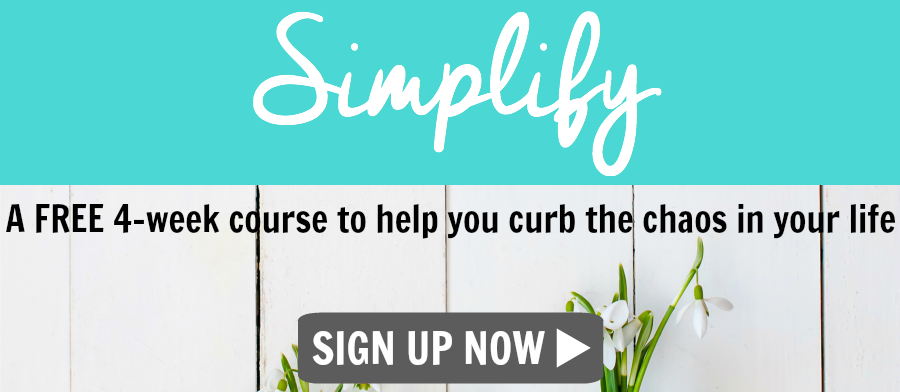 There are affiliate links in this post. If you choose to make a purchase, I will receive a small commission at no additional cost to you. I only recommend products that I love myself and that I think would benefit you too. Thank you for helping to support Embracing Simple in this way!