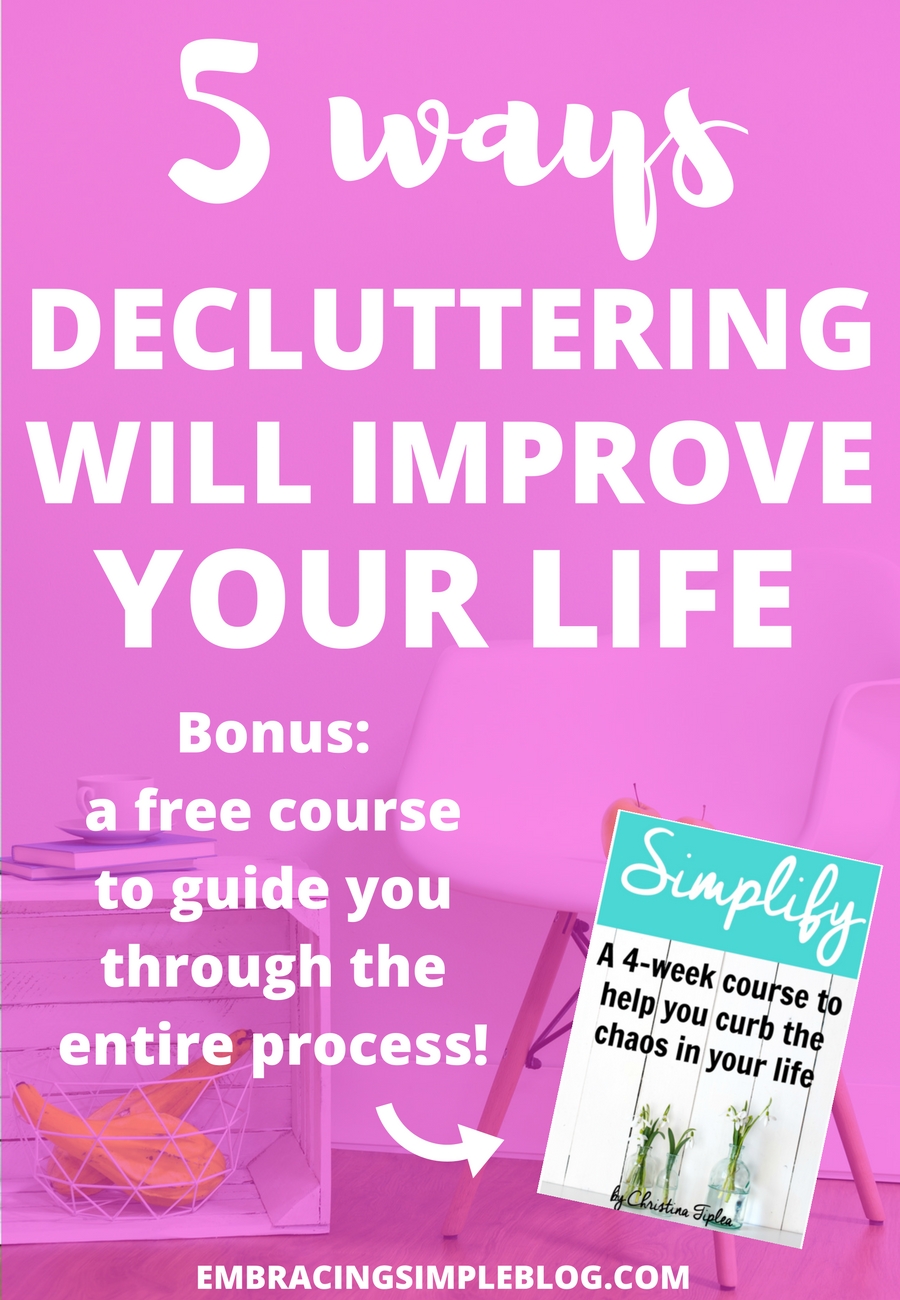 The excess clutter in our homes can be such a burden to carry.
The worst part is, we sometimes don't even realize how much this excess is dragging us down until we finally allow ourselves to become free from it.
I've learned a lot over the past few years of simplifying my life and striving to live as clutter-free as possible.
And let me say…as a Mom of two with a 2-year-old and 2-month-old, it certainly hasn't been easy trying to keep our home and lives simplified. As our children grow and require new clothes or items to accommodate their ever-evolving needs, it is definitely work to keep up with the constant flow of items coming into our home.
It's all I can do sometimes to make sure our stuff isn't swallowing us whole. But even though there is significant effort required in maintaining a (mostly) clutter-free home in this season of my life, I know for a fact that it's worth it.
Living this way has improved our lives in more ways than I can count.
Today I wanted to share just a handful of the ways decluttering will improve your life, and what I've learned in my own simplifying journey thus far.
If you have been meaning to declutter your possessions for some time now and are looking for some motivation to get your butt into gear, I hope these inspire you to finally take the plunge and clear out some of the excess in your own life 🙂
5 ways decluttering will improve your life:
1. It will reduce your stress levels and allow you to relax more easily
The physical sight of clutter everywhere can be enough to instantly make you tense.
It's a constant reminder of things you should be getting done or tending to and it makes it difficult to completely relax when you have piles of stuff taunting you and knowing you'll eventually have to deal with them.
It can also be stressful to always be searching for things you need. Or even worse…. losing them entirely.
Simply put… less stuff = less stress!
Related post: A free course to simplify your entire life
2. Your ability to focus will increase
Do you ever find that your best work is usually done in a clean and clutter-free environment? There's a reason for that!
Clutter can bombard our minds with way too much stimuli, which causes our senses to focus on things that aren't necessarily important. So when you are sitting down at your computer to get work done and can see a pile of paperwork in the corner of your eye, your brain is going to have to work overtime to focus on the task at hand since it's also being bombarded by the physical clutter nearby.
Clearing out clutter helps to clear out your mind too!
Related post: Keep or Toss? 12 Questions to Help You Declutter
3. You will have more time
Less clutter to deal with means less time maintaining, organizing, and tidying up your things.
This then leaves you with more time and energy to do the things you truly want to be doing. Meaning more time for family, friends, relaxing, and fun. Who wouldn't want that!
Related post: 11 Reasons to Own Less Stuff
4. You will have more patience
Do you find yourself instantly irritated when you walk into your home after a long day and are faced with clutter everywhere and feeling like you can't escape from it?
Or maybe you are frustrated pretty often from not being able to find things when you need them.
Clearing out the excess clutter in your life is going to allow you to spend less time and energy on dealing with your stuff, so that you have more patience to handle the rest of your life with ease.
Related post: Decluttering Tips to Simplify Your Home
5. You will feel lighter
There is truly a great sense of freedom when you no longer feel like you are buried under your possessions, both literally and figuratively.
Living in a less chaotic space gives you the ability to enjoy life more and not feel so much responsibility when it comes to your belongings. There's not as much to take care of or worry about, and you start to place less value on the role that material possessions play in your life. It's a wonderful feeling!
Ready to get started? Sign up for Simplify, my free 4-week course.
If you want actionable tips to help you declutter your home, click here to sign up for my free 4-week course!
How has decluttering helped to improve your life? Please share with me in the comments section below! 🙂