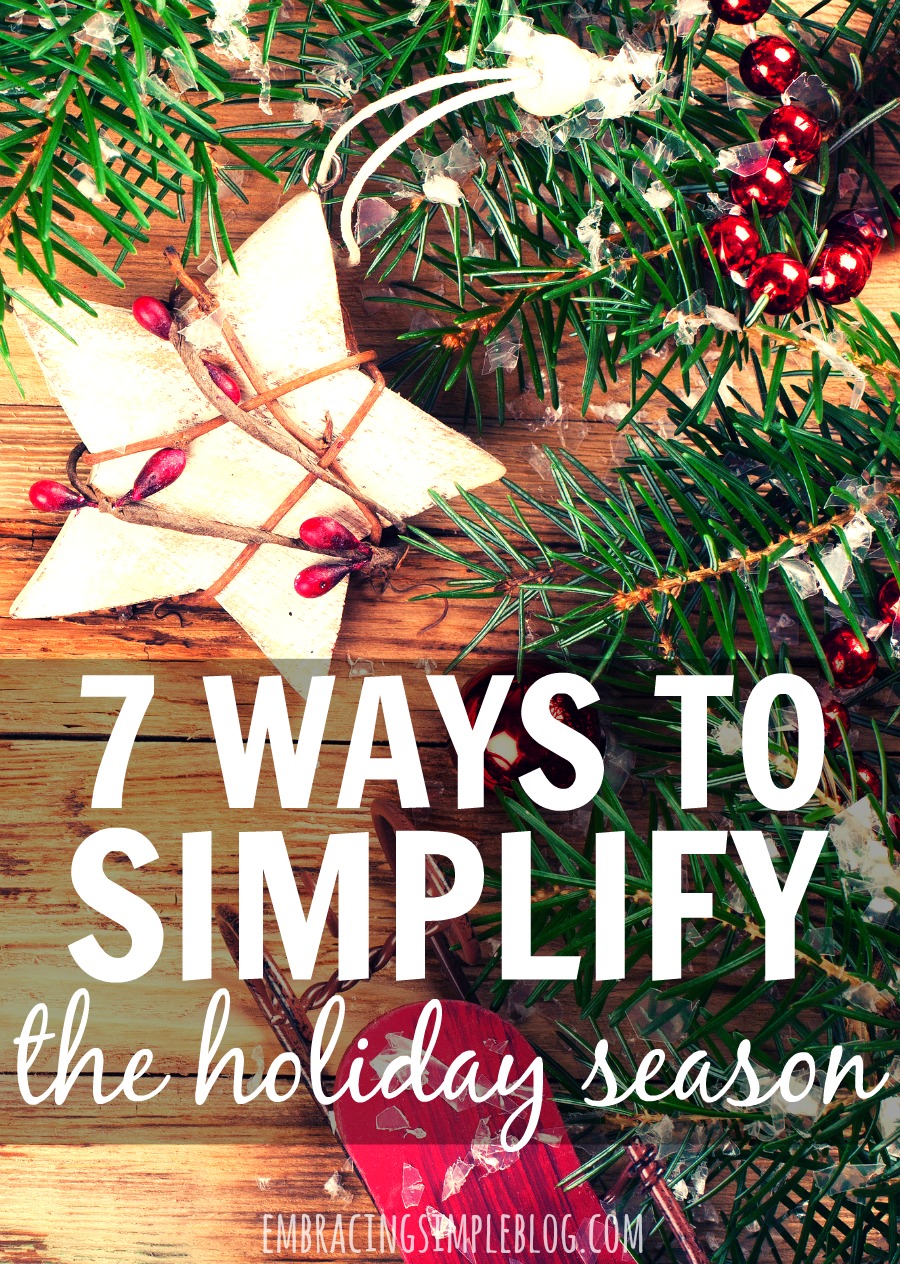 Are you feeling stressed out by the holidays already? Perhaps feeling like you want to run and hide until it's all over so you can just relax?
The holidays can be a huge time of anxiety and dread, but it truly does not have to be that way!
There are a few simple changes you can make to help simplify the holiday season so you can enjoy it to the fullest, and I'm excited to share them with you today.
Let's start finding the joy in the holidays and shed all of the stress that can so often be brought on by this time of year!
7 ways to simplify the holiday season:
1. Pare down your decor
Do you have holiday decorations you put up that you aren't completely in love with? Get rid of them! Only take the time to put up the decor that you adore and really enjoy having in your home.
If you are looking for simple Christmas decor inspiration, read my post on Easy and Inexpensive Christmas Decor Ideas.
2. Reduce the amount of gift exchanges you participate in
Are you overwhelmed by how many gift exchanges you participate in every year, or are tired of all of the excess it's bringing into your home?
Read this post for great tips on how to tactfully decline gift exchanges this holiday season.
3. Establish traditions that are meaningful to you
A great way to find joy during the holiday season is to establish traditions that help you relish in your favorite aspects of this time of year.
If you would like more inspiration on ideas for creating your own holiday traditions, read this post that contains ideas for fun Christmas traditions.
4. Learn how to say "no"
If you are feeling overwhelmed and stressed out, the easiest way to remedy that is to start saying "no" to the things that aren't important to you.
If you are invited to several holiday parties every weekend in December, don't feel like you need to attend every single one. Perhaps choose just a few to attend that you are really excited about, but politely decline the rest. The holiday season is meant to be enjoyed, not running around from one party or event to the next like a chicken with your head cut off!
5. See the holidays through the eyes of a child
Sometimes as adults, it can become very easy to get caught up in all of the additional obligations and "to-dos" the holidays bring.
A great remedy for this is to look at the holidays as if you are a child. Even if you don't have children of your own, take the time to do fun and spontaneous things like looking at Christmas lights, going sledding, or watching your favorite holiday movies.
Forget your "to-do" list for a few hours and just focus on having fun!
6. Declutter your home before the gifts start rolling in
I find it so much easier to welcome new items into my home on Christmas day when I've already taken the time to make room for them.
In the weeks leading up to Christmas, take a few minutes to go through your belongings and get rid of as much as you can. You will feel so much lighter!
If you are struggling to figure out what to keep or what to toss as you declutter, check out this post with great tips and 12 questions to ask yourself as you are sifting through each item.
7. Focus on being fully present
Instead of thinking about everything you need to get done while you're trying to enjoy time with family or friends, focus on being fully present and in the moment.
Put away your smart phone, turn off the tv, and just enjoy the conversation and spending quality time with those you love. You will find so much more joy and happiness in the holiday season if you make this one simple change! Read this post for more ways to be fully present.
(Bonus tip) Join the Savor the Holidays mini course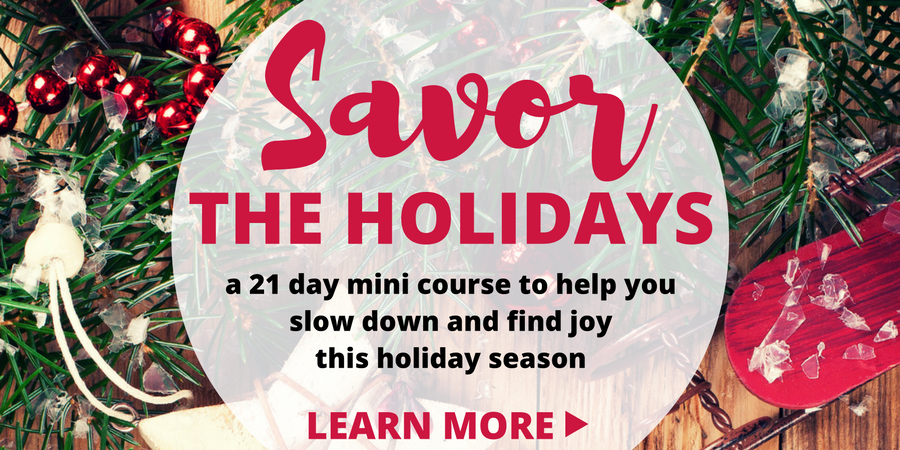 If you want more in-depth information on how to simplify and truly savor the holiday season, I would love to have you join me in my Savor the Holidays course I created just for this purpose.
This course is designed to help us all slow down and find joy this holiday season, and those who have already started to dive in have said this course is really opening their eyes to how the holiday season should be. We'd love to have you participate too!
Click here to learn more about the Savor the Holidays course 🙂
Does this time of year typically stress you out? If so, how do you plan to simplify the holiday season this year?