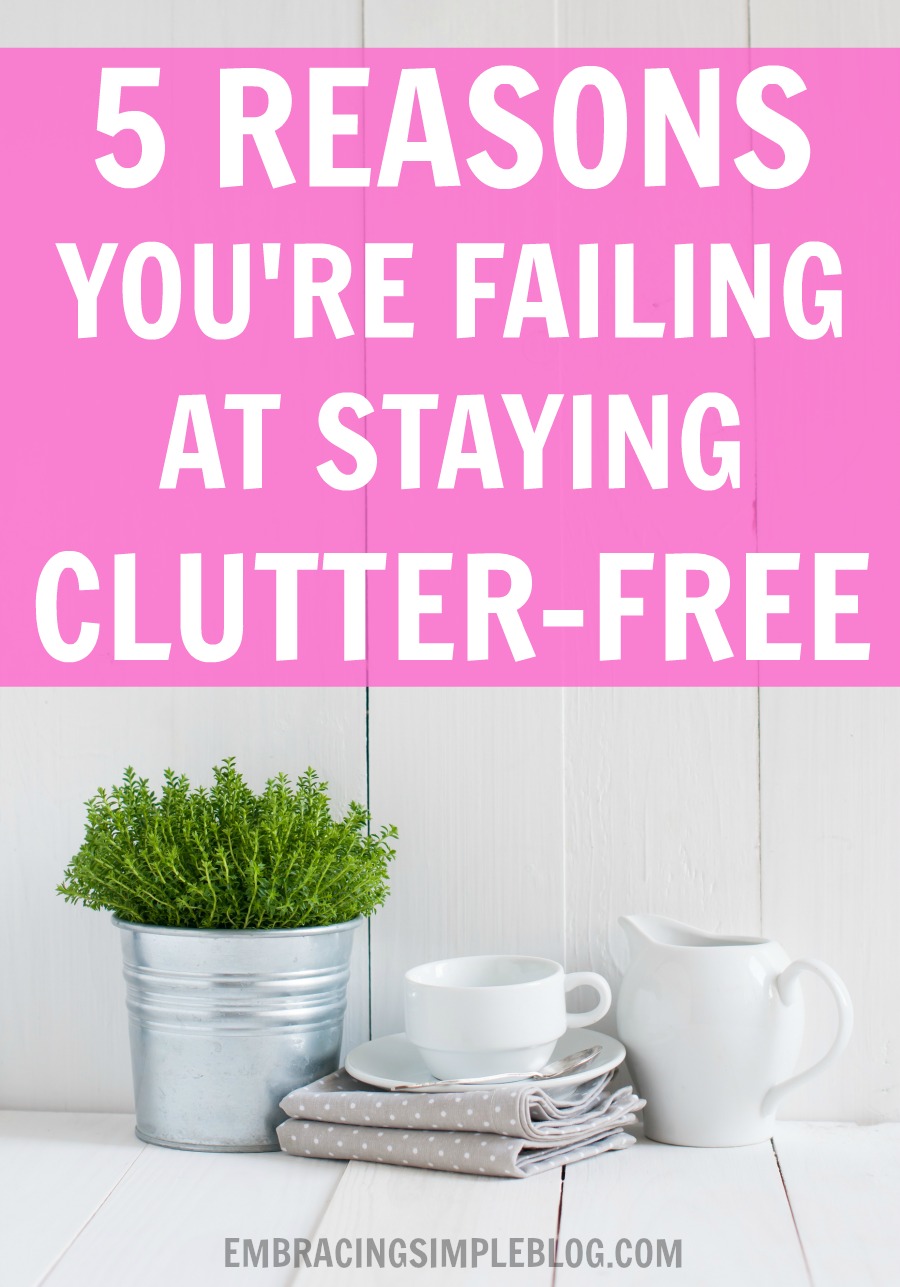 Unless you're an extreme minimalist, I can guarantee that at some point in your life you have looked around your home and wondered when the heck you accumulated all of this crap.
Maybe you've even wondered where most of it came from or how it wound up hiding in the depths of your closets or lurking in the corners of every room.
We've all had our moments of feeling like we are drowning in clutter and become overwhelmed with not only how to tackle the mounds of crap we've accumulated, but to make sure they never creep their way back into our lives again.
Even recently I've found myself doing huge purges in our home and asking myself why I feel like I'm failing to stay clutter-free every once in awhile.
I came up with a few reasons why I think most of us feel like we are overwhelmed with possessions, and I found it to be a really good reminder to keep in the back of my mind to hopefully curb the intake of clutter coming into our home in the future. I thought I would share with you all too in case you are in need of the same kind of inspiration when it comes to keeping your "stuff" to a comfortable minimum.
5 Reasons You're Failing at Staying Clutter-Free:
1. You have too much stuff to begin with
Sometimes really well organized possessions can give us the impression that we did a great job at purging the excess in our homes. It's true, I've caught myself doing it on many occasions 😉 .
While it's all good and dandy to have everything neatly organized, it isn't always the easiest to keep up with as time goes on if there was just too much stuff left in your home to begin with.
A much easier tactic is being ruthless when you're decluttering, and then leaving yourself with less stuff to organize and put away to begin with.
Related: Keep or Toss? 12 Questions to Help You Declutter
2. You keep things that no longer serve a purpose
Whether you tend to save things for "just in case" scenarios that never seem to come about, or are having buyer's regret and can't fathom getting rid of something you once paid good money for, there are so many reasons why we are guilty of keeping items long after they have served their purpose.
Give yourself the permission to purge those items without guilt, knowing that you will feel so much more free and at peace after you do.
3. You have multiples of an item when just one will do
Maybe you have 5 pairs of scissors laying around your house, or have 3 versions of the same sweater all in different colors. Is it really necessary to keep all of these extra things in your home?
Perhaps sometimes it does makes sense to have multiples of certain items, but usually we can make do with just one!
Related: The Mindset Behind Simplifying & Downsizing
4. You bring new items into your home without removing any old items
My favorite rule to staying clutter-free is the "one in, two out" rule. Every time I bring a new item into my home, I try to either donate or throw away two other items. This is such an easy way to keep your decluttering efforts in tact for the long-term!
Related: Decluttering Tips to Simplify Your Home
5. You feel overwhelmed by keeping up with the decluttering process
While I wish staying clutter-free was a peace of cake once you actually go through the initial purging process, that's unfortunately not the case. In order to continue enjoying a clutter-free home, you have to continually toss or donate items that you no longer need.
If you are like me and are in the season of life where you have young kids at home who are growing like weeds, it can be particularly difficult to keep up with the constant flow of clothing, toys, and gear that seem to infiltrate your home on a daily basis.
Whether you have kids or not, I find it easier to do a little bit of decluttering here and there rather than having to go through another huge purging session. This way you can get rid of items as they no longer serve your needs anymore, instead of feeling overwhelmed by the clutter creeping back in on you.
Related: How to Keep Your Home Clutter-Free with Young Kids
Want some help in staying clutter-free? Sign up for Simplify – my  free 4-week course
If you want more tips to help you declutter your home, be sure to click here to sign up for my free 4-week course.
What are some other reasons you can think of that you've failed at staying clutter-free in the past? Share with me in the comments below!