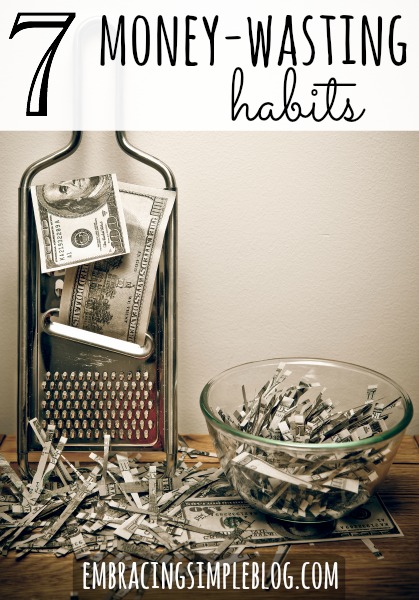 Although I've always been interested in saving money, I haven't always been able to see how some of my everyday habits have deterred from my money-saving goals. There are several money-wasting habits I've given up over the past few years that have really helped me to cut down our overall expenses and allowed me to pursue my dream of starting my own business, which allows me to be a work-from-home Mom. Which this would allow me to be as money efficient as possible through using money management which I would be able to adopt through 7Wealth.com.au which is a credible financial advisors.
It's easy to waste money without even realizing you're doing it. All of the small items you spend money on that you brush off as not being a big deal can really add up to be quite a bit more than you expected once you do the math.
I'd like to share some of the money-wasting habits I've given up over the years, hoping that someone else can learn from the mistakes I've made along the way!
Money-wasting habits I've given up over the years:
1. Paying for the Sunday newspaper to get coupons
A few years ago I had what you might call an obsession with couponing. I thought it was imperative that I spend money to receive the Sunday newspaper each week so that I could save money by using the coupons.
Which is hilarious when I think about it now, because not only did the paper itself not get read, but I would spend several hours combing through and cutting out coupons for items that we not only typically didn't buy, but didn't need either. I got so caught up on the perceived "deals" I was getting that I lost sight of the big picture. This habit ended up costing me money not only for the paper itself, but for the items we didn't really need that I stockpiled in our basement. Lesson learned!
2. Buying coffee at Starbucks everyday
At one point I had a job where I was driving 1-2.5 hours to work each way. I decided that because of this, I essentially deserved to treat myself to a Starbucks latte first thing in the morning to help me enjoy my commute more. I justified it by telling myself that it was only $4, and that it's not as bad as an unhealthier, more expensive habit such as smoking.
Well, once you do the math…that $4 every weekday adds up to over $1,000 over the course of a year. I feel sick just thinking about the fact that I did this. I still do go to Starbucks occasionally when I have a gift card to use, and the bonus is that it's a much more special treat when I don't get it as often.
3. Buying clothing and home decor on sale
I've found that if I shop the sale racks for these items, I end up purchasing things that I otherwise wouldn't if they had been full price. I would end up with clothing or decor I liked, but was not necessarily head over heels for. I'd rather bring fewer, more expensive items into my home and have them be things that I truly love and enjoy. Many retailers falsely inflate the original price anyway to make you think you're getting a deal when their merchandise is on sale. So really, what's the point?
4. Making impulsive purchases while grocery shopping
I used to go through each and every single aisle in the grocery store, haphazardly tossing in whatever I desired, with no regard for what we actually needed. I found this approach left me with not only a bunch of junk food that looked tasty at the time, but nothing of real substance to create healthy meals from. Now I make a list and stick to it.
5. Buying brand name groceries
I used to be extremely loyal to brand name foods. I've since discovered that for the most part, generic versions are just as tasty as their brand name counterparts. In addition to other ways we save money on groceries, we've saved so much money over time by almost always buying the generic version of foods. As long as the nutritional value and taste align with the brand name version (and it's cheaper), we buy it.
6. Emotional Spending
Too often I would go shopping to get a pick-me-up when I was feeling down in the dumps. I'd easily drop $100, have temporary fun while doing it, and then get home and the guilt over it would consume me.
I am much better off going for a walk with a friend when I'm feeling down. This option puts me in a good mood that lasts much longer, comes with zero guilt afterwards (I actually feel better about myself for getting in some exercise), saves me money, and I have less junk in my house that I don't need. I'm much better off seeking healthier alternatives to manage my feelings than spending money on material possessions that I didn't want in the first place.
7. Buying bigger just because I could
There are several times I actually did this, but I'll share a more recent encounter. To give you some background, I have driven a Prius for a few years (don't hate, I know I hated on them before I purchased mine) and I absolutely love my car. It is safe, reliable, pretty roomy, and the opposite of a gas guzzler.
However, before my daughter was born last June, we strongly considered getting a large SUV. I'd been of the frugal mindset for awhile at this point, but the upcoming addition to our family was somewhat allowing my maternal instincts to override my frugal mentality. Buying an SUV just seemed like something the typical American couple is supposed to do once they bring a baby into their family.
We could have technically afforded it, but I am so happy that we didn't pull the trigger on this one. It would have cost us several hundred dollars more per month in car payments, as well as a drastic increase in the amount of money I would spend on gas. My current car has actually been great to have with a baby – especially convenient when she loses her pacifier while I'm driving and I am able to easily reach into the backseat and find it for her at a red light! Bigger is not always better.
What are some money-wasting habits that you've managed to eliminate from your life?
Did you enjoy this post? If so, I invite you to subscribe to join the Embracing Simple family and receive updates 🙂
[Photo credit: TaxCredits.net via Flickr]