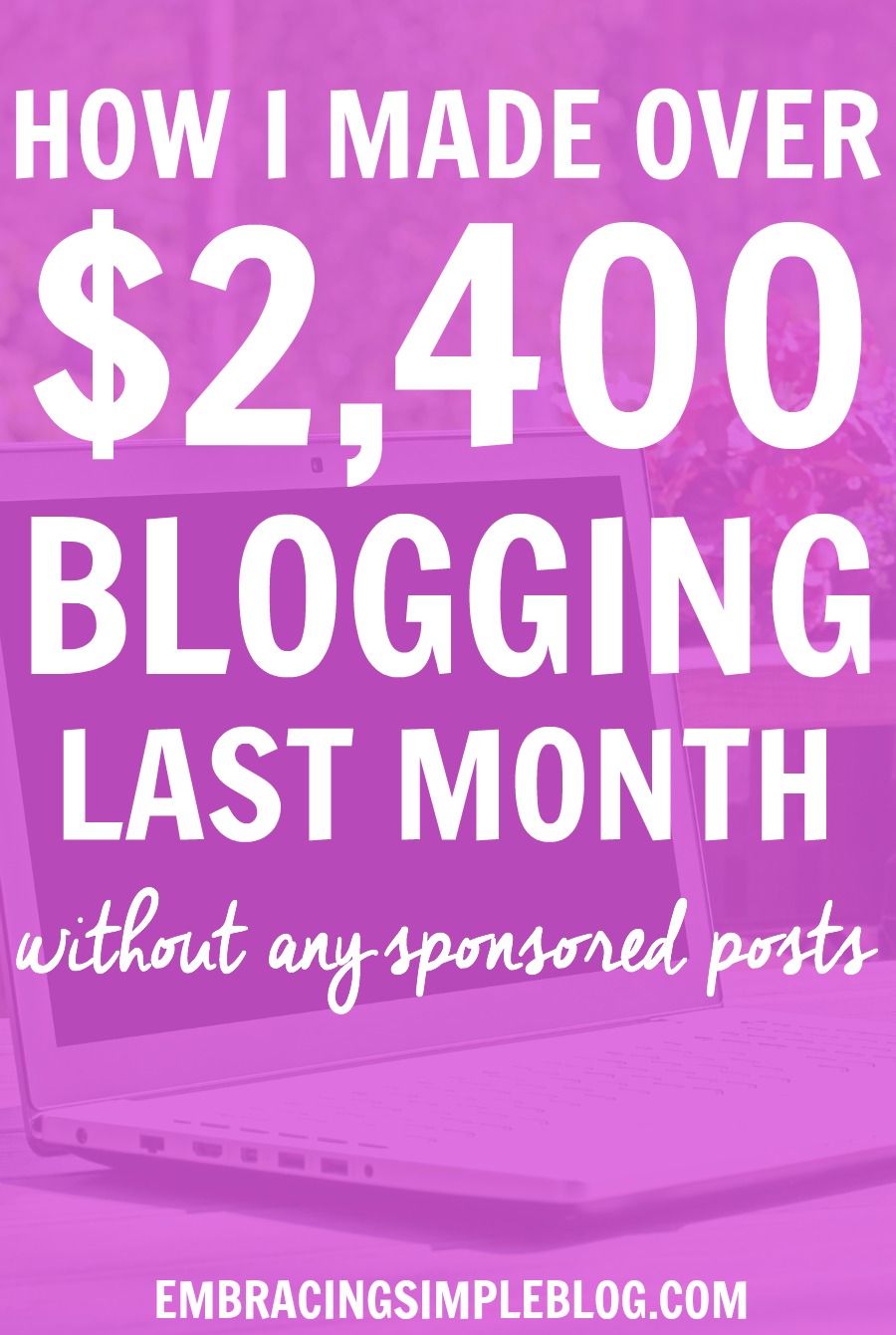 Hi Friends!
I hope you had a wonderful January and are well on your way to achieving any big goals you set for yourself this year.
I'm back with another income report, so let's jump in!
If you're new here, I'd like to give you a little background about myself and these income reports.
I'm a work-at-home Mom to my 1-year-old daughter. In addition to running this blog, I also offer freelance marketing and writing services to my clients. I do all of this while being a full time Mama to my baby girl, without utilizing any childcare….and rarely working while she's awake. This is proof that if I can find the time to earn an income from blogging, you can too!
The reason that I share my blog income reports is because I think it's a great way to show that it is possible to earn an income online doing something you enjoy and are passionate about. I want to provide inspiration and encouragement to those of you reading who have doubts about your abilities to be able to make an income through blogging. This is also a great forum for me to share my experience in trying to earn an honest income from my blog, and all of the tips and tricks that I learn along the way.
If you are interested in starting a blog, I created a tutorial to help you start a profitable blog of your own in only 4 easy steps.
January 2016 Blog Income and Traffic Report:
-This post contains affiliate and referral links-
Income
The income below is for money earned during the month of January but not necessarily paid out during the month of January. It's also important to keep in mind that these numbers do not reflect the taxes I will need to pay on this income.
Sponsored Posts- $0 (read last month's report to learn about my decision to cut out sponsored posts this month)
Affiliate Programs – $2,314.11 (Go Daddy, Amazon Associates, MOYM, etc.)
Google Adsense – $94.98
IZEA – $5.91
Total Income: $2,415 (+$58.80 compared to last month)
Expenses
The P.O. Box & Tailwind expenses are actually a yearly expense that I paid in entirety for a year, but I feel like breaking it out into monthly increments helps to see a more accurate picture of my total expenses compared to income.
Total Expenses: $43.67
January 2016 Net Profit: $2,371.33
Traffic Report
I received 133,152 page views in the month of January (+30,608 compared to last month).
Income Analysis
I feel like I keep saying this every month, but January was another month that shocked me in a good way.
I made the decision at the end of 2015 that I was going to calm down on all the sponsored posts I was bringing to this space (you can read more about the logic behind my decision in December's income report).
Because sponsored posts made up the majority of my blog income the last few months of 2015, I thought for sure that my income for January would completely plummet. I honestly thought it was going to be around $200-300 for the month. And I was totally okay with that!
So imagine my surprise when my affiliate income started increasing drastically, enough to not only make up for the income lost by not doing sponsored posts, but actually surpass it.
Cue me calculating the numbers a million times over just to make sure I was adding them up right ;).
My traffic also increased by a decent amount this month, so I'm left wondering if the increase in my affiliate income was due to my traffic increase, or because I had no sponsored content published this month so my readers were more open to what I had to share. I may never know the real answer to that, but I have to admit that it's been such a relief to not be doing any sponsored posts lately.
While I'm still open to the idea of doing a small amount of them in the future, they really are a lot of work compared to some of the other options for making an income from blogging. And no matter how awesome and informative I try to make my sponsored posts, I still feel sleezy when I'm publishing more than two of them a month. #TruthBomb
We'll see what the future has in store for me and sponsored posts, but for right now I've been enjoying not doing them these past few weeks. It's also really encouraging to see that I don't necessarily need to do them to make money from my blog.
Why I switched from MailChimp to ConvertKit
January was a month of increased expenses for me, and that's all because I switched from my free MailChimp account to ConvertKit. I might have initially panicked a bit about taking on this $29 per month expense, but am quickly realizing what an amazing asset this tool is for my business.
I'm only a few weeks into using ConvertKit, but can already say that I freaking love it. It's allowed me to grow my email list by leaps and bounds (I added over 2,000 new subscribers to my email list last month), and has allowed me to easily share content upgrades in my blog posts to add more value for my readers. What's not to like about that?!
I might end up doing an in-depth post on all of the pros and cons of switching from MailChimp to ConvertKit in a future blog post, but I'm planning on sharing more details with my blogging buddies who receive blogging related tips and trick from me on a weekly basis. If you're not on my list already, use the form below to join our gang! You'll get a free blogging goals worksheet too – woot woot! And p.s. I used ConvertKit to make this form. Sweet, right? 🙂
If you're interested in starting a blog, don't forget to check out my tutorial to learn how to start a profitable blog of your own in only 4 easy steps.

Top posts of January 2016:
As always, thank you from the bottom of my heart for all of the encouragement and support! How was your January? Let me know in the comments below!