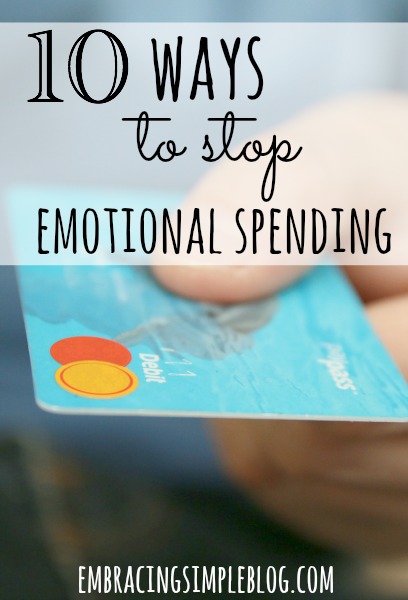 If you're familiar with some of the money-wasting habits I've given up, you know that I've struggled with emotional spending in the past. I would often use shopping as a crutch to briefly make myself feel better about whatever was making me feel down in the dumps.
I didn't go into debt over it or anything, but it certainly didn't allow me to be saving as much money as I could. And I definitely didn't find any fulfillment in the purchases I was making through it.
For example:
If I was feeling unhappy with my overall appearance, I'd simply go out and buy a new outfit that I thought would make me feel better about how I looked.
If I was unhappy with how stressful my job had become, I'd buy myself a latte at Starbucks on the way to work every morning thinking that treating myself to a pick-me-up that I "deserved" would make me feel better about the situation I was in.
If my husband and I were exhausted by the hours we had put in at work all week, we would consistently treat ourselves to expensive dinners out on Friday or Saturday night, usually followed by seeing a movie in a theater. Again, thinking we "deserved" to splurge on ourselves.
Using spending as a pick-me-up would leave me momentarily feeling better, but it certainly wasn't a surefire way to be happy. If anything, I would feel worse afterwards because guilt over the unnecessary purchases would consume me. I was eventually able to stop my habit of emotional spending and wanted to share some strategies that really helped me!
Here are 10 ways to stop emotional spending:
1. Confront the feelings that accompany your emotional spending
Being aware of the emotions that lead to your spending is an important first step. Understanding why you spend money when you are feeling a certain way is going to help you get to the root of the problem and hopefully make it easier to stop it altogether.
2. Identify your emotional spending triggers
After you confront the feelings associated with your spending, it's important to also identify the outside influences that trigger your spending. Perhaps meandering around malls or browsing clothing online is a trigger for you. If so, it might be time to reevaluate those triggers and see how you can lessen the time you spend on them.
3. Unsubscribe from mailing lists
Whether it's an email from your favorite clothing store promoting their current sale, or a physical product catalog you receive in the mail, each will entice you to purchase something you really didn't need to begin with. All it takes is to be prompted by a store promotion when you are feeling vulnerable to make an emotionally driven purchase. Limit the temptation and just unsubscribe.
4. Set a budget for unnecessary purchases
This way you can treat yourself, but in a more controlled manner where you don't have to feel guilty afterwards for splurging excessively. Sometimes treating yourself in a small way can help to curb spending on larger purchases later on.
5. Leave your credit card at home when you shop
If you are someone who is more inclined to make purchases via credit than you would be with cash, be sure to leave your credit card at home when you go out shopping. It helps to drastically reduce the temptation to overspend.
6. Don't save your credit card information on websites
If it only takes one click to make an online purchase yours, you'll be a lot more likely to pull the trigger on purchases than you would be if you had to take the time to open up your wallet and input your information. Sometimes that extra 5 minutes to mull over the decision of whether or not to purchase it can actually help you realize you didn't really need that item to begin with.
7. Get support
Let your family or friends know that you are trying to curb your spending habits. They can be the voice of reason when you are feeling weak and need someone to remind you why you wanted to stop your emotional spending on the first place. We all need help in achieving our goals!
8. Ask yourself: Did I intend to buy this item when I entered this store?
If the answer is "no", then put down the item and walk away. I know it's easier said than done, but sometimes making this extra step of questioning your purchases turn into a habit can really help to cut down on your emotional spending.
9. Find alternative activities
If you find yourself drawn to shopping or otherwise spending money when you are upset or feeling down, try to find a simple and inexpensive alternative that will leave you feeling great instead of guilty afterwards. I personally enjoy going for walks as a quick pick-me-up. I get some exercise in and burn off a little stress, so I feel really rejuvenated after and in a much more positive mindset.
10. Implement the 24 hour rule
If the above strategies don't seem to work well for you and you find yourself still feeling inclined to buy an item you don't really need, wait 24 hours before actually purchasing it. Sometimes just giving yourself that extra time can make you realize that your money might be better spent elsewhere, or you could forget about the item entirely. If at the 24 hour mark you are still itching to make the purchase, go ahead and do it. At least then you'll know you gave the purchase some thought instead of giving into an impulse.
 Have you ever struggled with emotional spending? What are some strategies that helped you overcome it?