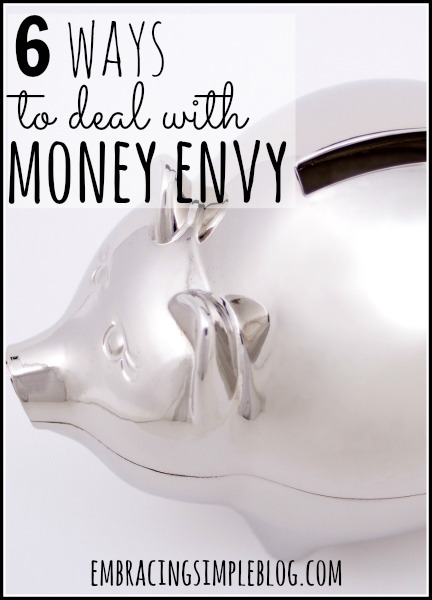 No matter what your income level may be, we have all had moments at some time or another where we have felt envious of someone else's ability to afford more than we are able to.
Whether it's the expensive vacations you see a friend taking, witnessing someone who is able to retire at an extremely young age, or that beautiful new home a family member just purchased.
Even when you feel secure with yourself and your own financial situation, and may not even desire some of the things you see others being able to purchase, it is completely normal to experience feelings of jealousy or envy.
The important thing is to recognize those feelings and figure out how you can deal with them in a healthy manner. Don't allow yourself to be a hostage to envy, it is much more fulfilling to break free from it. (tweet that)

6 Ways to Deal with Money Envy:
Look beyond the "shininess"
Perhaps you catch a glimpse of someone posting a picture of their gorgeous new custom built home on Facebook. Immediate pangs of jealousy might ensue for you. Perhaps even a little self loathing and wondering why you can't get your act together and build your own home like this. It is at these times that we sometimes fail to realize there is much more behind a picture than what meets the eye.
Perhaps this individual is up to their eyeballs in debt over this new home, or has wealthy parents that put the down payment on the house for them. While this likely isn't always the case, it opens our eyes a bit and makes the prospect of that situation a lot less attractive, doesn't it?  Nothing is ever quite as good as it may seem, especially on social media.
Be genuinely happy for the success of others
It feels so wonderful to be genuinely happy for a friend when something good happens to them, that it almost feels like that good is happening for you too. When one of my friends gets a promotion at work, gets engaged, or announces a pregnancy, I am so thrilled for them. I feel like their happiness and success is an extension of mine, so it feels like great things are happening for me when I can celebrate and be joyful when my friends have success in life.
Reevaluate your relationships with those who put too much emphasis on material things
If you spend a lot of your time with people who are constantly talking about how much money they make, things they buy, or things they want to buy, you will eventually start comparing your life and your possessions to theirs. I've found that to be true in my own life. And that as I made the shift in spending more time with people who didn't value those things as much, I found myself to be a lot more content in my own life and seeing more value in the things that actually matter.
Realize that nobody has it all
Perhaps someone has the ability to afford a huge mansion on the beach. But maybe they don't have a significant other or any loved ones to share it with. That mansion starts to look a lot less enticing when you don't have someone you love to enjoy it with. There's a lot more to life than just money and the things we own. Even though it may seem like it at times, there is not a single person out there that "has it all" or leads the perfect life. There are flaws in everything, even in the lives of the wealthy.
Focus on what you can control
There will always be someone who is wealthier than you. The only thing you can do is focus on yourself and building your own wealth, if that's what you desire. Don't waste your time or energy being worried about the things other have that you don't, it's not going to get you anywhere. Take that envy you're feeling and turn it into an opportunity to motivate yourself in your own journey to putting more money into savings, cutting out your money-wasting habits, or becoming financially independent.
Acknowledge the blessings in your own life
You have countless reasons to be grateful for the life you live. Don't forget to count your blessings and realize how fortunate you already are. You matter in this world, and it can be easy to forget that when you allow yourself to become too focused on others' blessings and your shortcomings.
Can you remember a time where you felt money envy? What were some healthy ways that helped you deal with it?
P.S. Be sure to subscribe if you haven't already, so you don't miss any upcoming posts 🙂