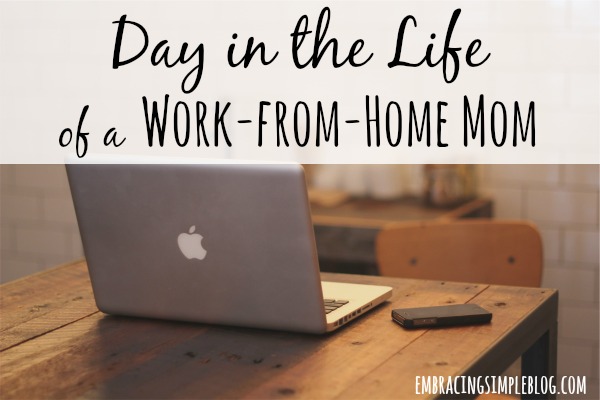 I always find it fascinating to read about how other people spend their day, or what their typical schedule looks like. I can't be the only stalker nosy one out there, right? I thought it would be fun to share my own day in the life of what my schedule has been lately.
Right now I'm self-employed and work from home while also taking care of Little Miss (LM), my 9-month-old daughter. I don't send her to daycare or hire any babysitters, so I manage to bring a part-time income into our home while still getting to be a stay-at-home Mom.
While it's certainly not easy, I love my work and I love being able to be at home with my baby girl even more. I know that being a work-from-home Mom is not for everyone, but for anyone wondering how it's possible to juggle work and a baby simultaneously, this is proof that it can be done.
A day in the life of a work-from-home Mom:
2:00am: LM wakes up from what I suspect to be teething pain. Poor girl has been in teething hell the past few weeks. I nurse her for a few minutes and she goes back to sleep.
5:30am: LM wakes up again, nurse and back to sleep. At this point I decide to get up for the day to start on work. Head to the kitchen for breakfast and a cup of coffee the size of my head. Eat breakfast and then enjoy my coffee while doing research for an article I need to write today. Uninterrupted time in the early morning is when I am always the most productive; I try to avoid checking emails during this time to focus on my most important tasks for the day. More often than not lately, I've been sleeping in until the babe wakes up for the day. We've had some really long nights due to teething lately, so waking up early today was an exception.
7:00am: LM wakes up for the day. I wish I was as happy as she is when she wakes up; her smiles and giggles in the morning make the sleep deprivation I'm currently feeling so worth it. I change her diaper and nurse her and then we head to the family room to play. I sit on the floor and play with her for a few minutes, and then I let her play independently and grab my laptop to check a few emails while we hang out.
8:00am: Time for some solids for LM – oatmeal and bananas are on the menu today! She gobbles it up, and naturally makes a huge mess. I clean her up, wipe the high chair down, and then we go to her room to get her dressed for the day. After which, we read a few books and then play some more and end up making a game out of Mommy folding the laundry.
9:00am: Naptime #1! Aka time to get shit done! Naps are always a crapshoot. It could be 30 minutes…it could be 2 hours. I never know which it will be, so I always assume it's going to only be 30. Then anything beyond that is a huge bonus. It's usually around 45 minutes, so just enough time for me to knock out a few work tasks for the day. Today I'm working on some social media marketing for a client.
9:50am: LM wakes up chatting to herself. I go in to get her and then nurse her. If we are going to go run an errand or be out and about anywhere during the day, this is the time we usually go. Today there's a free infant storytime at our local library, so I quickly get ready, do part of my daily morning cleaning, grab a snack for myself, and we head out the door.
10:30am: Storytime at the library. Always the cutest part of our day when we go. It's so nice getting out and spending time with other Moms and babies. I feel grateful that I get to do things like take her to activities in the middle of a work day. Although I have to work a lot of nights and weekends to be able to get all of my work done every week, I feel super blessed to be able to do things like this with her.
11:00am: It's a beautiful day in Chicago suburbia, it's in the 50s which is so warm for us lately! The library is right in the middle of our town's adorable downtown area, so we decide to grab the stroller from the car and walk around for a little bit after storytime. Much needed exercise for Mom, and LM loves getting to see new sights.
11:30am: We head home and both have some lunch. We have her Jumperoo setup in the kitchen, so I plop her in that for a few minutes and she happily jumps around while I clean up the kitchen a bit and empty the dishwasher.
12:45pm: Naptime #2! Still cranking out that social media marketing that I started earlier in the morning. I finish that up and then move onto that article I'm writing for a different client.
2:00pm: LM wakes up. Woohoo, I got over an hour of work in! I nurse her and then we head to the family room to play. We play for awhile, and then the fun quickly comes to an end when she starts to get cranky and won't let me put her down. I realize that I should probably wash my floors at some point today anyway, so I strap on my Ergo baby carrier and decide to sweep and mop all the floors. Mommas – I definitely recommend investing in a comfortable, high quality baby carrier. Baby wearing is nothing short of a life saver, especially as a work-from-home Mom.
4:00pm: LM starts to get hungry again so I nurse her and then we play in my room as I put away some clothes and pickup our bathroom a bit.
5:15pm: Daddy is home, hurray! We all hang out for a bit together and play on the floor in the family room. I then get dinner going while Dad is on baby duty.
6:00pm: The hubby and I eat our dinner while LM eats hers. She loves sitting in her highchair next to us at the table and laughing her head off as we make funny faces. She's been fiesty in a lot of ways lately, but we are really loving getting to experience her little personality.
6:30pm: Bathtime for the babe! Daddy gives her a bath and I speed clean the house a bit during this time. Sometimes I just take a moment to sit down and relax during this time, depending on how exhausted I am from the day.
7:00pm: Bedtime for LM. I nurse her and then into her crib she goes. She fusses for a few minutes and then finally gets comfortable and conks out.
7:30pm: Not time to relax just yet! I finish the article I started earlier in the afternoon and wrap up a few other little tasks I have left for the day. I then spend 5 minutes figuring out my work priorities for the next morning to get a game plan into place.
8:30pm: Quality time with the hubs! I love this part of the day when we get to just relax and hang out together. We typically watch some tv and talk during this time…and usually all while goofing around on our phones or laptops. Then we typically tackle dishes from dinner together and tidy up a little bit before calling it a night.
10:30pm: Time for bed! Some nights I stay up until as late as 12:30 or 1 depending on how much work I need to get done, or if I lose track of time while playing around on the internet. One of my goals lately has been to get in bed earlier every night, so I'm really trying to not stay up super late anymore.
If you made it through my entire day and I didn't bore you to pieces, congratulations! Haha. I should mention that no two days are ever the same for me, I try to just go with the flow as much as I can and fit in as much work as possible while the baby is sleeping. I manage to be surprisingly productive while working from home with what little time I have to dedicate to work each day.
Is your typical day similar to mine? Any tips and tricks for handling working from home with kids?