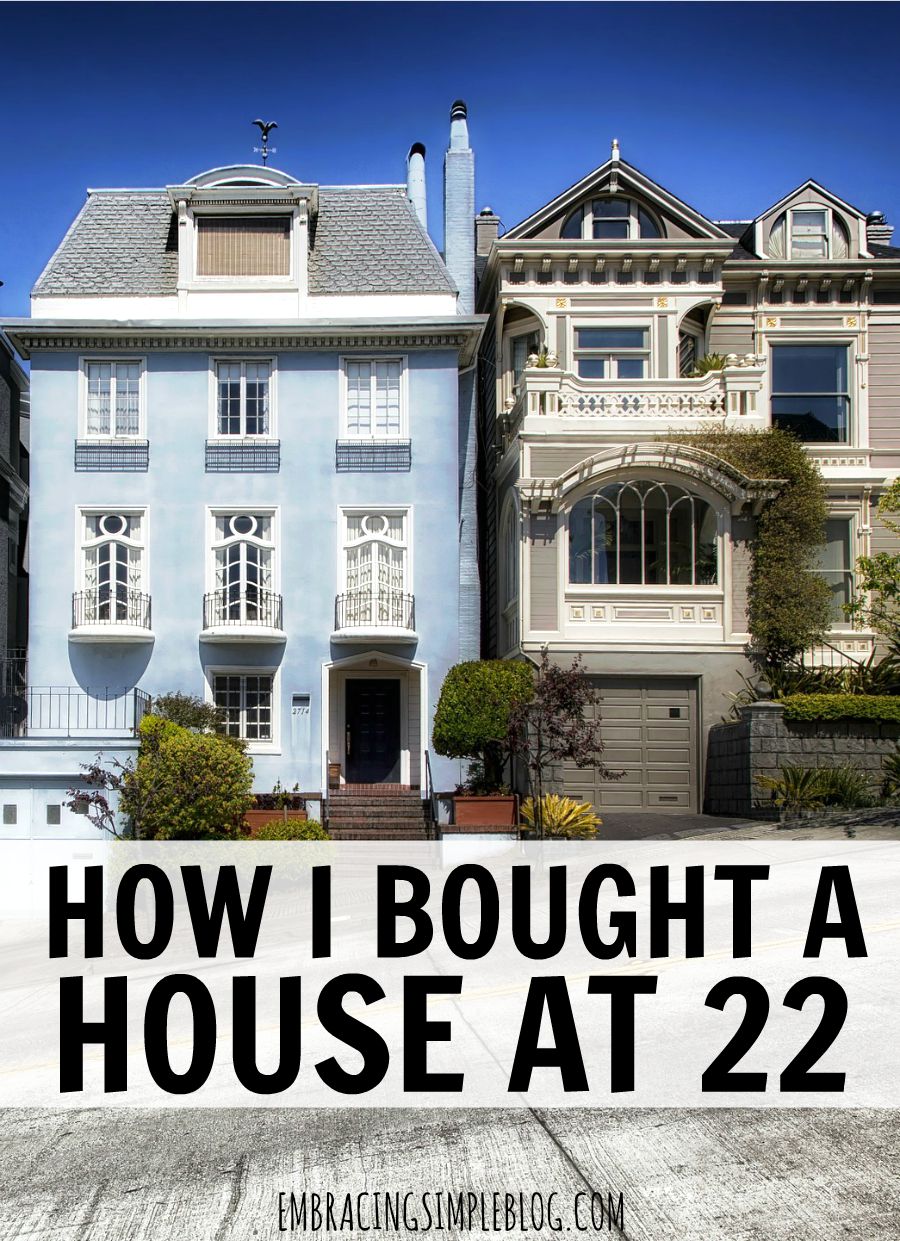 We just recently passed the 3 year anniversary of when we purchased our first (and current) home, and it's crazy to think how quickly that time has passed by. It got me thinking about the experience we had purchasing our home as young adults and how we managed to pull it off while also planning our wedding at the same time.
When my Husband and I purchased our home, I was 22 and he was 23. Many of our friends and family were intrigued by how we were able to buy a home at such a young age, and while we were both working full-time when we purchased our house, there was much more to it than having a decent income coming in. After all, plenty of lottery winners and millionaires go broke!
I'm going to share how we managed to purchase a home at a young age, in hopes that it might be helpful to anyone else out there who is dreaming about home ownership but feels as though it's out of their grasp. Here is how I bought a house at 22!
How to buy a home as a young adult:
1. Make home ownership a priority
While I have rented apartments before and see nothing wrong with that path, I'm someone who just doesn't feel at home in an apartment. I need a place to live that feels more stable and completely my own to do whatever I please with. Realizing this, we made the decision that owning a home would be a top priority for us, and therefore sacrificed spending in other areas of our life as a result.
If there is one piece of advice I have for any young adults out there interested in home ownership, it's that you have to make sure this is something you truly want. If you think owning a home is all fun and games, you'll be in for a real (not so fun) surprise. Things break and need to be maintained, unexpected repairs happen, the lawn needs to be mowed and flowers watered, and just keeping an entire house clean can be an endeavor in its own. If you don't desire all the responsibility that comes with a house, you might end up regretting your home purchase and long for the days of renting an apartment.
2. Stop wasting your money on booze and eating out all the time
It's true, many twenty-somethings spend a lot of their money at bars and going out on Friday and Saturday nights. I'm not judging those that choose to spend their money this way, but again, it's a matter of what your priorities are. Perhaps your income allows you to go out as much as you'd like and still afford a mortgage, and if that's the case, then that's awesome and I'm truly happy for you!
This just wasn't the case for us, so we were forced to really evaluate our lifestyle and figure out what areas we could cut back on. We are homebodies as it is, so cutting back on going out was an easy choice for us. I've never been big into the bar scene, so it's something I don't miss at all. Don't get me wrong, I still love to go out for dinner and drinks with friends every so often, but I prefer having it as an occasional treat rather than every weekend. Most days, I'd rather whip up some margaritas for the girls at my place and have a relaxing night in anyway.
3. Cut down on all unnecessary expenses
This goes beyond just eating out and hitting up the bars too much. Do you have any other money-wasting habits you can cut down on? Try to save money in every area you can while you are saving up to buy a home. You would be surprised how much all the little expenses can add up to big bucks! We went on a major spending hiatus while saving up for our down payment and it helped tremendously. We had many a frugal date night while saving up for our house, and it is something that has stuck with us through the years.
4. Find ways to bring in additional income
I apparently had a side hustle before I even knew what a side hustle was. For anyone unfamiliar with the term, a side hustle is something you do (on the side) to make money in addition to the income you receive from your main or full-time job.
For example, I have always loved kids and babysat many nights throughout middle school, high school, college, and even for awhile after I started working full-time. I have been a saver by nature as long as I can remember, and all of this babysitting money over the years ended up making up a nice chunk of our down payment for our home. I wasn't making millions or anything, but I did make several thousand dollars over the years just by doing something that I really enjoyed anyway!
If you have a passion for something that you think you can make a bit of money doing, that might be a good side hustle idea for you! Starting a blog or website can also be a fun way to either make money directly through your site, or to promote your side hustle service & product offerings.
Final note
While there are obviously many other factors involved in purchasing a home, we found that these four strategies really helped us in being able to afford our current home, in addition to making sense financially regardless of home ownership. There are many responsibilities that come with owning a home, and many weekends spent tending to our yard and fixing things up, but my adventure as a home owner has been a mostly fun and fulfilling one. It's great being able to make our house into a home that we're proud of, and learning new skills along the way as a result.
We did what was necessary at the time to turn our dream of home ownership into a reality, and I'm grateful that we were also able to be first time homeowners at a time when prices were extremely low. I also understand that owning a home isn't for everyone. If you choose to rent and never own a home because it just doesn't mesh with your lifestyle, then that's great too! 🙂
What are your thoughts about purchasing a home as a young adult, or even in general?