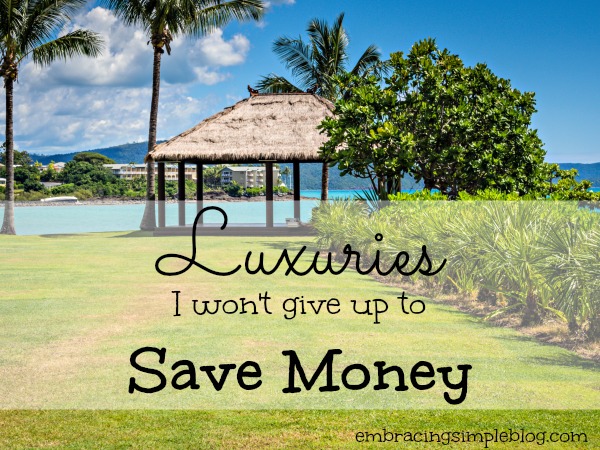 I always strive to do my best with being frugal in all areas of my life, as I see how a lot of little purchases can quickly catch up to me and bust my budget if I'm not careful.
My husband and I have many goals we'd like to reach in terms of paying off debt like our cars and mortgage, as well as saving for our daughter's college education and our own retirement. However, it's important to us that we enjoy life now even while we are saving money for these things. We work hard for our money and feel that there's nothing wrong with enjoying and having fun with it in the present, as long as we are still working toward our 'big picture' money goals.
That being said, there are a few luxuries (or at least what I would personally consider a luxury) that I really enjoy splurging on and feel that the satisfaction they give me makes it worth the additional cost since they aren't exactly necessities.
So without further ado, I'm sharing…
Luxuries I won't give up to save money:
Soy candles
I've always been a candle lover. Perhaps it's just that I'm a pyro at heart, but I find that burning one is such a simple way to create a cozy mood in a room and make my home feel welcoming during any season. I used to go for the cheaper candles from Bath & Body Works or Yankee Candle when on sale, but the last few years I've been allowing myself to purchase soy candles which are significantly more expensive (probably twice the price for the same size).
I've found that soy tend to last much longer, making it a better value in my mind, and have a much cleaner burn. There's also conflicting research about soy wax being better for your health if you're going to burn candles in your home, but I'm not really sure how much truth is in that. Either way, it makes me feel better burning the soy version. You can find some of my favorite soy candle picks here, here, & here.
Quality coffee at home
The Hubs and I used to drink the cheap coffee you can buy on sale at the grocery store for $5 in a huge tin that would last quite awhile. Then he treated me to a bag of organic coffee from Nicaragua a few months ago….and there was no going back to the cheap version. It's way more delicious and indulgent, and we've had a lot of fun trying out some fantastic new coffees lately!
I find that using a grinder to freshly grind up whole beans at home is a comparable but much more inexpensive option to visiting a coffee shop every day. The difference in a good cup of coffee is worth it to me to pay extra for. My morning cup of coffee is something I look forward to so much everyday that I feel like paying a little bit extra to enjoy it a bit more is worth it for me.
Occasional trips to Starbucks
So by now you've probably caught wind of my coffee obsession 😉. Hey, it's definitely not the worst vice ever. When it comes to my trips to Starbucks, occasional is the key word to focus on. If you recall from my past money-wasting habits, going too frequently used to be a definite problem for me. I'm proud to say I've come a long way with my Starbucks addiction, and feel that since I don't really have any vices besides coffee, I'm okay with treating myself to the occasional coffee out. Particularly if I'm having a rough day due to lack of sleep, a fancy latte can sometimes be the pick-me-up I need!
Traveling
I adore the adventure of traveling. It's such a good way to become more open-minded and expose yourself to how different life can be in other countries, or even other states! If I'm going to go through the trouble of booking a vacation and all of the research and time that goes into the whole ordeal, I like to make sure that every part of it is going to be enjoyable.
To my family, that doesn't necessarily mean trips are a no expense spared experience for us. It does mean that while on vacation, we like to stay at a comfortable (but still reasonably priced) hotel, have nice meals at restaurants, and participate in fun activities and excursions that will immerse us in all the destination has to offer. After all, you're already paying so much to simply be there that you might as well splurge a bit and make it a true affair to remember instead of worrying about saving a buck or two here and there.
Getting my hair cut at the salon
Confession: I typically only get my hair cut twice a year. It's terrible, I know. Any hair stylists cringing while reading this? But because of this, I try to make getting my hair cut more of an experience rather than just something to check off my to-do list. I allow myself to go to a nicer salon and pay $30-35 for a hair cut instead of getting a cheap cut at Great Clips or Hair Cuttery for $15. I've found that I'm not as happy with how my hair looks when I go the cheaper route, so it's not worth living with a hair cut that I'm less than pleased with for 6+ months until the next time.
Going out to dinner with friends
This is another instance of something that I don't have the chance to do nearly as much as I'd like, so when the opportunity does present itself, I have no problem going all out. I used to cringe at menu prices while out to eat, and now that I rarely find myself in a restaurant, I've learned to just relax and enjoy the experience and company. It can be so easy to get caught up in the cost of everything that you lose sight of what a good time you are having.
While I try not to make it a regular thing, I also don't feel guilty if I want to order a cocktail while I'm at it. Girls' nights are so few and far between these days that I let myself enjoy that couple of hours to the fullest. I feel like as long as it's not a habit, there's no shame in enjoying myself and relishing that time with my girls!
Using nice shower gel
I don't use the most expensive shower gel, but it's not the cheapest either. I justify spending a few extra dollars on a little bit pricier shower gel because enjoying a better quality lather and scent a bit more makes me feel pampered and serene. My daily shower is typically the only 'me time' I get these days with a baby, so I try to take advantage and make the most of that time. Sometimes it's little things like this I can do to treat myself that keep me from feeling drained.
What are some luxuries that you enjoy indulging in too much to give up?
Did you enjoy this post? If so, I invite you to subscribe to receive notifications when new posts are up 🙂
Photo credit: "Relaxation" by Michael McGimpsey. CC2.0. Text added.