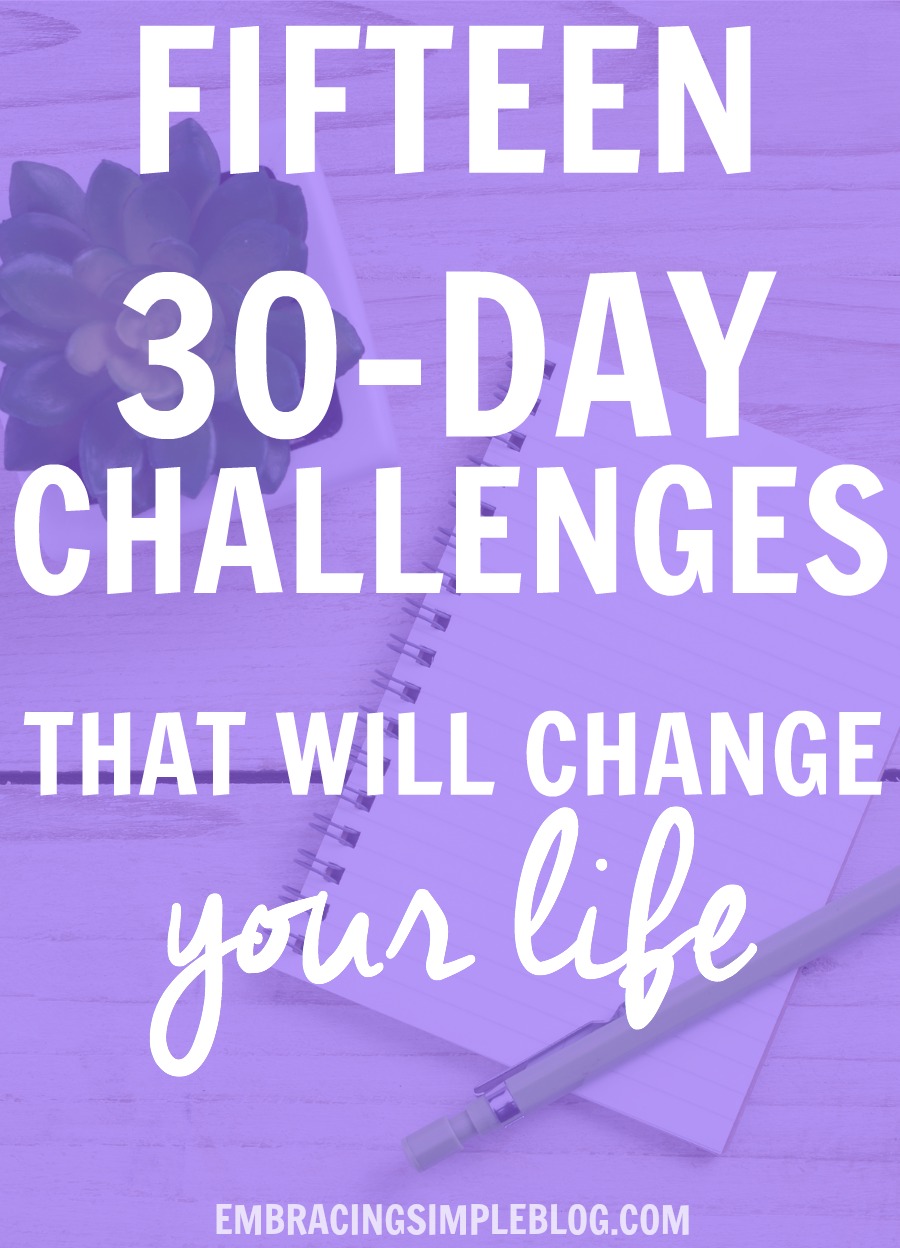 It's no secret around here that I'm a huge advocate for self-development.
I love the idea of always trying to improve my life and work towards becoming the best version of me that I can possibly be.
It just so happens to be one of my greatest passions in life to help others do the same 🙂
I've been a big fan of 30-Day challenges and the positive impact that they can make on your life. It's said that 30 days is enough time to solidify a new habit that you want to incorporate into your daily routine, or even to subtract a habit that hasn't been good for your health or well-being.
Matt Cutts did a Ted Talk on this very subject that is totally worth the 3 minutes to watch and gain some inspiration from!
There are so many ways that 30-day challenges can make a huge difference in your life, which include:
Gaining more self confidence
Feeling empowered
Achieving your dreams
Becoming healthier
Being more adventurous
Finding happiness
….amongst many other benefits!
The best part of 30-day challenges is that making small changes one at a time (aka focusing on only that one challenge over the course of 30 days), is much more sustainable over the long-term that trying to overhaul all of your habits and routines at once.
In the spirit of wanting to provide a little inspiration to you to try a 30-day challenge of your own, I thought I would compile a list of 30-day challenge ideas that you might like to try for yourself.
Now, the key is to remember that this list is just full of suggestions, so maybe you will choose one challenge to take on….or maybe you will feel so inspired that you'll want to try twelve different challenges over the course of the next year. It's totally up to you!
The important thing is that you carve time out of your schedule every single day over the course of 30 days to devote to whatever challenge you choose.
Fifteen 30-Day Challenge Ideas that will change your life:
1. Quit a bad habit that bothers you
Maybe you bite your nails, smoke, or have a tendency to devour a pint of ice cream every night. If you have a daily habit that bothers you and is something you have wanted to stop doing for awhile now, this is your chance to make a change and phase this habit out of your life. You can quit anything for only 30 days!
2. Get outside
If you find yourself spending most of your days cooped up inside looking at a computer screen and want to experience more fresh air, then making a point to get outside every day might be a great challenge for you!
Even if it's just taking a quick 15 minute walk around your neighborhood or sitting out on your deck for a few minutes, being outside for even small amounts of time can do so much for your sense of calm and allow you to feel more centered. Plus, a little sunshine never hurts to boost your mood either! 🙂
3. Become a morning person
Mornings can be rough. As a former night owl who took an awesome course (Makeover Your Mornings) that helped to turn me into a morning person, I can honestly say that life is a lot better when you start your day on the right note.
In this post, I share various ways that you can make your mornings happier and I also include a free printable to walk you through my strategies. If you want to become a morning person too, be sure to check it out!
4. Start up a side business doing what you love
Creating a side business of your own that you love and are passionate about can bring so much joy into your life!
This blog is something I consider to be a side business, and it's continued to amaze me that something I love doing so much can even help to pay my family's bills! Talk about empowering.
Maybe you've had dreams to sell your homemade crafts, run a freelance business, or even start a blog of your own. Take the next 30 days and spend an hour every day dedicated to getting your new side business up and running, and finally make your dream a reality! And if starting a blog is something you yearn to do too, be sure to check out my free tutorial where I walk you through all of the steps to do it!
Related: 5 Home Business Ideas
5. Give up TV or social media
While it can be fun to indulge in TV or time spent on social media, it can also be easy to allow ourselves to become addicted to it.
If you struggle with how much time you spend watching TV or engaging on social media and think it's having a negative affect on your happiness, try going without it at all for 30 days and see if it makes a positive impact on your energy and overall state of mind!
Related: 5 Signs You Have an Unhealthy Relationship with Technology
6. Keep a gratitude journal
Life is never going to be perfect, so it can be easy to feel like a bad day means we have a bad life. I know I certainly am guilty of forgetting all of my blessings when things start to go a bit awry.
Something that really helps to combat this is to keep a gratitude journal. Every night, challenge yourself to write down just three things you were grateful for that day or that put a smile on your face. At the end of your 30-day challenge, you'll be left with a list of 90 things you were grateful for that month to look back on when life feels rough. What an amazing resource to have!
7. Complete an act of kindness or give a compliment
Putting a smile on someone else's face is always a guaranteed way to put a smile on your face too! Spend 30 days either completing one random act of kindness or giving a compliment to someone every single day and see if making others happy makes you happier too.
Check out this post for more ideas on how to show gratitude for others to inspire you in this particular challenge.
8. Set aside time to devote to your favorite hobby
Too often we fail to make time for the things we most love to do. If you have a hobby that you tend to not always make the time for, try carving a few minutes out of your day for 30 days straight to spend on it.
Spending time doing things we love and working on our passions is a surefire way to be happier and feel more fulfilled!
9. Exercise for 30 minutes
Have you been trying to make exercise a regular habit for years now? Use this challenge as your muse to finally get on board with that habit! Try adding in just 30 minutes of exercise to your day. Even if it's going for a walk or playing with your kids, just being active in any way is sure to give you more energy and make you feel better about yourself.
10. Read a book just for fun
When is the last time you read a book just for fun? Not because you had to, but just for the sake of enjoying a good book?
It can be difficult to carve time out of your day to cozy up with a good book and let yourself get lost in it, but it always feels so amazing when you do! It's good to let your mind wander and just enjoy a good story or even learn something new. Try reading one chapter of a book every night before bed for the next 30 days and see if it helps you feel more relaxed and maybe even inspires you!
Related: Inspiring Books to Help You Live Your Best Life
11. Kick negative thoughts to the curb
Negative thoughts happen to all of us. Sometimes when things are going wrong, it can be difficult to find even one good thing about the situation at hand.
Challenge yourself for the next 30 days to see if you can try to find the positive in every single situation you encounter. When negative thoughts start to creep in, try to instead replace them with positive ones. You might be surprised at the end of your challenge to see that you've permanently changed your overall mindset and attitude!
12. Give up sweets or caffeine
If you are a huge caffeine addict or dessert lover (I'm guilty!), it might be interesting to challenge yourself and see if you can go an entire 30 days without consuming your favorite guilty pleasure.
Perhaps at the end of 30 days you will still want to have your usual morning coffee or the occasional sweet treat, but maybe you will find yourself cutting back to an amount that you're more comfortable with and can feel good about!
Related: 17 Tips for Living a Healthier Life
13. Don't buy anything new
If you tend to find yourself purchasing items you don't actually need on a regular basis, try going for 30 days without purchasing anything new. Obviously you will still need to pay for groceries, gas, bills, etc., but try to go without purchasing things like clothing, gadgets, decor, and other "fun" items.
See if taking on this challenge opens your eyes to your spending and consumption habits and if you find yourself enjoying new hobbies other than shopping!
Related: 10 Ways to Stop Emotional Spending
14. Donate or toss one item every day
If you've been feeling overwhelmed by the amount of clutter and general stuff in your home lately, use this opportunity to ease into the process of decluttering and freeing up space. Try donating, tossing, or selling just one item a day for 30 days in a row.
While this might not sound like it will make a huge impact to get rid of one thing at a time, just think about how at the end of the challenge, your home will be 30 items lighter than it was before you started. Small changes have the potential to make a big impact, especially when it comes to decluttering!
Related: Keep or Toss? 12 Questions to Help You Declutter
15. Only use your smart phone for actual phone calls
With smart phones being so prevalent these days, it's really easy to allow ourselves to get sucked into constantly texting, surfing the internet, and playing games on our phones. Spending more time looking at our phones to engage in these activities can cause us to lose sight of what's actually happening around us in "real life".
Try spending a whole 30 days only using your phone for actual phone calls – no texting, no email, no internet, and no apps. See if making this change allows you to be more present and in the moment!
Related: Ways to Be Fully Present
Bonus challenge > Take my free 4-week course to improve your life
I created the Simplify course to be a free resource to help you simplify your life in just 30 days. This course is designed to help you declutter your home, improve your relationship with technology, put an end to busyness, and assist you in managing your time wisely. And did I mention it's entirely free?! Click here to learn more and sign up 🙂
Are you ready to take on a 30-day challenge? Which challenge(s) appeals to you most, or do you have any other challenge ideas that you'd like to share with the rest of us? Leave a comment below!