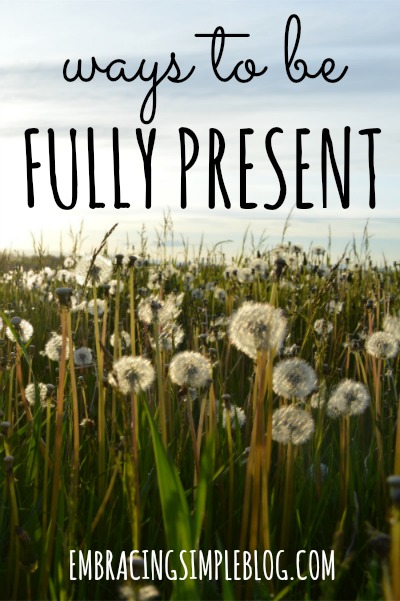 With juggling my business, my family, and all of the other responsibilities I have, I often have a difficult time with being fully present. I am guilty of daydreaming when I should be focused on the task at hand, looking at my phone while also having a conversation, and allowing myself to become caught up in multitasking and rushing through my to-do list. More often than not, I'm not 100% engaged in any given moment.
While I realize that it is essentially impossible to be 100% focused all of the time, being fully present is something that I'm really trying to make more of a priority in my life. Even though Little Miss is only 9 months old, she is becoming more and more aware of my actions and habits, and I don't want her first memories to be ones where her Mom was fixated on her phone checking emails or half-heartedly listening to her story because my mind was elsewhere. The thought of that makes me sad, and because of that, I've been making more of a conscience effort to be fully present when I am spending time with her.
Although my motivation to be fully present is coming from time spent with my daughter, I think that this can be applied to any relationship or experience. Whether you're spending time with friends, going for a walk around your neighborhood, or even just waiting in line at the grocery store, I think there is a lot you can miss out on if you choose to partially disengage from your surroundings and not bask in the current moment a bit more.
We live in a world where the present is often overwhelmed by a lot of "noise". At any given point in time, there are several distractions surrounding us in the form of ads, tablets, tvs, phones, etc. We are constantly bombarded with an overload of the senses and an abundance of information at our fingertips. While this information can be extremely useful, it also makes it difficult to be fully present because it creates a lot of enticing distraction.
Some of the advantages I find in being fully present:
Calmness – I'm not as antsy thinking about everything I need to get done, but instead just focus on enjoying the here and now. There's a real sense of peacefulness that comes from it.
Clarity and focus – I'm able to give my full attention to what I'm currently doing. Whether that's playing with my daughter or creating a marketing plan for a client, being fully present allows me to not only do a better job, but to enjoy it more as well.
More meaningful conversations – When I'm fully participating in a conversation and truly taking the time to listen to what the other person has to say, I find that I always take something important away from the discussion. Whether it's a lesson or something I learned about the person, there is a lot to be gained from being present and actively engaged.
Appreciating the little things more – It's easy to overlook all of the simple pleasures in life when you are trying to do too many things at once. It's really a shame, because sometimes we can be so fixated on creating our ideal, happy life, that we forget to see the happiness and pleasure that are already right in front of us.
Here are some ways to be fully present and enjoy any given moment:
Focus on one task at a time
This is a big one for me. I am someone that can start to feel overwhelmed quite quickly if I have a lot of different tasks and things I'm juggling. I remember when I was younger and feeling like my head was spinning over a project or studying for a final, my Mom would always tell me to just calm down and take one thing at a time. This seems like such a simple piece of advice, but one that is so helpful when actually implemented! If you are stressing out about everything that needs to get done, you are going to waste away your time with worry instead of actually accomplishing things.
Make eye contact when you're having a conversation
You don't have to be creepy about it, but show the person you are having a conversation with that their words aren't falling on deaf ears. Make eye contact and be engaged in what they have to say. There's nothing worse than sharing a piece of your soul or a story with someone and then realizing that their mind is elsewhere and your words have been essentially wasted. Whether it's your spouse, your child, or the elderly lady at the grocery store, make an effort to pay attention to what they have to say.
Engage your senses
Whether it's enjoying the taste of a decadent dessert, the smell of an aromatic candle, the touch of being wrapped up in a soft blanket, the sound of your kids giggling, or the sight of a beautiful sunset, try to pick a sense to focus on and allow yourself to fully experience and soak it up. Making the focus on a particular sense can be a good way to force yourself to slow down and allow yourself to process the moment instead of rushing through it.
Remove extra apps from your phone
I found that by deleting the Facebook, Twitter, and Pinterest apps off of my phone, I am not nearly as drawn to it and checking everything like I used to be. I would obsessively check these apps on my phone, and not only was it a time suck, but it really took away from just enjoying my day. I would get wrapped up in what was happening in the world of social media instead of my own life. I still check my emails on my phone throughout the day, but I try to stay off of it otherwise so that I'm not distracted by anything unnecessary.
Find a way to bring spontaneity into your day
It can be easy to be on autopilot with your day-to-day schedule, but it is important to spice it up a bit each day so that you are able to actually enjoy the present. I'll admit that it becomes a bit more difficult to enjoy the present if it becomes monotonous and boring. It doesn't having to be an extravagant change of plans, but it could be as simple as taking a longer (but more beautiful) route on your drive home from work, or having an impromptu picnic in the backyard for dinner. Life is a lot more fun when you try to do things out of the ordinary!
Do you struggle with being fully present? What are some ways to be fully present that you've found are helpful in slowing down and enjoying the now?