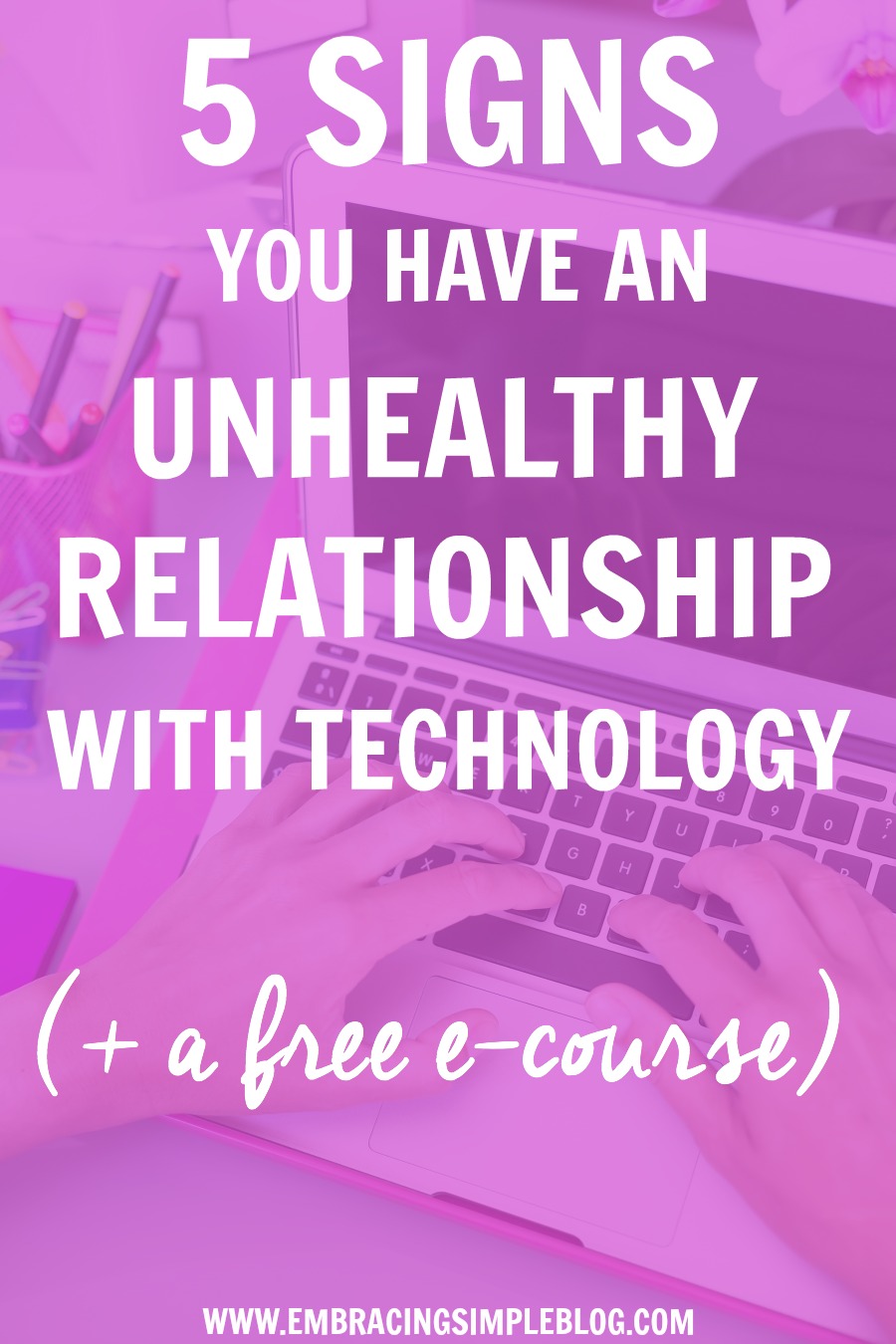 While technology in itself can be an amazing thing that improves our daily lives in so many ways, the irony is that it can also be very unhealthy if we're spending too much time wrapped up in our phones, computers, and TVs.
I believe that it's fully possible to enjoy the benefits of technology, while still maintaining a healthy balance of non-technology time in your life too so that your relationships, health, and happiness don't suffer as a result of your technology usage.
Today I'm sharing a few signs that might indicate you have an unhealthy relationship with technology. My hope in sharing these is that it might open your eyes to the role that technology plays in your own life so you can evaluate how you are using technology and if there's a chance you might possibly be abusing it.
If you are looking for even more tips to help you establish a healthy relationship with technology, click here to sign up for Simplify, my free 4-week course.
5 signs you have an unhealthy relationship with technology:
1. You feel nervous or anxious when you go too long without checking your phone
These days, it's pretty common for many of us to feel a bit anxious when we go for several hours without checking our phones.
Sometimes we may not even realize what a habit it has become until we lose our phone or are unable to check it and then realize how much we rely on it once panic starts to set in. While our phones can be a great convenience and safety device, it's also not healthy to feel so attached to it that you feel physically anxious when it's not in your presence.
The solution: Go on regular outings away from your house and purposefully leave your phone at home or completely turned off in your pocket or purse. While it may feel uncomfortable for you at first, the more often you ditch your phone, the easier it will be for you to ditch your habit of incessantly checking it all of the time when it is with you and on. If you struggle with the idea of doing this, then just start small and go for a walk around your neighborhood without your phone glued to you.
If you really want to plunge into taking a break from your phone, try taking a half or full day break from it one day a week (on Sundays perhaps). It can be so refreshing to not feel like you constantly need to check your phone for missed calls, messages, or other notifications.
Related: 6 Reasons You Need to Unplug from Technology
2. Technology has created a wedge in your relationships with others
If you find yourself regularly looking at your phone or using it as entertainment while spending time with others, then technology could very well be creating a wedge in your relationships. Responding to non-urgent calls or texts while spending time with others can send the message that you don't want to be there or are bored by their company.
The solution: Put your phone away when you are spending time with family and friends. If you are out to dinner with friends, try your very best to enjoy their company and the time you have together. And if you have kids at home that you are worried might need you while you are out, keep your phone "on", but otherwise don't be tempted to respond to texts or calls that aren't urgent.
Related: Ways to Be Fully Present
3. You regularly lose sleep because you stay up too late using technology
This is something I am definitely guilty of at times! I either get sucked into a good TV show and end up staying up late to finish watching it, or find myself getting work done on my laptop into the wee hours of the night. Neither of which are very good for my health or making sure that I'm getting enough sleep!
The solution: Be purposeful about turning off the TV and your phone and shutting down your computer for the night about an hour before your usual bedtime. You can use that time to unwind, read a book, or even prepare for the next day to make your morning easier. Basically, you can do anything except look at a screen! It is a great way to teach your body and mind to calm down and get the sleep your body needs.
Related: Inspiring Books to Help You Live Your Best Life
4. You send text messages or check your phone while driving
I shouldn't have to warn you about the dangers of looking at your phone while driving, but just in case you need the refresher…. According to the National Highway Traffic Safety Administration (NHTSA), sending or receiving a text takes a driver's eyes from the road for an average of 4.6 seconds, the equivalent–when traveling at 55 mph–of driving the length of an entire football field while blindfolded. They say driving and texting is six times more dangerous than driving while intoxicated.
If that statistic doesn't scare the crap out of you enough to stop texting and driving, I really don't know what will! Make the safety of yourself and others on the road a priority over your obsession with your phone.
The Solution: While I understand the desire to have your phone on you for safety purposes while driving in case you should get into an accident or need help, that doesn't necessarily mean it needs to be in your hand or even within reaching distance. If you are prone to texting or checking your phone while driving, try keeping it in the backseat or even the trunk of your car to remove the temptation.
Related: How Unplugging Can Improve Your Life
5. You lose track of time spent online or watching TV
If you constantly find yourself sitting down on your couch to watch TV, or opening your computer to goof around online for a bit….and then look up and notice that more than an hour or two has passed without you even realizing it, you may definitely have an unhealthy relationship with technology.
It can be easy to allow yourself to get sucked into technology and the entertainment it can provide, but allowing that to happen on a regular basis is never a good thing. You miss out on a whole lot of life that way if your face is just staring at a screen for hours on end every night!
The Solution: Make a list of the things you enjoy but tend to miss out on when you spend too much unnecessary time surfing the internet or getting sucked into hours of watching TV. Then make an effort to spend more time on those activities. Maybe it's reading more books, working in your garden, or even spending time at your local coffee shop.
Even if you find that all five of these signs apply to you and you're realizing you have some improvements to make when it comes to the role that technology plays in your life, don't fret! Just like any other habit, you can develop a healthy and fulfilling relationship with technology so that it doesn't control your life anymore. You've got this!
Don't forget to sign up for Simplify – my  free 4-week course
If you want even more tips to help you establish a healthy relationship with technology, click here to sign up for Simplify, my free 4-week course that will help you to curb the chaos in your life.
Do you have a healthy relationship with technology? Share why or why not in the comments below, I'd love to hear from you!