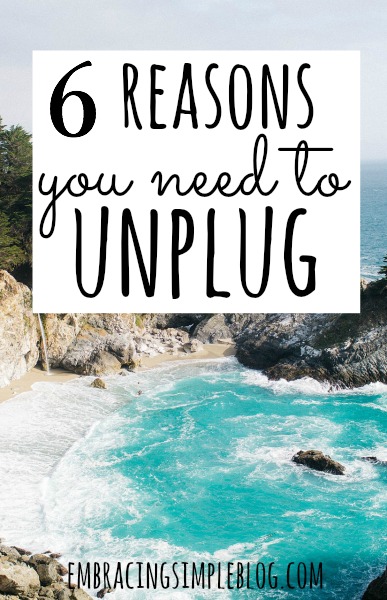 My name is Christina, and I am a technology addict. TV, computer, smart phone… if it has a screen, I am obsessed with it.
This obsession I have with technology actually makes me feel pretty angry with myself at times. Like when my urge to always check my phone comes up when I'm playing with my daughter. I have a tough time setting boundaries with myself and technology, especially since I work from home and am always trying to find that balance between making sure I pay enough attention to my family, but also get everything done that I need to.
While I do need to check my email to a certain extent throughout the day, I've noticed that I have a strong compulsion and almost physical craving to need to check it even when it's really not necessary. I'm the same way with Facebook, especially if I have it on my phone. It sometimes can feel almost like an itch that needs to be scratched, and that I can't relax until I've "plugged" back into technology for a little bit. It all sounds terribly unhealthy to me, especially as these thoughts are showing up on my screen and I'm reading them back to myself.
I decided to create a list of great reasons you need to unplug, thinking this would be a good list for me to come back to when I need a little extra motivation to put the technology away and just soak up life more. I thought I would share with you all too, because I know that I can't be the only person addicted to technology 😉 .
6 Reasons You Need to Unplug from Technology:
1. Give your brain a break
How many times during the day do you find yourself checking your phone for missed text messages or calls?
Pew Research Center found that 67% of cell phone owners check their phone even when they don't hear it ringing or vibrating (source). It must be so hard for our brains to be constantly fretting that we missed something. Gives yours a break by completely turning your phone off and reveling in how freeing it feels!
2. Feel more content and happy with your life
I talked a bit about ways to deal with money envy earlier this week and how social media can play a big role when it comes to experiencing feelings of jealousy or envy. It turns out that regular use of social media such as Facebook can have a profound negative impact on your mental health.
Researchers at the University of Missouri have found that Facebook use can lead to symptoms of depression if the social networking site triggers feelings of envy among its users (source).
I know that I can feel a bit envious when I see the great vacations that some of my acquaintances are taking, or if they can afford to dress their kids in really cute designer duds (not quite sure why I feel envious of this one though, because I wouldn't spend my money on that even if I could afford it!).
It's funny the types of feelings that can present themselves when you get a glimpse into the lives of others. It can sometimes be difficult to remember that people only put the best on social media, to perhaps paint a picture of their life that is better than the reality of it.
The best way to avoid these feelings of envy and depression that can come from the social media trap is to unplug and give yourself a break. Focus on your own life and the great things you have going for you instead of perusing the lives of others. It's easy to miss the great things happening right in front of you if you're glued to a screen!
3. Soak up the quiet time
Solitude and just being with your own thoughts for a bit can be really good for you. I'm a bit of an introvert (masked as an extrovert at times), so I find quiet alone time to be absolutely necessary for me to function on a daily basis. I feel completely rundown and ragged otherwise.
A study done by the University of the Philippines Diliman found that solitude can be extremely important to our overall well-being and has been shown to increase happiness and stress management abilities (source). It's crucial to be left with your own thoughts for at least a little bit of time each day, and to be able to process the things happening around you.
4. Build your "Real Life" relationships
I feel like every time I go to a restaurant or somewhere else in public lately, I see way too many people glued to their smart phones. As in, completely ignoring the people they are with to look at their phones instead. Whether they are checking Facebook or shooting a text to someone else, it's just rude. And doesn't make for much of an engaging conversation and quality time with the person you are currently with.
Something my husband and I do is typically watch a TV show together every night. While we enjoy this time to just relax a bit, it's not exactly the best way to bond and build our relationship. We are trying to make more of an effort to unglue ourselves from the TV and spend that time after Little Miss is in bed by having some actual conversations that don't revolve around the plot of a show.
Unplugging from technology can have profound effects on our "real life" relationships!
5. Get the sleep you need
Have you ever spent hours on your phone, computer, or watching TV at night to then discover that you couldn't fall asleep later on when you wanted to? I'm completely guilty of watching TV or being on my laptop right before bed, and am trying my best to break this habit.
As it turns out, two hours of using your computer at night could end up disturbing your sleep (source). Blue light that is emitted from bright screens can alter your body's melatonin production. Melatonin is the hormone produced by our bodies that helps set our biological clocks. Without it, it can be nearly impossible to fall asleep when you need to.
To help your body to fall asleep when it needs to, try to stay away from bright screens 2-3 hours before bedtime. I've found that even just unplugging an hour before bedtime to be extremely helpful in being able to fall asleep right away. Try it out yourself!
6. Feel less stressed
If you're feeling really stressed out lately, your smartphone might be a big contributor. I find myself feeling stressed out when I'm expected to immediately text back or return a call. Even though I'm terrible at texting back right away, I still feel stressed out when I haven't responded to someone yet.
Unplugging from your smartphone is a great way to reduce the stress that being "on" can bring into our lives. I know this is something that really helps me to feel less anxious and more calm when I can either turn off or ignore my phone for several chunks of time throughout the day.
Do you have a difficult time unplugging from technology? If so, do you find any of these reasons above to be helpful motivators to you to implement more "screen free" time in your life?
P.S. Be sure to subscribe if you haven't already, so you don't miss any upcoming posts 🙂