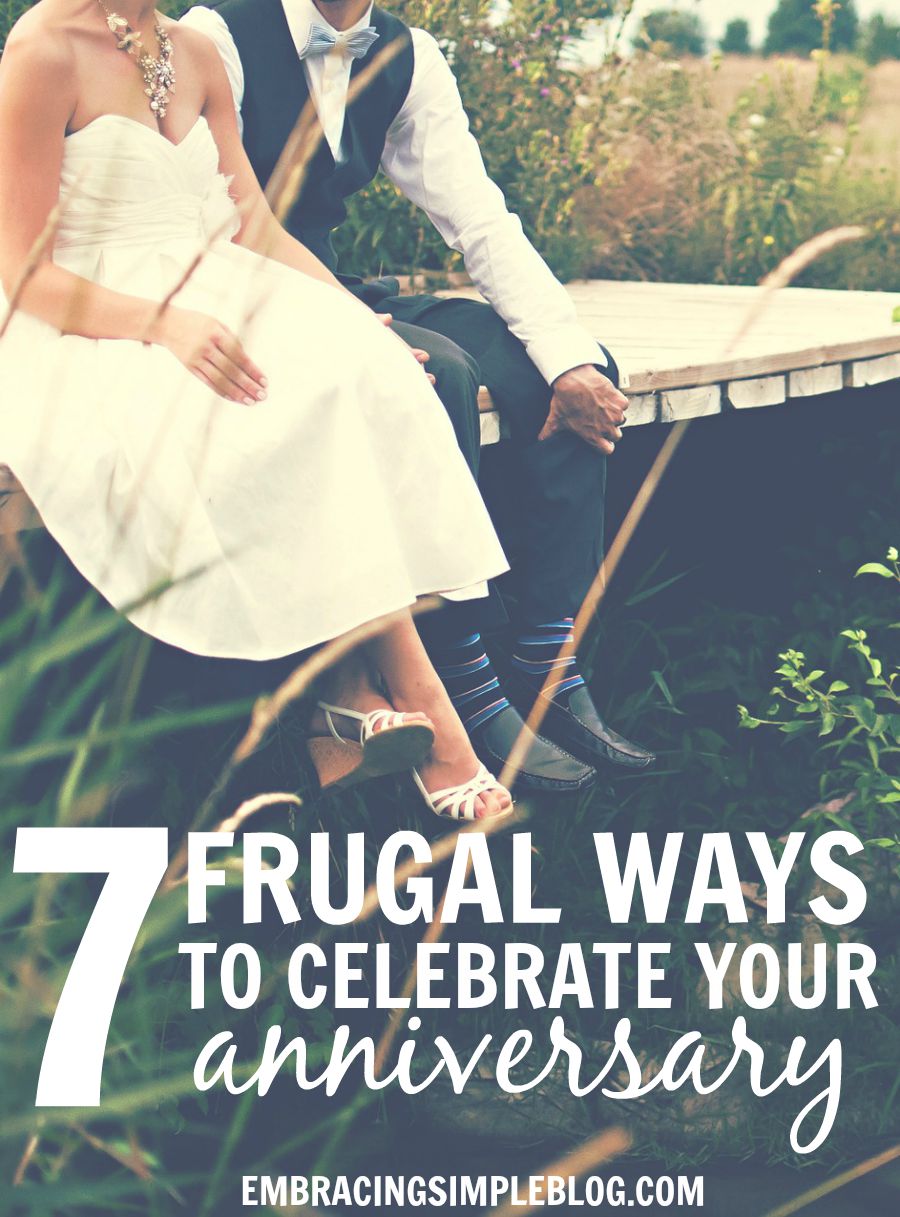 The hubby and I are celebrating our 3rd wedding anniversary next month! Kind of hard to believe we've been together for 9 years and married for 3 of those already. Man does time fly…
I was brainstorming some frugal ways we could celebrate our anniversary that we would really enjoy, yet wouldn't cost a fortune at the same time. While we would love to do a weekend trip alone somewhere, I can't imagine leaving Little Miss behind or spending hundreds of dollars on just a weekend for the two of us.
I came up with some fun celebration ideas for us to choose from and though that I would share with you all too in case you need help brainstorming some of your own ways to celebrate anniversaries or other special occasions coming up!
7 Frugal Ways to Celebrate Your Anniversary:
1. Write love letters to each other
My hubby and I wrote long love letters to each other right before our wedding day, that we then exchanged on our honeymoon. It was our way of sharing our feelings without having to get too mushy and emotional during our actual wedding ceremony (I was not about to intentionally ruin my makeup!).
It was so sweet and we both still kept them over these past few years. It's something that I really will cherish forever, and I think that anniversaries are a nice time to remember all the things you love about each other that you might not think to express on a daily basis.
2. Have a nice picnic lunch at a scenic spot
Pack a nice meal to enjoy together or pick up something from a local deli, grab a bottle of wine, an outdoor blanket, and you are set for the perfect picnic date!
Set out to find a picturesque park nearby, or even an open field depending on where you live. Even if you end up in your own backyard, it's fun to get out of your home and change your scenery a bit.
3. Make a special dinner at home
Try out a fun new recipe that is maybe a little bit more complicated than you would try on a regular night. Have fun creating a delicious meal together and working in unison to figure out how to make something new.
Light a few candles, put on some music you both love, and just enjoy a relaxing night at home together!
4. Explore somewhere new together
Back when you were first dating, you probably had fun exploring all types of new places together.
Now that you've been together for awhile, you probably don't explore together as often as you used to. I think it really does help to put a spark back into your relationship when you explore and discover new places and things together! Make a point to go to a town you've never been or try that new coffee shop you've been meaning to go to and experience something new together.
Even if it's just moseying around your town's downtown and popping in and out of the shops, it's fun to be out and about!
5. Attend a local high school or college event
High schools and colleges tend to put on a lot of great events during the year, and most of them are pretty cheap to attend. Perhaps their theater department is putting on a production that you'd like to see, or there is a football game that you think would be fun to check out.
Take advantage of these resources you have at your disposal to have a really fun night out at an event that won't break your budget either! The huge bonus is that you're supporting some local schools at the same time. And if you are high school or college sweethearts, it might bring you right back to the mindset that you had when you first starting dating 🙂
6. Find a free outdoor movie or concert night
Many towns have free events they host for residents to get together and have a fun night out for free. I know that in my town, we have concerts in the park every Tuesday night that are completely free to anyone who would like to attend. Even residents from other local towns are free to come if they'd like!
Take a few minutes to look online and see what types of events the towns or park districts near you host, I'm sure you will find a lot of entertaining options!
7. Go for a bike ride or hike at a forest preserve or other outdoor nature area
Being out in the fresh air together can be so rejuvenating for your relationship! Take your bikes or hike around a local forest preserve and enjoy a morning or afternoon of being in the great outdoors.
Being outside is a great way to force yourselves to unplug from technology and just focus on reconnecting with each other for a few hours. You could even pack a picnic to make it a full day of fun together!
How do you typically celebrate your anniversary? Share with me in the comments below!