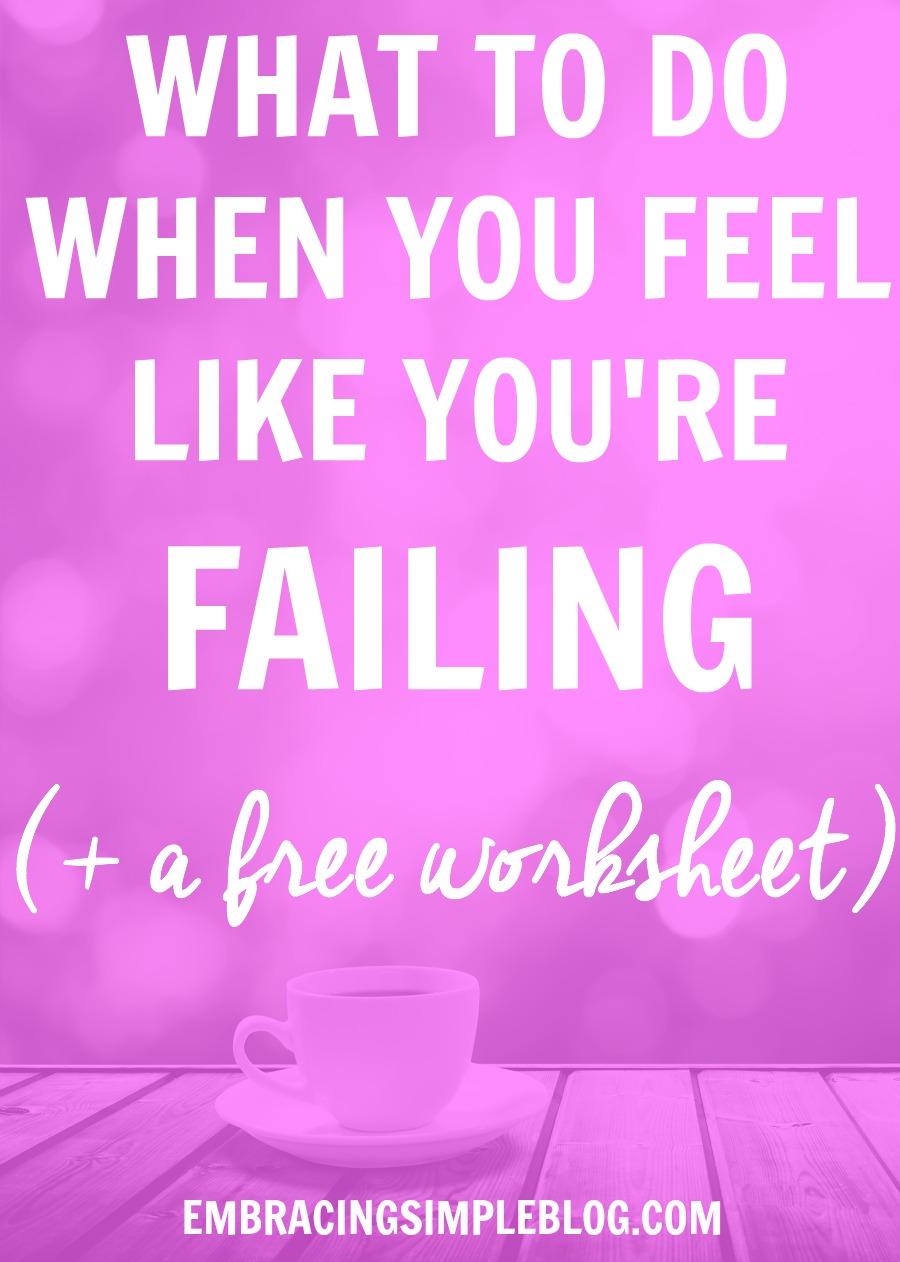 Do you ever struggle with feeling like you are failing miserably at everything you do?
Like no matter how much effort you put forth, you are still falling short in every area of your life?
Maybe you're having thoughts like this:
I yell at my kids too often, why can't I be more patient?
Why can't I get my act together and keep my house clean for just one day?
I don't give my husband enough attention or affection. I'm the worst wife!
Why do I fail at planning meals and have to rush around at 5:00p every night to throw dinner on the table? Why can't I be like those women who meal plan and prep in advance?
Lately I've  struggled with feeling like I'm failing as a wife, a mom, a friend, a daughter, a business owner, and most especially a homemaker. My house has been in disarray, I haven't felt as motivated to buckle down and be productive, and there's been more nights we've ordered take out than I care to admit.
Here's the thing – we all have that feeling from time to time that even our best isn't enough and that we just can't seem to get our act together.
When the feeling of failure starts to creep into your heart, it's important to be able to give yourself enough grace to realize you are doing the very best you can. The feeling of failure itself can actually be a great thing to help us re-focus and reevaluate what our priorities are, and re-learn the important lesson of giving ourselves grace.
I'm sharing my top tips for what to do when you feel like you're failing, and also created a free two-page worksheet for you to fill out as you read through this post. It will help you to figure out what steps to take when you feel like you're failing and move forward in a positive and constructive way 🙂
Take some time to fill out each section of your worksheet and really put some thought into it. You may very well surprise yourself with what it reveals to you!
What to do when you feel like you're failing:
1. Forgive yourself
It's so important to forgive yourself when you're in the midst of feeling like you're a failure. If you truly feel like you're doing the very best you can, then there is no reason to be hard on yourself. Each of us can only accomplish so much in any given day, and you have to understand that you are just one person who has their limits like any other human being.
While forgiving yourself and giving yourself grace when you feel overwhelmed can be a wonderfully freeing feeling, it also shouldn't be used as a cop out for not getting things done that need to be taken care of. The line between laziness and cutting yourself some slack can become pretty blurry, so just be honest with yourself about if you are really feeling overwhelmed, or if you are just being lazy (we've all been there too).
2. Stay off social media
While it can be fun to reconnect with old acquaintances and stay caught up on our friends' lives despite living states apart, social media can also be a huge burden.
Most people only post the very best of what's going on in their lives (out having fun with friends, engagements, beautiful kids, vacations, new cars, etc.). And this causes us to have a skewed perception of what their lives are really like.
We all have tough moments that we probably don't choose to share with the world on Facebook, but it can be difficult to remember that when we are scrolling through our feeds and seeing the amazing things that others are doing. Comparing our own reality to the "fantasy" lives that are usually shown on social media isn't fair, yet we all do it on a pretty regular basis.
We usually fail to remember that we aren't seeing fights with spouses, kids being yelled at, bills being paid late, and other everyday stresses. So when you feel like you're failing in your own way, try staying off of social media all together to avoid the comparison trap and comparing your reality to someone else's fantasy Facebook life. It will do you some good!
Related: 6 Reasons You Need to Unplug from Technology
3. Make a list of your strengths
When we feel like we aren't living up to any of the expectations we've set for ourselves, it can become difficult to see the things we really do excel at.
While it may seem silly, making a physical list of all of your strengths can be a great way to focus on the positives instead of dwelling on your perceived failures. It's the easiest way to pull yourself out of a failure funk and get back on track to feel accomplished 🙂
4. Figure out what you can say "no" to
When the feeling of failure starts to creep in, it's often because we are just juggling way too much.
Determine if there are any responsibilities or obligations that you can free yourself from so that you can focus on the things that matter most to you.
Related: The 4 Dangers of Busyness
5. Take a break
If you are working on a big project, maybe for work or around the house, try taking a break from it for a few days to refresh yourself if possible.
Sometimes just taking a short break can allow us to come back with a fresh perspective and renewed sense of motivation to get that big project done once and for all.
Related: A free four-week course to curb the chaos in your life
6. Get enough sleep
Sometimes feelings of failure can be exasperated by lack of sleep. Ask any new Mom with a baby who wakes up multiple times at night 😉
It can be so easy to feel like you cannot possibly keep up with all of your responsibilities if you aren't getting the sleep that you need. While it might not be possible to get a full 8 hours of uninterrupted sleep every night if you have young kids, you can make sleep more of a priority in your life.
You can get to bed earlier, let yourself sleep in if you need a few more minutes of shut eye to conquer your day, or even try to take a nap during the day if possible. You will likely find yourself accomplishing more in less time too if you're feeling more well-rested, since your brain is more energized and doesn't have to work as hard to process information.
Related: Ways to Take Care of Yourself When Life is Busy
7. Share your struggles with others
Remember that you are never alone with feeling like you've failed. All of us have felt like that at multiple points in time, and will continue to have those feelings during different seasons of our lives.
The important thing is to acknowledge that you're having those feelings and then deal with them in the most constructive way possible. Don't let them make you feel belittled or incapable of accomplishing everything you want to.
Instead, use the feeling of failure as an opportunity to to help yourself re-focus and reevaluate what your priorities are, and of course serve as a reminder to give yourself some grace when you need it!
Are you struggling with the feeling of failure, or have you ever in the past? Share your experience below so we can help each other work through it with words of encouragement and reminding ourselves we are not alone in this ! 🙂
Don't forget to grab your free worksheet!