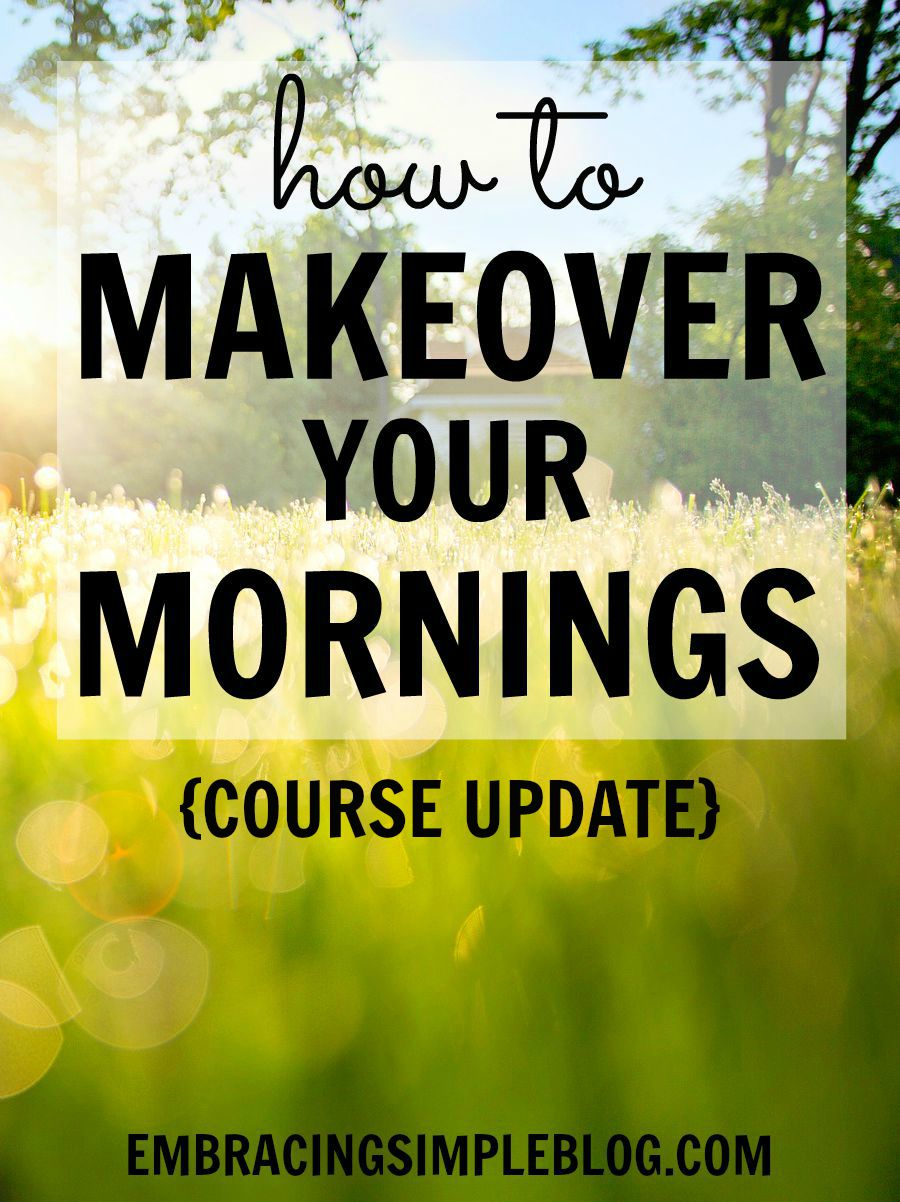 Hi Friends!
I hope you are all having a fabulous weekend!
I am having a great weekend besides for some pretty bad tooth pain. I actually have a root canal scheduled for Tuesday morning that I'm slightly terrified about. I know it's a completely routine procedure, but I have a big time fear of dentists and am getting high anxiety just thinking about it. So if you have had a positive experience with one yourself, please do leave me a comment below letting me know that I'll be just fine 😉 I need the extra encouragement!
Tooth anxiety aside, I wanted to pop in and give you an update on the Makeover Your Mornings course that I mentioned in this post a few weeks ago. I officially completed the entire course myself and am very happy with how it's helped me to make positive changes in my own life. I'm also sharing some special deals that are happening with the course in the next few days, and I'll talk more about them below.
I had a few of you email me asking me more about my experience with the course since you were trying to determine if it would be a good fit for you too before spending your hard earned money on it. I totally get it, I do my research too before spending even a dollar on something!
I mentioned in my last post about this course that it really has been a game changer for me. It's truly helped me to change my day-to-day routine for the better. I am so much more patient these days. I feel like by figuring out how to make my mornings work for me and find fulfillment through them, I've been starting my days off on a much better note. And as a result of making over my mornings, the rest of my day is much less chaotic too.
For instance, this morning I managed to get a bunch of work done bright and early (yes, I typically work Saturdays too) and then headed out for some mid morning fun with hubby and Little Miss. We got to check out a local farmer's market and then go down the slide at the park a million times. A blast was clearly had by all! 🙂
I've had great success with this course and really can't say enough good things about it. The Makeover Your Mornings course is tailored to fit into your lifestyle, so that you can create a customized plan for yourself that is going to work for you personally.
There are two great deals happening with this course in the coming days:
Try out Day 1 of the 14-Day course for free TODAY and TOMORROW only
The creator of the course, Crystal Paine from MoneySavingMom.com, is offering a great deal through TOMORROW to try out the first day of the course entirely free. So you can get a taste of it for yourself and determine if you think it will be worth spending your own money on. Click here to access Day 1 for free. Make sure you get access to the free day of the course ASAP, because you won't be able to try it out for free after Monday rolls around.
The course will be on a special sale TUESDAY only for just $10
After you try out Day 1 for free and you do think it will be a good fit for you, there is going to be a special flash sale TUESDAY ONLY where you can get access to the entire course for only $10.
I paid the full price of $17, and I thought that was a steal for how much I gained from the course, so I couldn't pass up the opportunity to mention this great deal to you all too. Crystal is saying this is the last time the course will be on sale this year, so definitely don't wait if you want to snag it up for a steep discount!
I know back to school season is in full swing and that many of you Mamas are trying to get back into the groove of new fall schedules, and this course is the perfect way to ease your way into organizing your mornings and your time so that you aren't left feeling frazzled and depleted by not making the time for yourself that you need!
Cheers to making your mornings the best they can possibly be! 🙂 Enjoy the rest of your weekend everyone!
XO Christina
P.S. There's a 100% money back guarantee on the course too if you're not completely happy, so there's really nothing to lose!
More details about the Makeover Your Mornings course:
Crystal Paine of MoneySavingMom.com is someone that has used her own successful morning routine for years. She manages to run a hugely successful business in addition to all of her other responsibilities – including home schooling her three kids.
She has designed a course around the tried-and-true habits that she has used as part of her own morning routine.  Crystal not only walks you through the principles and tools that she uses for her own morning routine, but shows you how you can apply them to your own life, your situation, and your family, so that you can makeover your morning.

Her 14-day Make Over Your Mornings course walks you, step-by-step, through a process that creates a routine that will assist you in:
Discovering why a well-planned morning revolutionizes your whole day

Establishing bedtime routines

Designing a morning routine centered on your biggest priorities

Goal-setting

Setting up a task management system

Prioritizing exercise and healthy breakfasts

Creating internal and external motivators

Establishing accountability

Battling lies

Building stamina when things get tough
Every day of this course covers a different topic – from streamlining mornings to setting up bedtime routines to goal-setting to creating a task management system, and much more.
Are you telling yourself that you don't have time to dedicate to a course like this to help you change your habits?

Good news! The beauty of this course is that it takes a unique three-fold approach: a chapter to read, a video to watch, and a daily project to complete – all of which will take no more than 15 minutes of your time to complete each day!
We all have 15 minutes to spare, especially if it's being spent on something that is going to liberate you from that constant feeling of exhaustion. A tiny time investment of just a few minutes of your day can yield potentially amazing results for yourself and your family. 
This course is designed to help you revolutionize your productivity, streamline your routines, invest your time in things that truly matter, and find more joy and peace in the process.
If you've ever wished that you could figure out how to get more done, have more organization in your life, and find time to spend on things you love, the Make Over Your Mornings Course is for you.
I can tell you that I feel so much happier from encouraging myself to become a morning person. I feel like I've made great strides in improving my routines and my life by doing so, and I'm grateful that I took the plunge to make it happen.
Do you yearn to get into a morning routine that begins with making time for yourself before your family needs you too? 
There are affiliate links in this post. If you choose to make a purchase, I will receive a small commission at no additional cost to you. I only recommend products that I love myself and that I think would benefit you too. Thank you for helping to support Embracing Simple, I appreciate you!