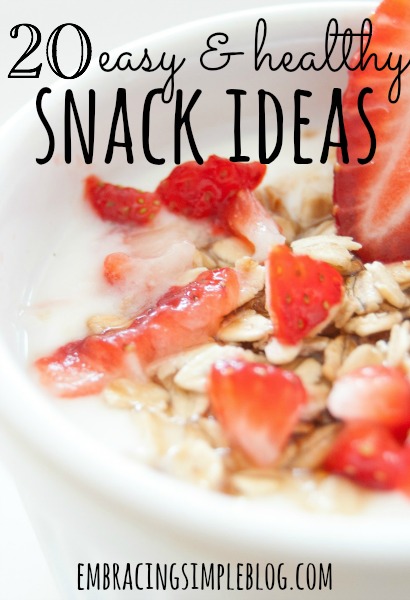 One thing you should know about me is that I'm a huge snack advocate. I am a "can't go more than 2-3 hours without eating" type of gal. I get real hangry otherwise and have no plans to give up this habit anytime soon.
I think that incorporating more healthy snacking throughout my day really helps me to not get too hungry and overeat at meal times. It also gives me some sustainable energy to be able to keep up with my routine as a work-from-home Mom and juggle my freelance work while chasing after my 11-month-old.
Over the years, I've developed some go-to healthy snack favorites that are super easy and quick to prepare. I know sometimes all it takes is a little inspiration from someone else to be motivated to eat healthier or get some new fun food ideas to try out.
I think that a lot of these ideas are foods that kids would love too! Little Miss is turning 1 in a few weeks so she doesn't have quite enough teeth to eat some of these, but she does enjoy when I share a few of these with her.
After putting this list together and seeing all of my favorite snacks in one place, I'm realizing I have a tiny obsession with peanut butter. Oh well… there are worse addictions, right? 😉
Here are my 20 favorite easy & healthy snack ideas:
Greek yogurt with blueberries or cut up strawberries mixed in. Sometimes I like to mix in both and have myself a "patriotic" parfait 🙂
Baby carrots, celery, or cucumbers with hummus
Air popped popcorn
Apple slices with natural peanut butter
String cheese with a few whole grain crackers
A green smoothie with frozen strawberries and pineapples, spinach, chia seeds, a splash of OJ, and some water
Ants on a log – celery spread with peanut butter with a few raisins on top
Cottage cheese with peach slices or pineapple
Apple slices with a slice of cheese
1 cup grapes and a small handful of raw almonds
A banana and 1/2 of a granola bar (usually when I'm grabbing something easy to eat in the car while running errands)
Edamame
Whole wheat toast with peanut butter spread on top (I sometimes even add sliced strawberries)
Strawberries spread with goat cheese
Roasted cashews and a pear
Trail mix – I love a mix of dried cranberries, almonds, cashews, and mini chocolate chips
Double chocolate almond milk smoothie – blend dark chocolate almond milk with a frozen banana, a bit of unsweetened cocoa powder, and a splash of vanilla extract
Unsweetened apple sauce with cinnamon
Multigrain tortilla chips with black bean salsa – not the healthiest, but a much healthier alternative when you're in the mood for chips or other junk food
Oatmeal with a bit of peanut butter, chia seeds, and the littlest bit of brown sugar mixed in
What are some of your favorite easy and healthy snack ideas that you enjoy munching on?