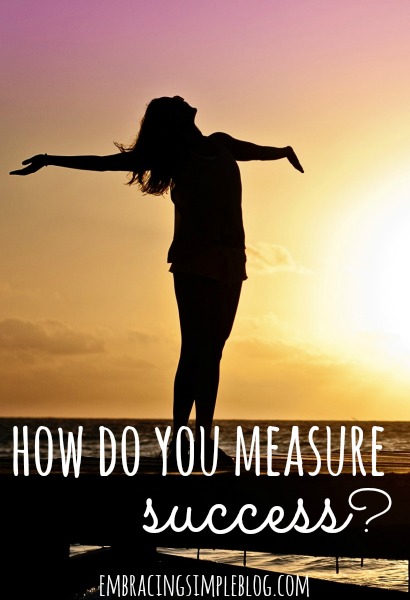 When you think of being considered successful, what picture is painted in your mind? Everyone has a very different answer to that question. Success can be measured in a lot of different ways, and one person's definition of success can be the exact opposite of the individual sitting next to them.
Although I may not be making the big bucks, have a fancy title at work, live in a mansion, or drive a luxury car, I feel pretty successful in my current life. Sure, there are goals and ambitions I have and dreams that I want to make happen, but I feel I've fulfilled my own version of success.
So how do I measure success in my own life? I feel successful that I'm able to bring a part-time income into my home running my freelance business while also getting to be a stay-at-home Mom to my baby girl. That is my dream life, and I feel blessed every day to be living it. My version of success may be an extremely simple one, but it's my definition of successful in my own life, and I feel like I've "made it" in that sense.
However, I don't believe that my definition of success is one that will (or should) apply to everyone. There are many other ways to measure success, and just because they are different from my own version doesn't make them any less valid.
Other ways to measure success in business:
The income you earn
Fulfillment in the work that you do
Earning a particular title
Owning your own business and being your own boss
Although some of these potential criteria for measuring success aren't necessarily measurements I use for evaluating my own success, that doesn't mean that they are wrong to use as indicators as to whether or not you feel successful yourself. Will you feel successful if you reach a certain income level, or perhaps own a business someday so that you're the one calling the shots? Then that's great, and I encourage you to set out and make those goals happen!
Other ways to measure success in your personal life:
Becoming a parent
Deciding to spend your life with someone you love (whether that means getting married or not)
Being able to buy the house of your dreams
Having the ability to travel around the world
Maybe all you've ever dreamed of in life is to get married and have a family. And when that happens, you will be entirely successful. There is nothing wrong with that! Don't let outside influences tell you that you aren't successful until you've had a powerful career or can afford fancy things. If you had the desire in your heart for something and you were able to achieve that goal and feel fulfilled as a result, then you are successful.
Everyone has their own definition of what success looks like in both business and life. The beauty is that everyone has their own standard. At the end of the day, the only way to know if you've "arrived" in life is if you feel as though you've "arrived". There are so many different ways that everyone measures success, so what really matters is if you live up to your own definition of success and be true to yourself in what you really desire out of life.
What does being successful mean to you? How do you measure success in your own life?