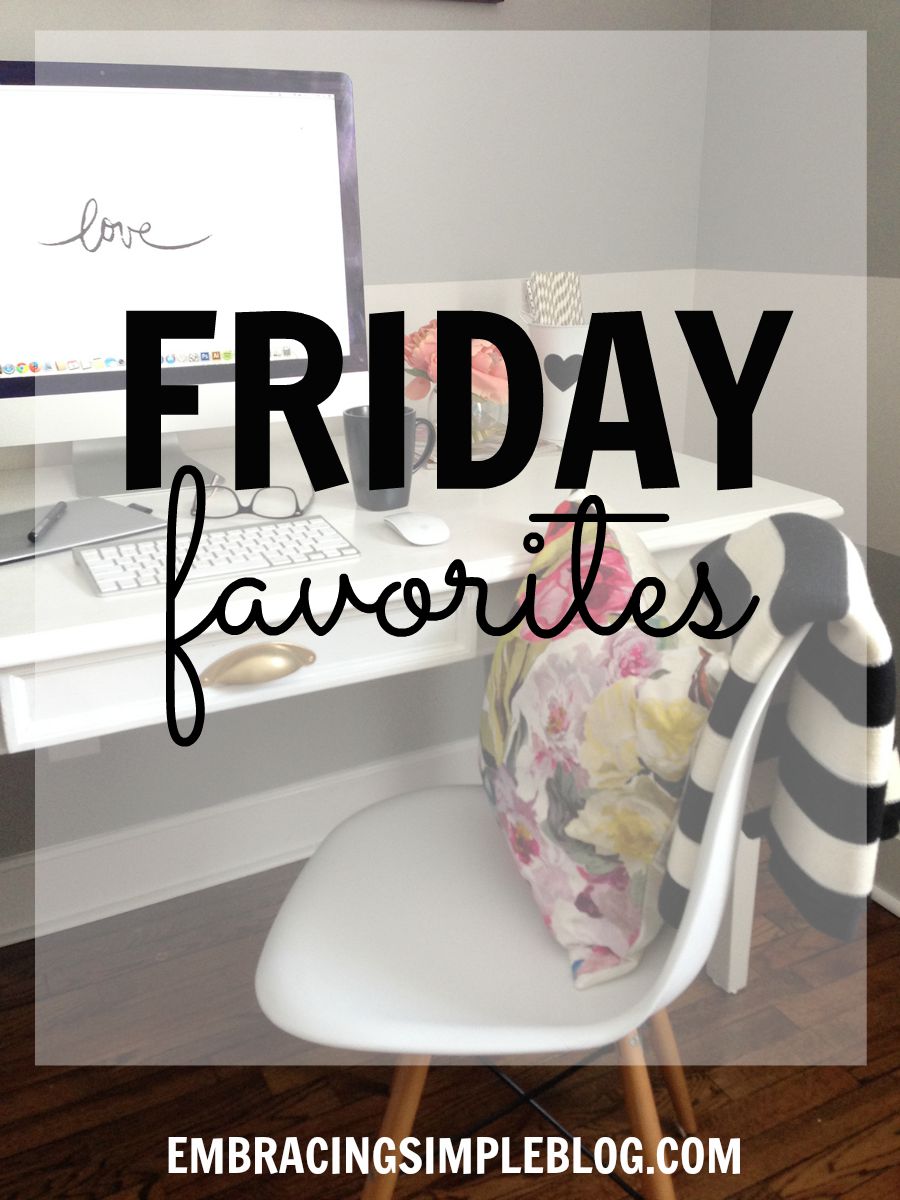 Happy Friday, Friends!
I've got a doozy of a post for you today, buckle in because it's going to be a long one 🙂 .
I feel like this week flew by with how much I wanted to accomplish, but I'm really looking forward to this weekend. My sweet friend Sara is expecting a little girl in September and her baby shower is on Sunday. I cannot wait to celebrate the impending arrival of baby Allie, I'm so excited for Little Miss to have another little girlfriend!
News and some of my favorites from this past week:
1. I was nominated for the Sunshine Blogger Award!
The Sunshine Blogger Award is given to those who are inspiring and bring sunshine into the lives of their readers and fellow bloggers. What an honor it was to be nominated for this award by some of my favorite blogging buddies! A big thank you to Kay from The Barefoot Minimalist, Allison from Frugal on the Prairie, and Tennille from Two Kids and a Budget for each nominating me. These ladies have some awesome blogs that I encourage you all to check out!
The premise of the Sunshine Blogger Award is to answer the questions that the person who nominated you asked, and then to nominate other bloggers. It seems like this award is really making its rounds, so I'm going to break the rules and just answer the questions for fun! I'll try my best to keep my answers short and sweet 🙂
Kay's questions for me:
1. What is the best thing that has happened to you so far in 2015?
Without a doubt, starting this blog and being able to connect with this wonderful community!
2. How old were you when you left home for good and why?
I had just turned 22 and I left because the hubby (then fiance) proposed and we were moving in together.
3. What's your favorite time of day and why?
Afternoon nap time, usually from 2-3pm. I typically make a homemade iced coffee and enjoy the quiet time by knocking some work tasks out while Little Miss sleeps. It really refreshes me for the rest of the day!
4. Who is your favorite celebrity crush of all time?
I am not that into celebrities, but I do have a major girl crush on Kate Middleton. She's just a class act!
5. If you could live the life of anyone in the world for just one day, who would it be?
This probably sounds so dorky, but myself. I might have had a more "fun" answer before Little Miss came into my life, but that child has never made me happier to live my life.
Allison's questions for me:
1. What is your "reach for the stars" goal as a blogger?
This is an awesome question, and one that I honestly don't have a solid answer for. I feel like my ultimate goals for how I'd love to use this platform keeps changing on a daily basis, but right now I am thinking that I would someday love to be a life coach of sorts to help others on a deeper and more personal one-on-one level. I really enjoy giving (solicited) advice and helping others work through their battles and being a support system. Fun fact – I was actually a psychology major in college before I switched to marketing. I seriously love helping others in decision making processes and dealing with what life throws at them in a productive way.
2. Who is your greatest inspiration?
Cheesy, but my hubby. He is my biggest fan and encourager, and I'll never know what the heck I did to deserve it all. He inspires me to be courageous and pursue my dreams!
3. What does a typical Day in the Life look like for you?
I actually did a day in my life post a few months back!
4. What makes you smile?
When someone tells me I genuinely helped them in dealing with something rough going on in their life or served as a source of inspiration to them.
5. What is your favorite money saving or personal finance tip?
Don't buy shit you don't need. Sorry for the vulgarity, but that's my honest to goodness favorite!
Tennille's questions for me:
1. What is your writing process?
For blog posts, I typically have a running list of topic ideas that come to me at random times like cleaning or taking a shower. I usually come up with my main "points" that I want to make and then after that I sit down and flesh each one out in more detail. Sometimes it's just a free for all though and I start out with no structure and then have to build it in later so that my thoughts are more coherent.
2. Where would you like to see your blog go?
This is a bit similar to Allison's question #1 (see above), but I'll answer it from a financial perspective this time. I know that once my kids are all in school full-time, probably at least 8 years from now, I'm going to want to transition into working full-time hours again and I think it would be such a blessing if I could do that through this blog and do something that I love and so thoroughly enjoy. That would be the ultimate full-time job for me!
3. What is your favorite movie and why?
I truly do not have a favorite, but I tend to gravitate toward comedies.
4. Who is your favorite TV character?
When it was still on the air, I loved Lynette from Desperate Housewives. Gotta love a Mom who can juggle her family with a successful career too!
5. What superpower would you like to have?
The ability to read peoples' minds. It would probably be a little bit TMI at times, but I think it would be very eye-opening and give me a different perspective into how others are truly feeling.
2. Favorite moment from this week
I shared this on Instagram too, but on Monday morning I woke up super early (4:30a) and not only knocked out several hours of work before the little babe was up for the day, but had a chance to enjoy a cup of coffee on my deck too.
I've been trying really hard to shake my night owl tendencies lately and become more of a morning person to start my day off on the right foot, and I was really proud of myself for waking up bright and early on a Monday morning.
It was a wonderful way to start my week by being productive and making some "me time" to kick off my day.
3. Favorite Pinterest find
I found this pin with tips for organizing paperwork from Sarah Titus. Thought it was perfect timing for those of you who are gearing up for your kiddos to start another school year, and all the lovely paperwork that comes with it 😉 .
Feel free to follow me on Pinterest for money saving tips, fun ideas, and tasty recipes!
4. Favorite inspiring quote

What was your favorite moment from this past week? Hope you all have a lovely weekend!

XO Christina
[Photo source: Ashley Ella Design]