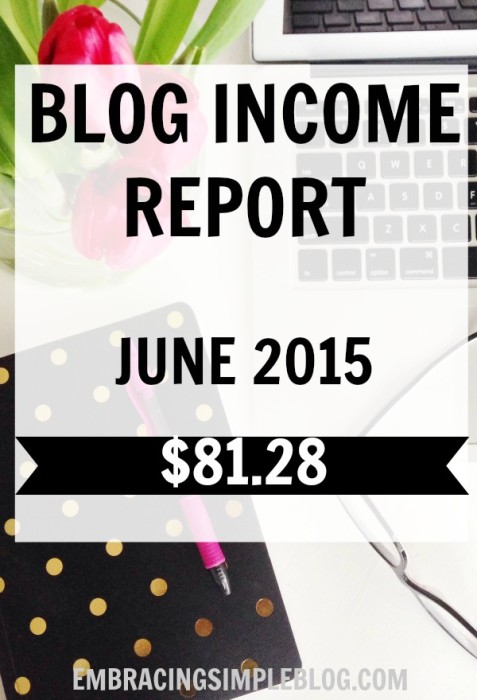 Hitting "publish" on a post like this is slightly terrifying. I know that income can be such a controversial topic, and I am a very private person by nature so this is completely out of my comfort zone.
That being said, I officially started earning an income on my blog last month and wanted to share with all of you fabulous people how I was able to do so in hopes that it will be helpful to you!
I know that a lot of you reading this aspire to be able to generate an income from working at home someday. Whether you are a stay-at-home Mom that would like to make a bit of extra money while having the ability to be at home with your babies, or someone currently working in an office and desiring to be self-employed and in charge of your schedule, blogging can be a fun way to start earning an income from your own home.
My June 2015 Blog Income Report:
While I've been earning a part-time income through my freelance work for about two and a half years now, trying to earn an income through blogging specifically is something that has been entirely new to me until this year.
When I started this blog in January of this year (exactly 6 months ago today), I had plans to use it as a creative outlet to be able to talk about my passions and anything else on my mind, as well as connect with other like-minded people. I thought that potentially earning an income from my blogging efforts would just be icing on the cake.
I have poured literally hundreds of hours into writing posts, creating images, commenting, promoting, and doing maintenance and updates to my site. Blogging is definitely a lot of hard work and requires consistently to slowly build up traffic and engagement. It is by no means a "get rich quick" strategy. As you can see, I put in quite a bit of time before my efforts began to pay off.
Income
Since April and May are included in the first $100 I earned through my blogging efforts and I didn't share income reports for those months, I thought I would include them below to give you a full picture of the progression I've made over just the past couple of months. In future monthly income reports, I will only include the income from the previous month.
All income reflected below was earned through Google Adsense.

April 2015 – $13.79
May 2015 – $36.54
June 2015 – $81.28
Total Income Earned for April, May, and June 2015: $131.61
The income above is for money earned during the month of June but not necessarily paid out during the month of June. I will receive payment for June's income in early August I believe. It's also important to keep in mind that these numbers above do not reflect the taxes I will need to pay on this income.
This means that last month I finally hit the $100 minimum threshold to be able to receive a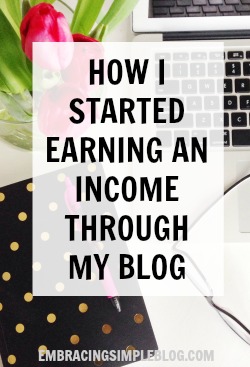 payout from my Google Adsense account (I have a few ads scattered throughout this blog that are run through Adsense) and felt like I hit the jackpot. While from the outside it might seem like such a trivial amount of income earned considering how much time I have put into my blog, it represents a whole lot more to me.
I was able to earn that first $100 by creating something all on my own from scratch by doing something that I absolutely love. It's true, I would continue to blog regardless of if I ever made a dime. I have had so much fun pouring my heart and soul into this endeavor. It is a wonderful feeling and I find it very empowering and motivating, since being able to earn an income from home allows me to stay at home with Little Miss and be there for every milestone she reaches.
I have found such inspiration through reading income reports that I've seen other bloggers share, because it is a great reminder that it IS possible to earn an income online doing something you enjoy and are passionate about. I knew I wanted to provide that same feeling of inspiration and encouragement to those of you reading who have doubts about your abilities to be able to make an income through blogging. You have a voice and what you have to say matters, so don't ever feel like you aren't capable of starting a blog if it is something that you really want to do.
My thoughts on adding ads to my blog
When I initially started my blog, I was so leery of putting any ads on it for fear that it would become a cluttered space and that it would distract from my writing. As a result, my blog didn't have any ads on it the first 4 months, and then halfway through April I decided to install them just to see what would happen.
I decided to not have ads placed anywhere they would conflict with my content or distract too much while people are reading. So far I think this strategy has worked fairly well for me, but I think I would ideally like to get to a place where I don't need to have ads at all since they aren't always the prettiest to look at. We will see where the coming months take me!
The future of my blog income reports
I'm hoping to be able to give more guidance in the coming months as to what is working for me and what is not as I experiment in different ways with increasing my blog income while also maintaining the quality content that I work hard to keep on Embracing Simple.
I think that many of you can provide me with feedback and suggestions too and use this as an open forum to discuss adjustments I can make and how I can make improvements in general.
I know that there are plenty of genuine ways to make money through blogging while also staying true to myself and especially all of my amazing readers who continue to support me! Without you all, none of this would be possible. And for that, I am truly grateful!
If you are interested in starting a blog, I created a tutorial to help you start a blog of your own in only 4 easy steps.
Thank you from the bottom of my heart for all of the encouragement and support! I hope you're having a wonderful week 🙂
Photo source: Ashley Ella Design