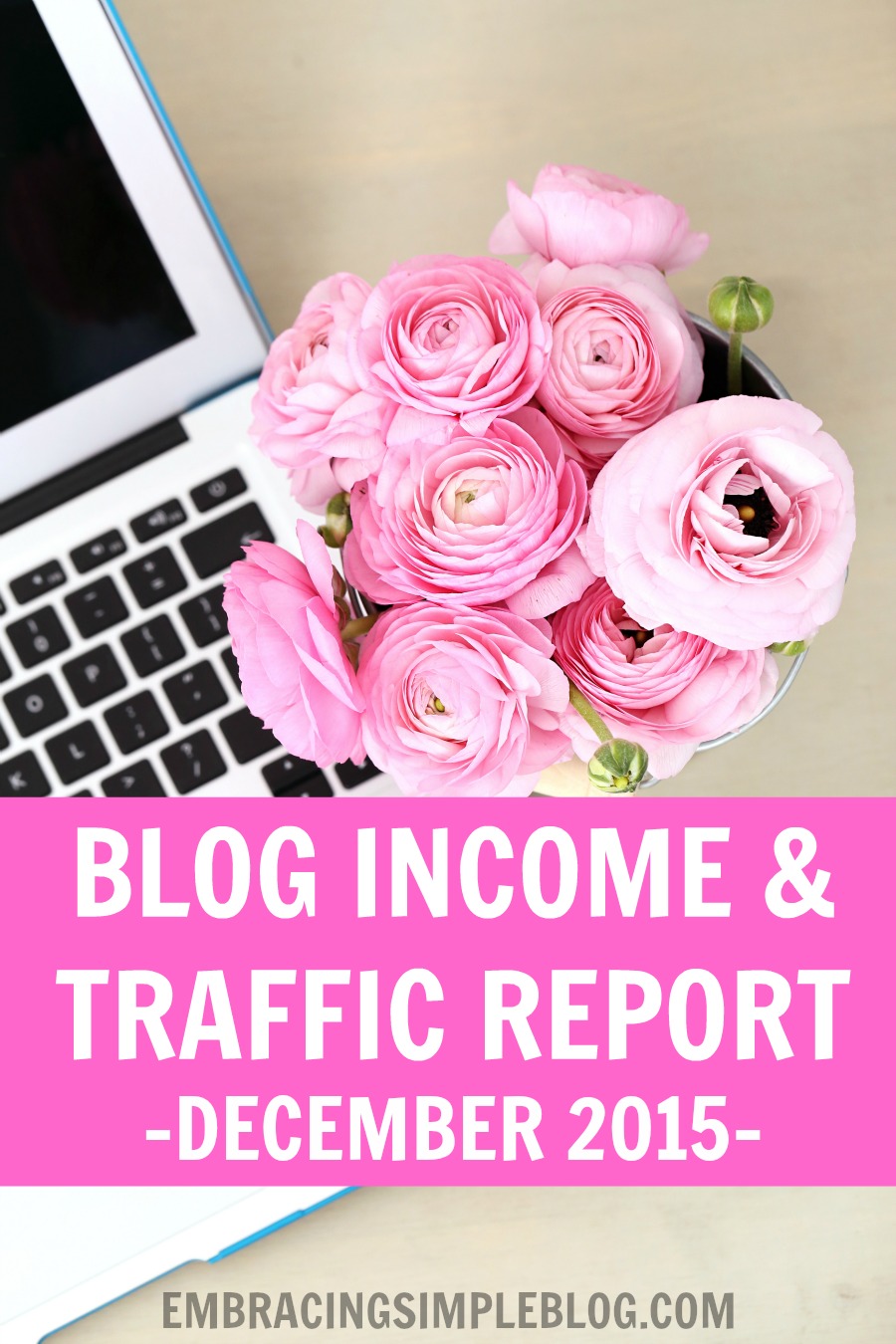 Hi Friends!
I hope January is treating you well so far and that you are enjoying the fresh start that a brand new year can bring!
Today marks my 1 year blogging anniversary – woohoo! Hard to believe how quickly it's gone by. Time flies when you're having fun, right? To celebrate with my readers, I created Simplify – a free 4-week course to help you curb the chaos in your life. If you haven't signed up already, you can click here to grab this course….it's free, so there's nothing to lose! 🙂
I'm back with another income report, so let's jump in!
If you're new here – The reason that I share my blog income reports is because I think it's a great way to show that it is possible to earn an income online doing something you enjoy and are passionate about. I want to provide inspiration and encouragement to those of you reading who have doubts about your abilities to be able to make an income through blogging. This is also a great forum for me to share my experience in trying to earn an honest income from my blog, and all of the tips and tricks that I learn along the way.
If you are interested in starting a blog, I created a tutorial to help you start a profitable blog of your own in only 4 easy steps.
December 2015 Blog Income and Traffic Report:
-This post contains affiliate and referral links-
Income
The income below is for money earned during the month of December but not necessarily paid out during the month of December. It's also important to keep in mind that these numbers do not reflect the taxes I will need to pay on this income.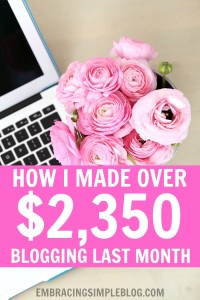 Sponsored Content – $1,175
Gift card received as part of sponsored content – $75
GoDaddy – $803.60 –> How to Start a Blog
Google Adsense – $115.90
Savor the Holidays mini course – $9.50
IZEA – $6.34
Amazon Associates – $73.05
Additional Affiliate Programs – $97.81
Total Income: $2,356.20  (+$727.52 compared to last month)
Expenses
The P.O. Box & Tailwind expenses are actually a yearly expense that I paid in entirety for a year, but I feel like breaking it out into monthly increments helps to see a more accurate picture of my total expenses compared to income.
Gumroad Transaction Fees – $0.72
PayPal Fees – $9
Font license- $5
P.O Box – $4.67
Tailwind – $10
Total Expenses: $29.39
December 2015 Net Profit: $2,326.81
Traffic Report
I received 102,544 page views in the month of December (+28,173 compared to last month)
Income Analysis
I will be honest, my December income and traffic shocked me in the best way possible. I took quite a bit of time off from blogging in December (approximately two weeks) to focus on my family and enjoying the holidays with them, and couldn't believe that I was still earning money from my blog while I was off enjoying family time. Proof to me that blogging is truly the best fit for me with the flexibility I want in my life to have a good work-life balance.
That's the beauty of blogging to me – you can put your hard work and time into your blog and then later on take some time off but still be making an income from it. Last month proved to me that blogging really can be passive income in a lot of ways! I don't know many other jobs or business ideas that allow for that much flexibility in your life.
How I reached the 100k page views milestone
I cannot even explain how awesome it felt when I saw I had over 100,000 page views in December. It's something that I've been working very hard at achieving since I first started my blog, and it felt a little surreal to reach that goal within my first year of blogging.
I've had people tell me that blogging is part timing and part luck, but I really don't find that to be true at all. While there's no magic formula for blogging success, I've worked very strategically this past year to try to make my blog as successful as possible and that includes knowing when it's important to invest your money.
The one single investment that has continued to help me reach my blogging goals on a regular basis has been investing in Tailwind, a scheduling tool that I use to schedule out my pins on Pinterest. I literally spend 20-30 minutes a week on Pinterest since Tailwind streamlines the process for me and does so much of the work. And the results of using this tool show- below is a screenshot of the page views I received from Pinterest from December 1-31, 2015. 60% of the visitors to my blog came from Pinterest!

I paid for a full year upfront of Tailwind, so it only comes out to a $10 investment per month. Totally worth it if you ask me! If you're going to invest in anything for your blog this year, I couldn't recommend Tailwind more. They have a free trial too where you can schedule 100 pins for free before actually purchasing, just to make sure it's a good fit for you. You can use my affiliate link to try Tailwind out for free!
My latest thoughts on sponsored posts
The past few months, I've become more and more uncomfortable with the amount of sponsored content that I've been sharing in this space.
Although I am truly pretty picky about which sponsored post opportunities I accept and always work hard to provide value in those posts, I'm just tired of pumping out so many sponsored posts every month. My heart isn't into sponsored posts these days; I would much rather focus on creating my own products that I am excited about and that I know will enrich the lives of others.
That's why I'm here, after all. I have a passion and a desire for helping others create a life they are in love with, and I want to live out that passion to its fullest. I am a firm believer that you should do what excites you in life, and that (most) of the things you spend your time on should bring you such immense joy that you just cannot freaking wait to get out of bed every morning. Life is too short! So for that reason, 2016 is going to be the year of less sponsored posts, and more content and courses that I'm absolutely bursting at the seams to share about 🙂 As a result, you will likely see my income decrease drastically in the beginning of 2016.
If you have courses that you would like to see available on Embracing Simple, please shoot me an email. I love to hear from you guys and am here to serve you and your needs – don't be shy about reaching out!
Final thoughts
If you've made it this far into my gush fest about how much I love blogging, I think it's pretty obvious that I've fallen head-over-heels for this little 'ol blog of mine. I realize I sound pretty sappy when I talk about the love I have for my blog and my readers, but when you've created something like this from scratch and pour your heart and soul into it for a year, it's hard not to feel that way 🙂
You all have made this online space a place that I adore spending time in, and have allowed me to earn an income from home while spending precious quality time with my 18-month-old daughter. I don't think I'll ever be able to express how grateful I am for this opportunity, deeply and truly!
And if you are a stay-at-home Mom reading this who is looking to earn an income while still getting to be home with your babies, or maybe you currently work in an office but would love to be self-employed, I truly encourage you to start a blog of your own or check out these other at-home business ideas. Not only does blogging present a really fun way to make money online, but it gives you the opportunity to help others too. What could be better than that?!
I've been so enjoying this blogging journey and can't wait to see what 2016 has in store for my blog.
If you're interested in starting a blog, don't forget to check out my tutorial to learn how to start a profitable blog of your own in only 4 easy steps.

Thank you from the bottom of my heart for all of the encouragement and support! How was your December? Let me know in the comments below!
 Top posts of December 2015: