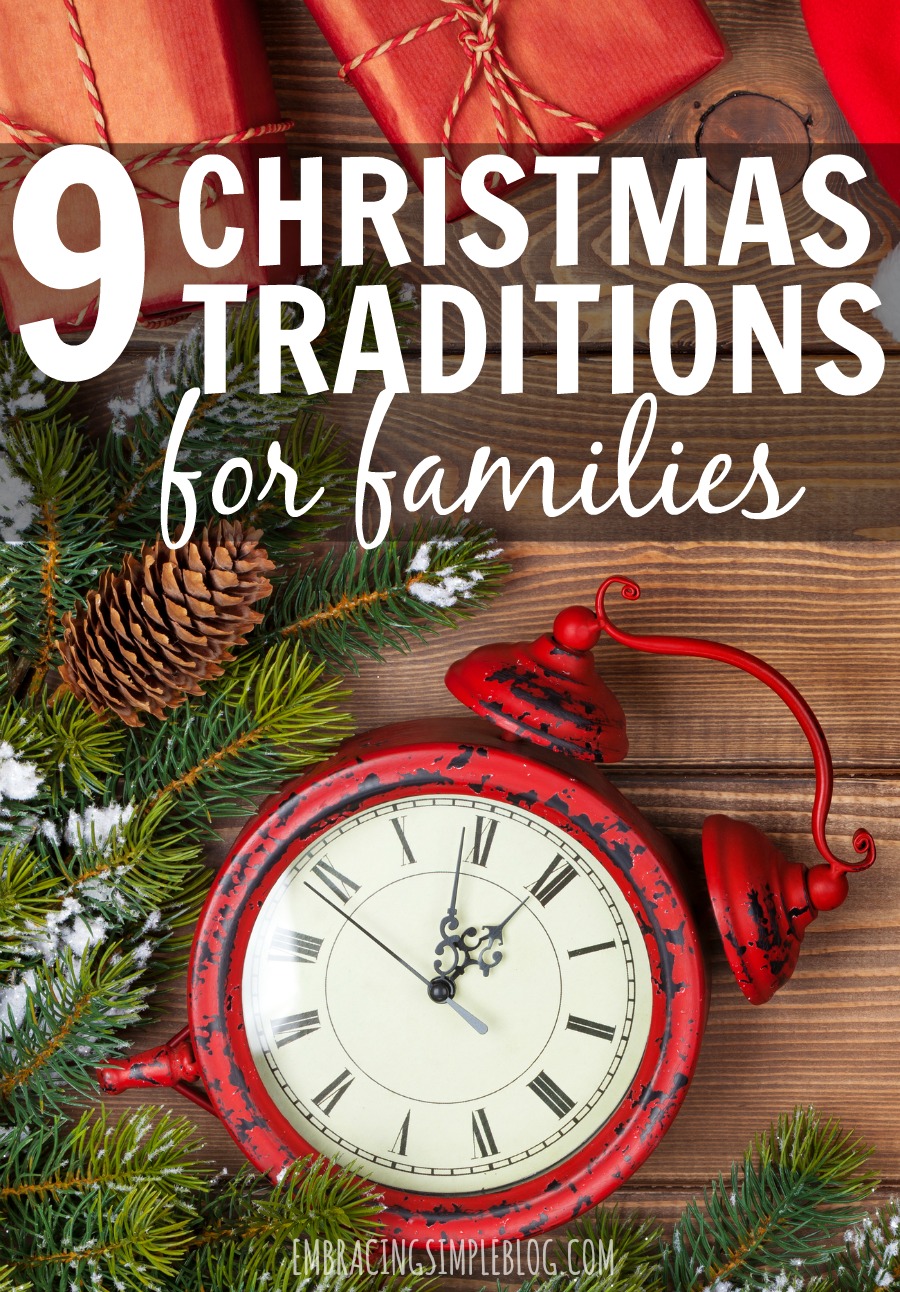 Do you feel the pressure to come up with fun and creative activities for your family to enjoy together every holiday season?
I think that any parent can relate to feeling like you need to be doing the million adorable "Elf on the Shelf" or Pinterest-perfect ideas that you might see other parents doing with their kids. We have traditions for all the seasons, for example, in summer we all go to have some new york tennis lessons, it's super fun and gets us all active.
But Christmas traditions don't have to take up a crazy amount of time and effort on your part to be magical for your child. That's the beauty of kids – pretty much every simple experience you share with them ends up being a magical one, especially during the holiday season 🙂
Today I'm sharing some fun Christmas traditions for families that are all really simple ways to enjoy the holidays together and are easy to recreate every year if you choose!
9 fun Christmas traditions for families:
1. A scavenger hunt for kids to find one of their gifts on Christmas morning
This is something that my own Mom still does for all of us and we have always loved it. We start off with clue #1 and then it takes us through the house on a hunt to find additional clues which eventually lead all of us to our main gift from Santa. Even well into our twenties, this is still super fun and it something I want to do for my own kids too!
2. The Christmas pickle
The Christmas pickle is a pickle ornament that you leave by the milk and cookies for Santa to hang on your Christmas tree.
In the morning, you then have everyone search for the pickle on the tree and the first one to find it is supposed to either receive an extra present or it's supposed to be a sign of good luck to them in the coming year (I like this second meaning more).
3. Polar Express train ride
I can't wait to do this with Little Miss when she's older! Many towns near us have a polar express train ride where all the kids wear their pajamas and you drink hot cocoa and take the train to go visit Santa.
I've heard that you need to buy tickets super early though….like in September. So maybe keep this one in mind for next year and mark your calendar early if it sounds like something fun you want to do with your family!
4. Buy presents for a child in need
I think this would be such a nice way to show your children that the true meaning of Christmas is all about giving rather than receiving. Having them pick out presents specifically for a child in need who otherwise wouldn't receive them can be a great way to instill the spirit of Christmas in your kids and remind them that not everyone is as fortunate as they are.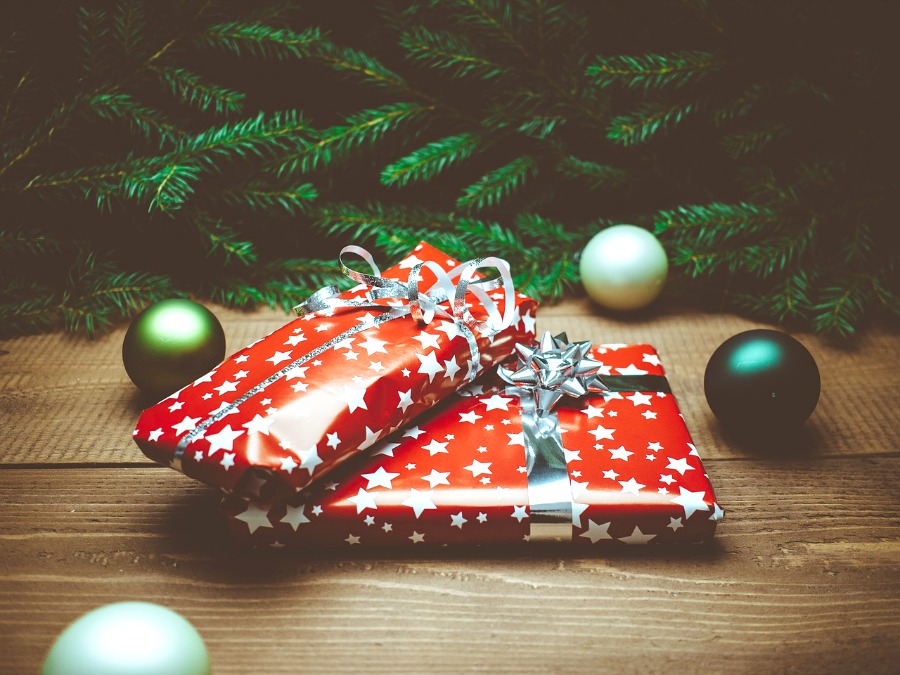 5. Send out Christmas cards
I know this isn't necessarily for everyone, but I personally love receiving Christmas cards from our friends and family every year. It's so fun to see updated pictures from those who don't live in our area, and is something that I always look forward to receiving in the mail. I started sending out our own Christmas cards for our little family two years ago and I'm excited to pick them out this year too!
6. Christmas Eve tradition of receiving new PJs and a new book
This is something that I think is so stinking fun! I plan on starting the tradition with Little Miss this year where I buy her a pair of new pajamas and a new Christmas book and wrap them up in a box for her to open on Christmas Eve night. She might not appreciate it that much this year, but I think that it's a great way to end Christmas Eve and makes for some adorable Christmas morning pictures with all of the kids in brand new Christmas-themed PJs.
7. Visit Santa
Although visiting Santa might be terrifying for many toddlers (I'm sure mine will scream her head off this year), visits with Santa are something that I really cherish when I think about my holidays growing up. Even if you end up getting a picture of Santa holding your kid who is going ballistic, that will probably make for a really cute and funny picture for them to look back on when they are all grown up!
8. Drive around looking at Christmas lights with PJs on and hot chocolate in hand
My parents took my brother and I every year to drive around and look at Christmas lights the weekend before Christmas. It was always such a fun experience! We would grab some hot chocolate from a coffee shop and listen to Christmas tunes while we drove all over town looking at our favorite light displays. I can't wait to start this tradition with Little Miss this year (but we'll probably hold off on the hot chocolate until she's at least 2 😉 that sounds like a hot mess at this age).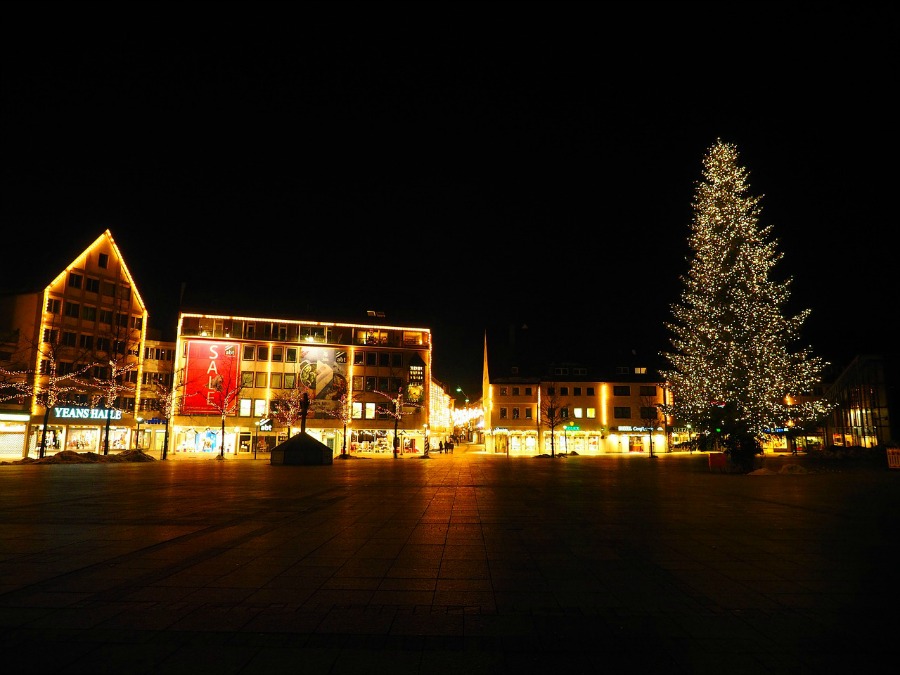 9. Make Christmas cookies
Making traditional sugar cookies every year is something my family always looks forward to! Sometimes we go all out and roll the dough to cut out cute shapes like Santa, reindeer, stars, etc. But most of the time we end up just rolling the cookie dough into balls and going the super easy route.
I wanted to share our go-to sugar cookie recipe with you all that's been in my family for many generations and demonstrate my complete lack of baking skills 🙂 (no, seriously…I should never be allowed to be a food blogger).
Ingredients you will need:
1/2 cup soft shortening (half butter)
3/4 cup sugar
1 egg
1 tbsp. milk or cream
1 tsp. vanilla
1 and 1/4 cups sifted Bob's Red Mill Organic Unbleached All Purpose White Flour
1/4 tsp. baking powder
1/4 tsp. salt
Just a note: this recipe says it makes approximately 5 dozen cookies if rolled out, but I would say it's more like 2 dozen if you make them the way I show below.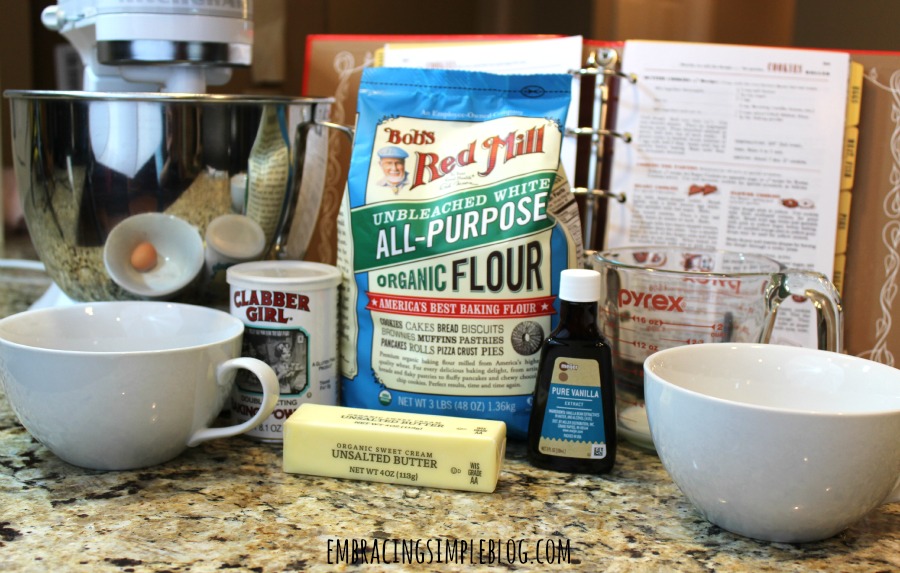 Step 1: Mix together the shortening/butter, sugar, and egg.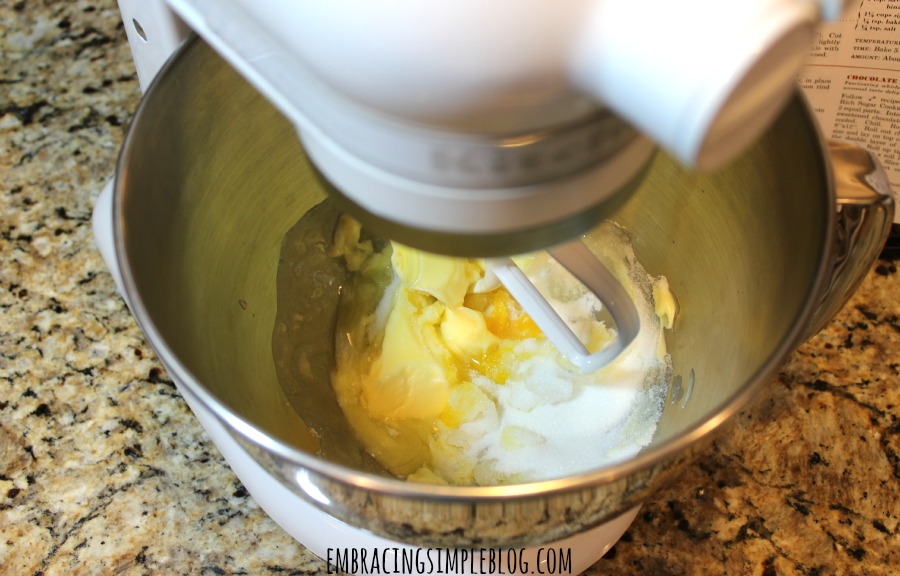 Step 2: Stir in the milk/cream and vanilla.
Step 3: Sift together and stir in the Bob's Red Mill flour, baking powder, and salt.
Step 4: Chill the dough (I would say for at least 2 hours. I got antsy and took mine out after only an hour and it was a little too soft as a result).
Step 5: Set your oven to 350 degrees.
Step 6: You can then either roll out your dough and use cookie cutters to cut into fun shapes, or do what I did and roll the dough into small circles. Sprinkle with sugar before putting into the oven.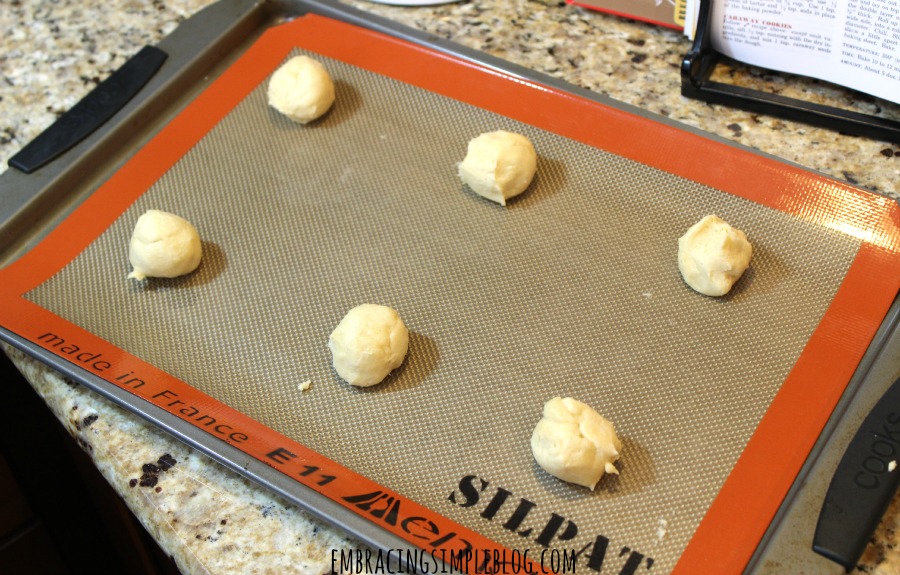 Step 7: Bake for 7-9 minutes (check on them often, sugar cookies tend to burn quickly).
Step 8: If you are going to put sprinkles on, do it immediately after taking them out of the oven. I failed at this part and waited a bit too long so my sprinkles didn't quite stick!
Step 9: Enjoy twenty a few cookies to reward yourself for your work 🙂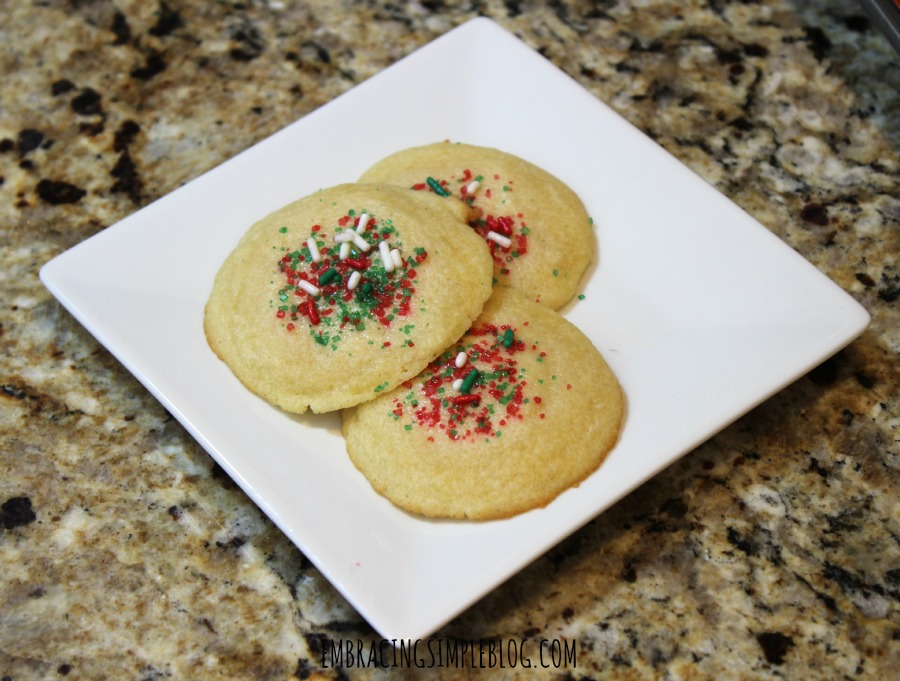 I loved using Bob's Red Mill Organic Unbleached All Purpose White Flour for this recipe because it isn't enriched with any additives. That makes me feel so good about having Little Miss sample some sugar cookies too! If you're interested in picking up some Bob's Red Mill ingredients to use for your own baking adventures, click here for a $1 coupon to use 🙂
Join my Savor the Holidays Mini Course
If you're looking for more fun ways to create memories together and savor the holiday season, be sure to check out my Savor the Holidays course! It's a 21 day mini course that will help you slow down and soak up all the joy this holiday season has to offer, and makes a great clutter-free gift for friends or family too ? I would love to have you join us! Click here to learn more.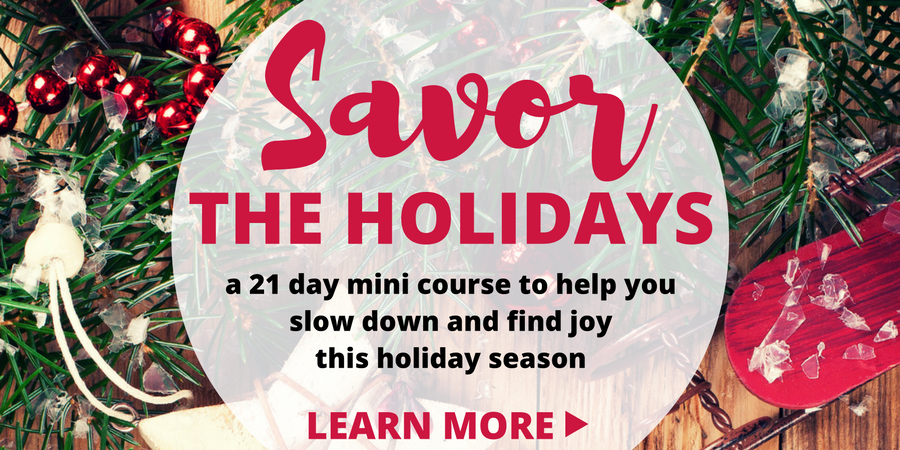 Which of these fun Christmas traditions for families is your favorite? What traditions does your family have during the holiday season?

I was selected for this opportunity as a member of Clever Girls and the content and opinions expressed here are all my own.