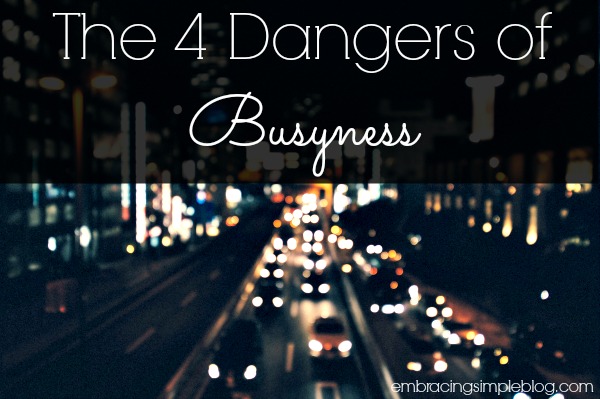 Up until a few years ago, I thought that being busy was a true sign you had "made it" in life. Why surely a calendar filled to the brim with commitments was a sign of success, wasn't it?
Wrong. So very wrong. There are many dangers that can come from the desire to be busy all of the time. I should know, as I learned firsthand and am still in that learning process of what the right amount of busy is for me in my own life.
I'm sharing what I've personally learned to be the dangers that can come from busyness and having a cluttered, out of control schedule.
The Four Dangers of Busyness:
1. When you say "yes" to everything, you are saying "no" to what matters most
When you say "yes" to plans that you are less than excited about, not only are you stuck with a commitment to something you really don't want to do, but you are losing out on an opportunity for something that you would love to spend your time on.
Make sure you make time for the important things – for me, something very precious in this season of my life is lazy Sunday afternoons with my little family. It sounds so simple, but having some uninterrupted quality time with my Husband and Daughter is something I look forward to all week long.
I go so far as to actually put this time in my calendar to ensure I don't make any other plans during that time. This strategy has worked well for me, and I highly suggest it! It's easier to say "no" to other plans when you've already allocated that time in your calendar for your top priority.
2. Not enough time to pursue our passions
We have such limited time in our lives that we should be spending as much of it as we can on doing the things we really want to do. If we spend much of our time and energy on every little opportunity that comes our way, it makes it impossible to carve out the time necessary to pursue our true passions. There are simply not enough hours in the day.
When we fill our calendars to the brim with plans and commitments of all sorts, we can forget to spend time on what we enjoy most. Our passions shouldn't be an afterthought that we try to stick somewhere into our schedule; our schedule should in fact be planned so that these activities remain a priority in the way we plan our time.
3. We mistake being busy for being successful
These days, busyness seems to be worn like a badge of honor. Ask almost anyone how they are doing and they will proudly tell you, "I'm busy, so very busy". I can absolutely be guilty of this too!
Let's stop glorifying busy schedules. Leading a life with a schedule full of commitments that make us appear to be important or successful, but don't make us feel fulfilled, makes it extremely difficult to live a happy life.
Happiness is what's important, a jam packed schedule is most certainly not. Don't be afraid to have empty chunks of time on your calendar, or feel as though you aren't making the most of your time because your day isn't packed with activities from sunrise to sundown. Having downtime doesn't mean you are lazy. It's important to have some unscheduled time to be able to reflect and unwind a bit. Stop being busy for the sake of being busy!
4. We allocate our time to commitments that will satisfy others
Allocating our time to things not important to us because we only want to satisfy others is so easy to do. I used to be an innate people pleaser. Then I realized that as hard as you may try, you cannot please 100% of people 100% of the the time. It's impossible. Someone will always disapprove of your actions for some reason or other.
Reclaim your time as your own. You don't have to do anything you aren't completely excited about doing. Life is too short to try to meet the expectations of others instead of living for yourself. Perhaps that is perceived as selfishness, but if we aren't going to be the guardians of our time and energy, then it becomes too easy to just give it up freely.
Of course this doesn't mean you should lose your manners or stop trying to be a good person, but it does mean to be true to yourself and your desires first, and that those who care about you the most will accept the ways in which you choose to spend your time.
Have you found yourself caught in the trap of busyness? If so, what strategies have you used to stop the vicious cycle that busyness can become?