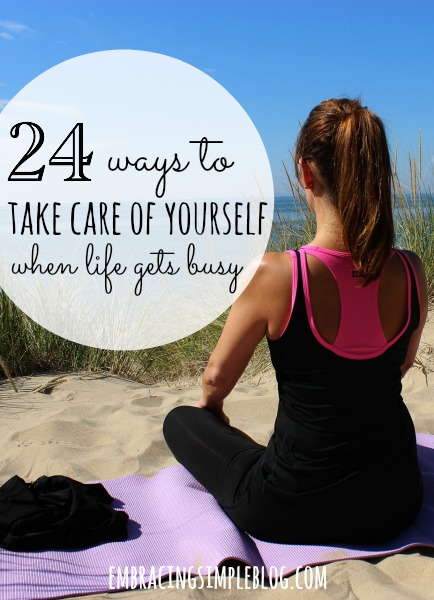 We all go through times in our lives when we are so busy that we completely forget about self care. Between deadlines at work, taking care of kids, paying bills, making meals, and so many other responsibilities to juggle, it can seem almost impossible most days to fit in time to take care of yourself too.
It's pretty ironic, but the busiest seasons in life are the most important times to be sure we are taking proper care of ourselves. Doing small things to help yourself feel refreshed and taken care of is a great way to help fend off burn out.
Here are 24 ways to take care of yourself when life is busy:
Listen to some music and relax
Schedule downtime in your calendar. It might sound counterproductive, but it's a wonderful way to make sure that you aren't over-scheduling yourself and to give yourself some time to unwind and relax a bit. It also forces you to sit down and prioritize to curb your busyness. My family typically does Sundays as "no plan" days. I highly recommend it!
Write a list of things you're grateful for. It's easy to forget how blessed you are when you are feeling run down and ragged.
Paint your nails or do another small beauty treatment to feel a bit pampered
Delegate – get family involved with the household chores, or ask a co-worker for help with a project
Get more sleep
Keep in touch with your friends
Stretch or do a bit of yoga
Say no to anything that you don't care about
Get some sunlight
Cook in large batches to cut down on the amount of time you need to prep nutritious and delicious food
Ask family or friends for help when you are feeling overwhelmed – you don't have to do it all on your own!
Take a deep breath. I know it sounds slightly ridiculous to be reminded to breathe, but this really helps me! Sometimes when I am feeling really overwhelmed, simply stopping to take one big deep breathe and focusing only on that forces me to calm down and re-focus myself and my energy.
Go for a walk
Take your vitamins
Eat a balanced diet for some sustainable energy
Rest your mind
Try to cut out distractions – Facebook, tv, phone, you name it. Being fully present is a great gift to give yourself!
Outsource where possible to give yourself a break – hiring a cleaning service, gardener, or babysitter for an afternoon
Take a hot bath or shower and try to mentally let go of everything for those few minutes and just focus on the water
Light a candle
Use essential oils – I really enjoy putting a few drops of lavender or peppermint oil in the bottom of my shower. It helps me to relax and mellow out like I would in a bath (when I don't have the time for an actual bath).
Put on an outfit that makes you feel confident
Slow down and enjoy the simple pleasures in your day
What are some small ways you can take care of yourself to help you through all the busy seasons of your life?