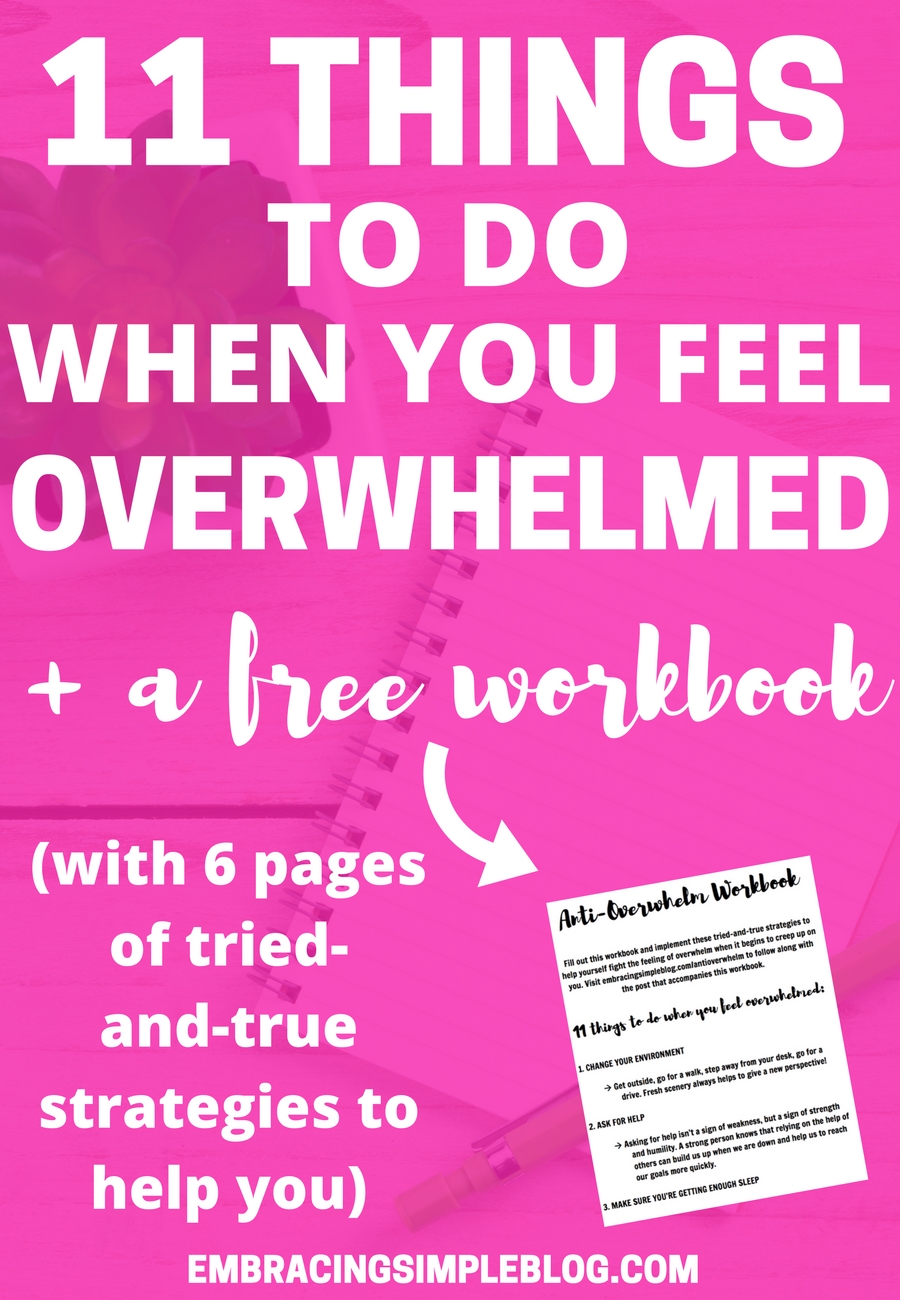 If I could choose one word to describe this year for me, it would be overwhelmed.
While it's not exactly a positive word or one that captures the joy and blessings I've also experienced this year, it's still a pretty honest depiction of how I've felt the last 6+ months.
I think we all go through seasons like this, where life just feels downright difficult sometimes and we enter survival mode as a means to just get through it and try to move on.
While I'm still a work in progress and constantly trying to find better ways to deal with feeling overwhelmed at times, I wanted to share some of the strategies that have helped me this year in coping when the feeling of overwhelm creeps up on me. I know that we all feel overwhelmed with life from time to time and it always helps me in knowing I'm not alone in that struggle 🙂
I also created a free 6-page comprehensive workbook to help you on your journey to ditching the feeling of overwhelm too, woot! I've never created a workbook before and am really excited about being able to offer this resource for you! Be sure to fill out the form below to grab your workbook so that you can fill it out as you follow along with this post.
11 things to do when you feel overwhelmed:
1. Change your environment
When I start to feel my head spinning a bit with everything going on, I find that switching up my environment is a great way to distract myself and get my mind off of the things that are stressing me out. Getting outside and going for a walk, stepping away from my desk, or even hopping into my car and going for a quick drive (usually through the Starbucks drive thru) all help to give me some fresh scenery and a new perspective.
2. Ask for help
If you are anything like me, you probably don't particularly enjoy asking others for help. I know that in the past, I've viewed it as a sign of weakness or that I was losing a layer of my independence by asking for help. Now I know that asking for help is actually a sign of strength and humility. A strong person knows that relying on the help of others can build us up when we are down and help us to reach our goals more quickly. Don't be afraid to ask others for help, especially those close to you that want to help you.
Related: Ways to Take Care of Yourself When Life is Busy
3. Make sure you're getting enough sleep
It's so easy to make sleep the first sacrifice we make when we are feeling overwhelmed. But by doing that, you are only making your situation worse by depleting the very energy stores you need to help get through the things that are stressing you out. Try to make sleep a priority when you feel like life is getting chaotic. Sometimes just one good night of sleep can do wonders for our overall mood and ability to problem solve!
4. Block out noise
A bad habit that I often have when I feel stressed out is turning on the tv and attempting to forget about my problems by indulging in trashy reality shows to take my mind off of my own life for a bit. While this does work briefly, the stressed out feeling immediately returns after I turn the tv off and always seems to be even more amplified. When you are feeling overwhelmed, try to block out noise like the tv or mindlessly surfing the internet. While it may work for a moment, it's never a long-term solution and usually makes you feel worse than you did beforehand.
Related: 5 Signs You Have an Unhealthy Relationship with Technology
5. Reevaluate your priorities
Sometimes we can find ourselves getting caught up and overwhelmed by things that actually aren't as important as we are making them out to be in our minds. I know that I do this quite often, where I start really stressing myself out about something only to realize later on that it truly wasn't a big deal at all. So when you are feeling overwhelmed, ask yourself if the things you're feeling overwhelmed by are actually important, or if you are just making them out to be and then needlessly stressing yourself out over them.
6. Figure out what you can cut back on to have less on your plate
If you've reevaluated your priorities and have realized that the things you are stressing about are truly worthy of the stress you are experiencing, then it might be time to figure out how take some responsibilities off of your plate so you can better deal with them. If life is really overwhelming you, then it could very well be that you currently have too many obligations and need to create more time in your day to be able to take care of everything that's important.
Make a list of your current responsibilities and obligations and figure out if there's anything you can cut out for the time being. Maybe this means asking for more help at work or delegating some household tasks to your family to get that extra time you need to feel less like you're drowning. Do what you need to do so you can stop feeling so weighed down by all of your responsibilities on a daily basis!
7. Learn how to say no
In addition to cutting back on what is already on your plate, it's important to also learn how to say no to taking on new obligations that don't align with your priorities. If you are in a particularly busy season of life, the best thing you can do for your own sanity is to say "no" to the things that will only contribute to feeling more overwhelmed.
8. Determine if you have energy suckers in your life
Are there negative people in your life who drain all of the energy out of you every single time you see them? Perhaps it's time to reevaluate those relationships and spend less time with those individuals. It may not be easy, but becoming more protective of your energy will only help you when it comes to living a happy and less stressful life.
Related: How to Stop Wasting Your Energy on Toxic People
9. Make a gratitude list
Sometimes just reminding yourself of what you're thankful for is enough to re-center yourself and remember what's truly important in life, especially when you are feeling stressed out by the details of life and forgetting the big picture.
Do you have your health? A support system that loves you? A roof over your head? Reminding ourselves of the blessings we have in life can truly help to put everything into perspective and make the things that once seemed daunting maybe appear to be not as big of a deal as we initially thought.
10. Clean or declutter something
Sometimes when we feel out of control in one area of our life, it can be helpful to feel like we are taking control of another area. I've found a great way to do that is to get control over my environment and make it a calmer space to spend time in. Anytime I'm in a funk or feeling really stressed about something, I find great comfort in cleaning or decluttering my home. It makes me feel like I'm getting a fresh start and I think that putting my hands to work really helps me to get my mind off of my problems too.
Related: A free 4-week course to declutter your home + simplify your life
11. Practice positive affirmations
While practicing positive affirmations may sound silly, they really do work! You likely find yourself saying things like "I can't do this" or "This is all too much for me to handle" when you start feeling overwhelmed. So you are subconsciously already practicing affirmations, but they are unfortunately just negative ones!
Try switching those affirmations to positive ones by telling yourself statements like:
"This too shall pass"
"I can handle this"
"What doesn't kill me makes me stronger" <– so cheesy, but seriously one of my favorite things to say to myself!
Practicing positive affirmations can make a great difference in helping you to feel more empowered and able to take on whatever life throws your way.
I hope this post and workbook provided you with some effective strategies to help you when you are feeling overwhelmed and stressed out 🙂
What are some things you like to do when you feel overwhelmed? Share with me in the comments section below!
Psst – don't forget to grab your free workbook!