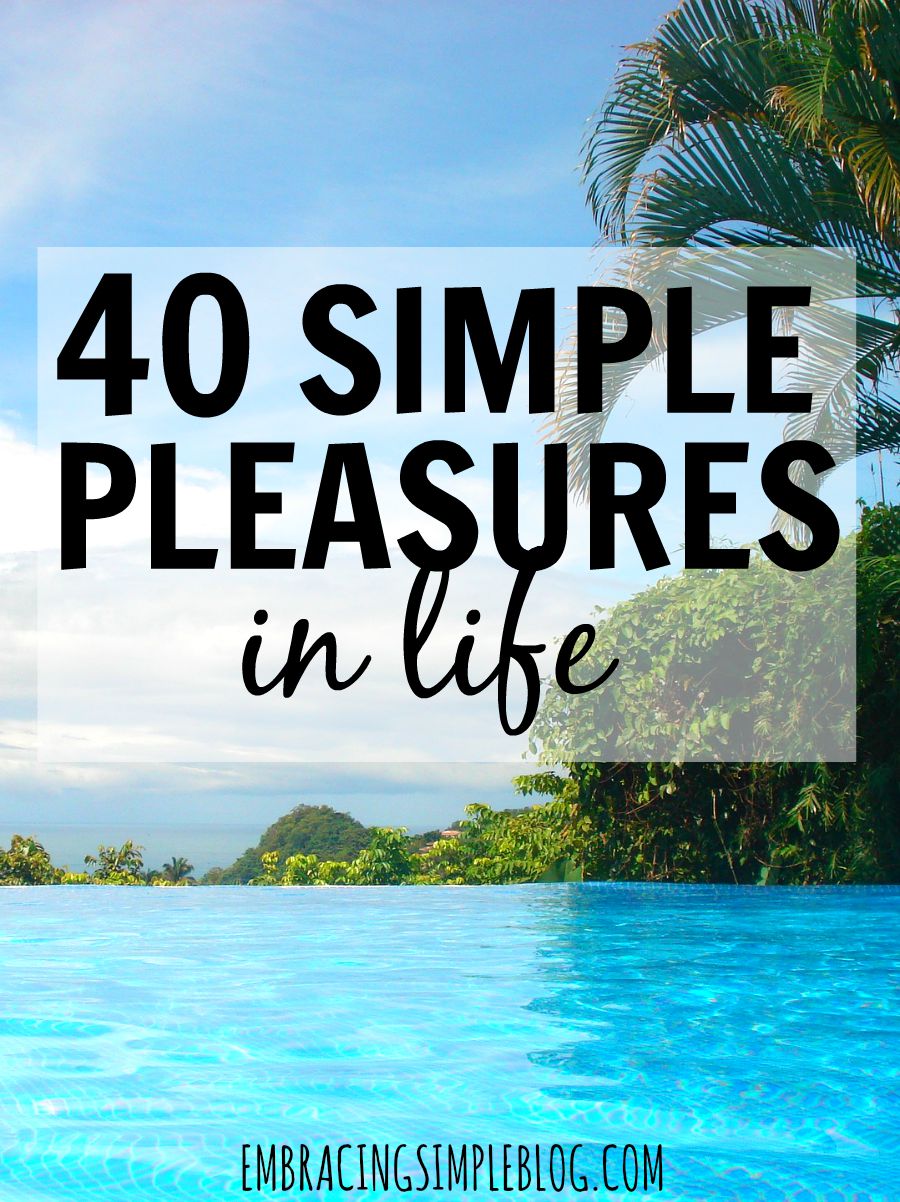 There are so many little ways you can create happiness, but I think there is also something to be said about enjoying the simple pleasures in life that already exist in your day. When I take the time to really relish these moments as they present themselves, I find that the simple pleasures are what bring great happiness to my life.
"It's the simple things in life that are the most extraordinary." – Paulo Coelho
When I think of simple pleasures, I think of all the little things I enjoy that either don't cost a thing or are very inexpensive. They are the most unassuming moments, but things I truly find immense pleasure in. I thought it would be fun to share some simple pleasures that come to mind for me, and hopefully this will inspire you to reflect on the little things that bring pleasure to you as well!
40 Simple Pleasures in Life:
Climbing into a bed with freshly washed sheets
Receiving snail mail that isn't a bill
Driving with your windows down
The first bite of a decadent dessert
Laying down on a blanket and watching the stars
Popping bubble wrap
Running through a sprinkler
The feeling after a great workout
Stepping on that crunchy looking leaf
Holding hands with a loved one
Flowers beginning to bloom on a spring day
Dining by candlelight
A relaxing shower after a long day
The feeling of accomplishment after finishing a big project
Enjoying a home cooked meal around a table with your family
Watching squirrels or birds chase each other
A stunning sunset
Freshly basked cookies right out of the oven
Reading a book that resonates with you
That first glorious sip of coffee or tea in the morning
Blowing bubbles with little kids
Doing a cannon ball into a pool
When your favorite song comes on the radio
Bringing a smile to someone's face
Hot towels right out of the dryer
A long walk in beautiful weather
Watching children giggle and play
An impromptu back rub from your significant other
Sleeping in on a rainy day
Dancing without a care in the world
Receiving an unexpected compliment
A long, hot bubble bath
The smell of your favorite candle permeating the house
Making the yellow light at an intersection
Feeling refreshed after an afternoon nap
The perfect ratio of peanut butter to jelly on a PB&J sandwich
Lemon slices in your water or iced tea
A sunny day
Having a good laugh
The smell of freshly cut grass
What are the simple pleasures in life that you enjoy most?
Did you enjoy this post? If so, feel free to subscribe so you can receive updates when new posts are up! 🙂