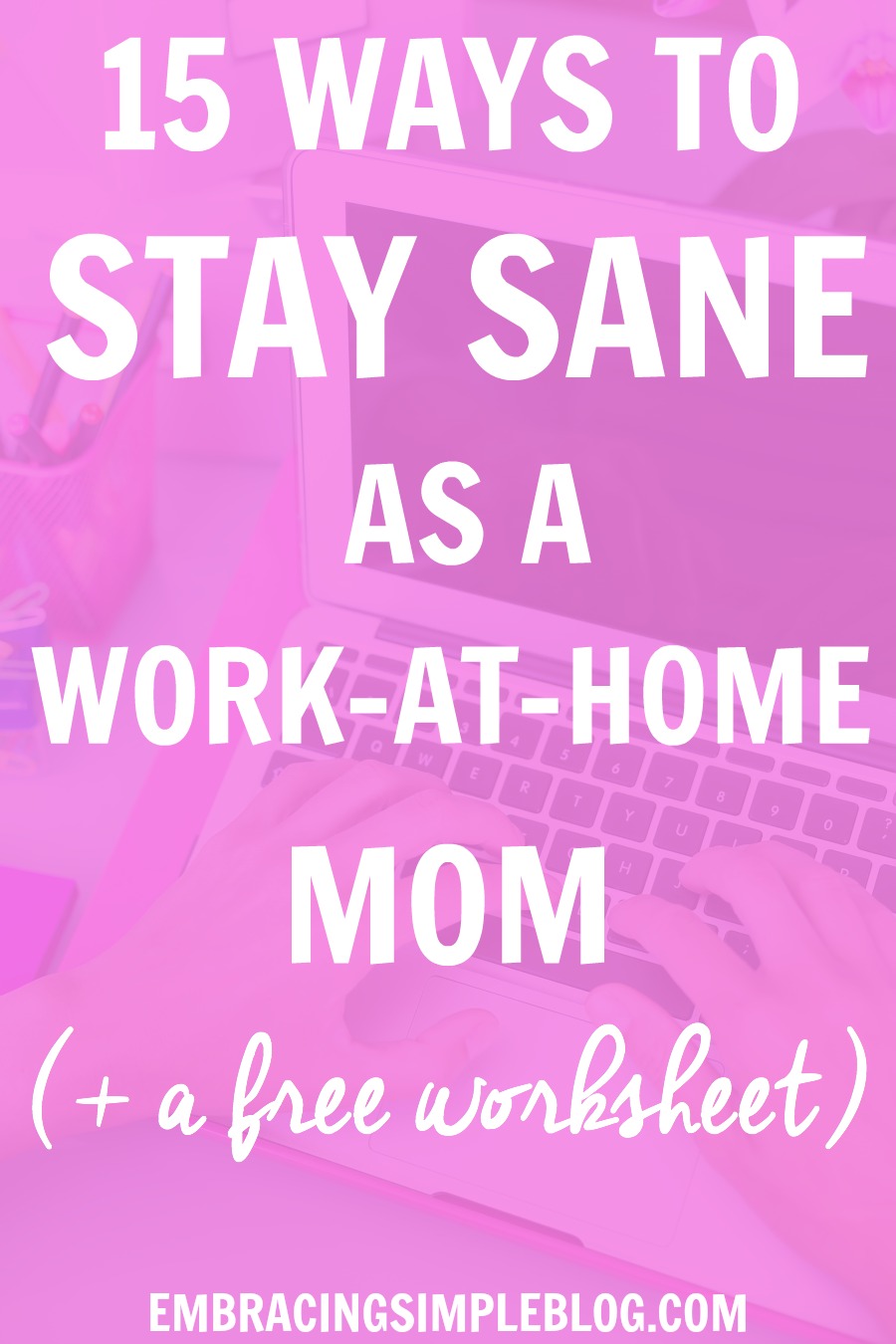 If you are a work-at-home Mom or want to be a work-at-home Mom, this post is jam packed full of my best tips to help you on your journey!
I get so many questions on a regular basis about how I am able to accomplish as much as I do while being a work-at-home Mom without using any childcare. I realized that I've never actually written a full post dedicated to how I handle all of my responsibilities as a work-at-home Mom, so I wanted to take some time to address that today.
For those of you that aren't familiar with my work background, I'm currently a work-at-home Mom to my 19 month old daughter (a.k.a. Little Miss). In addition to running this blog, I also provide freelance marketing and writing services for my clients.
Related: My blog income reports
It's a busy life I live, but a very fulfilling one too! I want to share my top tips for other Moms who are either currently working from home, or would like to in the future. I've learned a lot about how to stay sane at a work-at-home Mom and want to help other Moms out there who can benefit from my mistakes and shortcomings 🙂
And of course I create a free two-page worksheet for you to fill out as your read through this post. It will help you on your journey to staying sane and being successful as a work-at-home Mom!
Take some time to fill out each section of your worksheet and really put some thought into it. You may very well surprise yourself with what it reveals to you.
15 Ways to stay sane as a work-at-home mom:
1. Accept that you are a work-at-home mom
You are a work-at-home Mom, not a stay-at-home Mom. There is a difference.
While I by no means think that work-at-home Moms are better than stay-at-home Moms just because we work, I do think it's important to accept that as WAHMs, any "free time" we have during the day usually has to be dedicated strictly to work.
I don't typically nap when my daughter naps, I can't keep our house as clean as most of my stay-at-home Mom friends keep theirs, and I certainly am not making cooked from scratch meals three times a day. By choosing to be a work-at-home Mom, I have prioritized working over some of my other household duties.
And while I wouldn't have it any other way, it can definitely be tough when I try to compare myself to stay-at-home Moms who seem to have their act together so much more than I do. It's at those times that my sweet hubby has to remind me that although I'm not making a feast for dinner every night or keeping our home spotless, I do contribute in a lot of other ways to our household!
Related: Business Ideas for Stay at Home Moms
2. Avoid doing work while your kids are awake
You will save yourself a lot of frustration if you can manage to get your work done when your kids are sleeping (think early mornings before they are awake, naptime, and late in the evening after they're in bed).
When Little Miss was a baby, I would try to work while she was awake way too often and it was always a disaster. It usually ended with me feeling totally irritated (through no one's fault but my own), and realizing that it was impossible to give my full attention to both my work and to her.
These days, it is very rare for me to even check emails while she's awake. I usually wake up at 5:00am to fit in a few hours of work before she's up for the day, work during her hour long afternoon nap, and then if I really need to, I'll take a few minutes after she's gone to bed at night to wrap up my tasks for the day.
I'm a much happier Mom when I don't feel like I'm constantly juggling my daughter with work and trying to get her little hands off my laptop screen 😉
I also realize that while doing work when your kids are asleep is ideal, it isn't always entirely possible. So for those days that you need to pull tricks out of your magic hat to keep your kids occupied while you get work done….check out my next tip.
Related: 11 Habits for Work-at-Home Productivity
3. Have special activities for them to do if you do need to work while they are awake
While I really don't prefer to get work done while Little Miss is awake, there have been times that urgent things pop up that I need to take care of.
If you find yourself needing to keep your kids preoccupied for a few minutes while you sneak some work in, these are some great resources to come up with some "special" activities for them to do:
4. Wake up before your kids do
While I personally try to wake up at 5:00am to fit in a few hours of work before my daughter is up for the day, I also cherish that time for so many more reasons other than just being productive.
It's my "me time" for the day and allows me to sit down and enjoy my breakfast with a hot cup of coffee and just be at peace for a few minutes before the chaos of the day starts. I absolutely love being a work-from-home Mom and completely embrace all of the craziness that often times comes with it, but I also am an introvert at heart and it's so good for me to have this time to myself every morning.
If you often wake up feeling frazzled and pulled into a million different directions as you wake up with your kids every morning, try waking up a bit earlier (even if it's just by 15 minutes!) and see if it improves your mood for the day.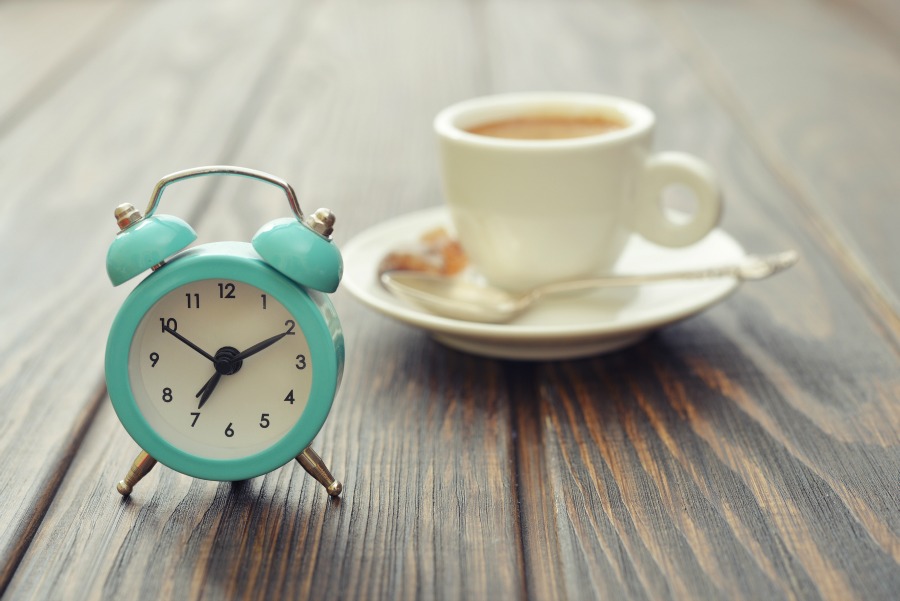 Related: 15 Ways to Make Your Mornings Happier
5. Don't sacrifice sleep on a regular basis
A cranky, tired Mom isn't good for anyone. If you are consistently getting 5 hours of sleep at night because you're burning the midnight oil and waking up before dawn to get work done, you are going to completely burn yourself out at some point. Trust me, I've been there. It ain't pretty!
I know there are those weeks that you are working on a big project and might need to put in extra hours and lose out on sleep as a result, but don't make sacrificing sleep a regular habit.
You can only do that for so long before you'll get sick, crabby, or just plain old frustrated with everything around you. Balancing working from home with your babies is a lot easier when you aren't running on fumes every day 🙂
6. Get out of the house
This is something I did not do myself the first 6 months of Little Miss's life. But oh boy, it sure would have been good for me.
I now make it a point to try to get out of the house every single day with her. While it's always the most fun to have play dates with our friends, I've found that even simple outings to run an errand or two are a nice change of scenery for everyone involved.
While it can be tough to rally up the troops and get everyone ready to head out of the house for a few hours, it's so worth it. I may be a total homebody, but I'm also the first to admit that life can get pretty boring and monotonous if you just stay around the house all day.
Make it your personal mission to get out of the house almost every day with your kids, even if it's a quick 5 minute walk down the street.
7. Get your kids on a consistent sleep schedule
I realize if you're reading this and you have a baby that is waking up at all hours of the night right now, you're probably laughing your head off at this tip. But once you have toddlers that are old enough to get on a somewhat consistent nap and bedtime schedule, it really does make life a lot easier to stick to it as best as you can.
I've caught some flack from family members for having Little Miss on a consistent sleep schedule, which means we usually try not to keep her up more than an hour past her bedtime, even for special family parties or holidays. Her being on a somewhat consistent sleep routine is the only thing that keeps me sane some days, and even though it may annoy our families that I won't budge from her schedule, it makes my life so much easier on a day-to-day basis.
I've found that just one missed nap or late bedtime can throw her off for days, and makes for a very frustrating time for me. Stick to your guns and if you think having your child on a somewhat strict schedule is going to make your life easier, don't let anyone allow you to feel bad about that.
8. Identify your time sucks and try your best to avoid them
Perhaps you spend too much time responding to lengthy emails when it might be quicker to pick up the phone and hash out the details. Or maybe you find yourself on Facebook when you should be getting work done.
There are probably at least a few time sucks that you engage in throughout your day that you might be able to minimize so that you can be more efficient with your time. Identify what those are and do your best to avoid them.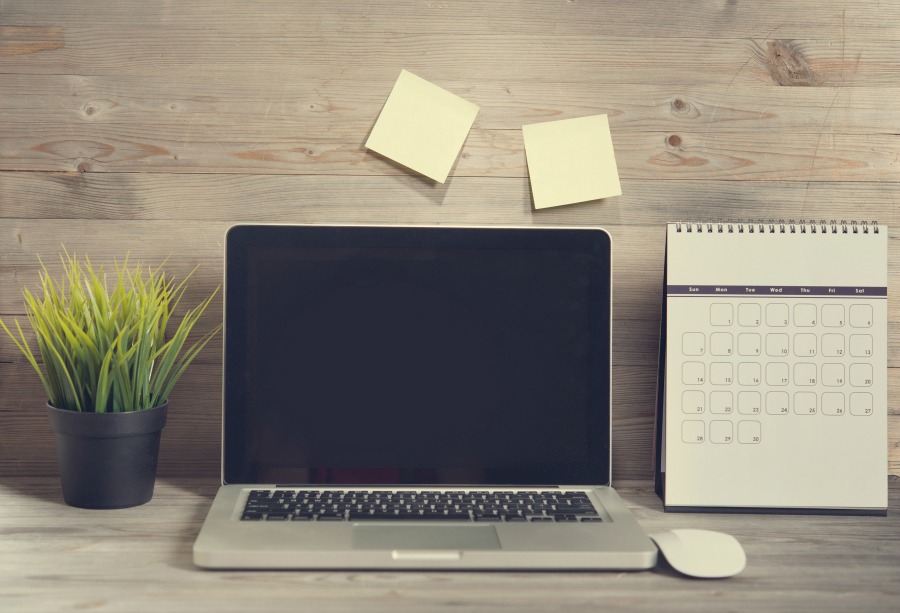 Related: 25 Ways You're Wasting Time on a Daily Basis
9. If you can, hire the help you need
While this isn't something I personally do at the moment, it's something I know I will likely eventually have to do in the future when I have two kids with naptimes that might not overlap.
If you can afford to hire someone to help you make your life a little bit easier, then by all means do it!
Some ideas for services you can hire out:
A cleaning service to deep clean your house every 1-2 weeks so you don't have to worry about making the time for it yourself.
Hiring a babysitter to watch your kids a few hours a week so you can have more dedicated time to get work done, and they can have fun at the same time.
Bringing a Virtual Assistant on board to help you with business-related tasks and get some of your daily to-dos off of your plate so that you don't have to spend as much time working.
Related: How to Start a Blog in Less than 15 Minutes
10. Be present
If you are working, be focused on work. If you are with your kids, be fully present and in the moment with them.
Both your quality of work and your relationship with your kids suffer when you try to juggle both at once too often. Following the rule of being fully present in all that you do really helps to set boundaries when it comes to work/life balance and keeping family time sacred so that work doesn't get in the way of your biggest priority.
Related: Ways to Be Fully Present
11. Have a dedicated workspace
While it can be convenient and tempting to work from your kitchen table most days, having a dedicated workspace that is for the sole purpose of getting your work done can do wonders for your productivity.
Most people probably don't have room in their home to dedicate an entire room for an office, but don't let that stop you if that's the case! Even just having a desk in the corner of your bedroom to work at is what I would consider to be a dedicated workspace.
When you sit down at your desk, your brain will automatically be in "work mode". You won't be thinking about all of the dirty dishes in the sink or the toys scattered everywhere, but instead just focused on the task at hand. You'd be surprised by how much more you can get done when you train your brain to be in work mode just by the act of sitting at your desk 🙂
Related: How to Create a Workspace that Fuels Productivity
12. Practice self-care
As work-from-home Moms, we are a special breed that often forgets to take care of ourselves.
It can be so easy to spend any "free time" we have with work instead of doing small things to pamper ourselves. But the reality of doing that is we often end up feeling like we've neglected ourselves and are overwhelmed by our daily responsibilities.
Sometimes just doing one nice thing for yourself – like taking 15 minutes to read a book just for fun, or indulging in a bubble bath after the kids have gone to bed, can have lasting positive effects on your overall well-being.
Make sure you are practicing self-care on a daily basis and try to do something small for yourself every day that feels like a treat or an indulgence. It can really help you feel more balanced and at peace!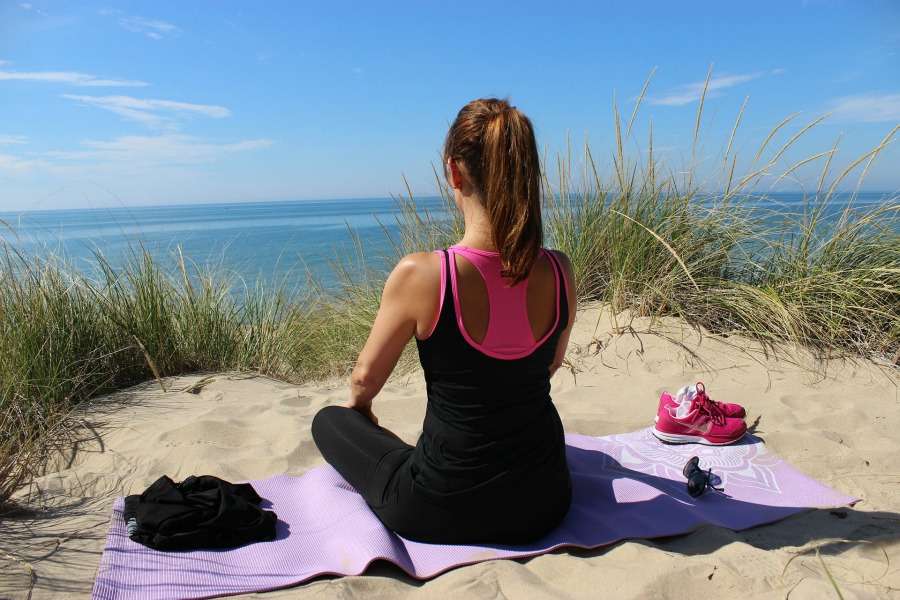 Related: Ways to Take Care of Yourself When Life is Busy
13. Set a date night with your husband every week
A few months ago, my hubby and I realized that we weren't making time to step out of our usual routine to have fun with each other. We would typically just watch our same TV shows together and talk after Little Miss was in bed, but we missed the more spontaneous days before parenthood where we'd put the effort into planning special date nights for each other.
Sometimes as a work-at-home Mom, I honestly forget to pour into my relationship with my husband like I used to. I'm just so tired at the end of every day that the thought of brainstorming something new and fun to do outside of our usual routine seems a bit daunting to me. But how boring is it to just keep doing the same things over and over again?!
The hubs had a great idea to bring back our regular date nights, but have them be at-home date nights instead of going out. Now we take turns switching off and planning a fun date night at home every week, and we've been having such a great time with it. Whoever is planning the date night for the week plans a special dinner (sometimes it's something we make at home, other times it's take out), a dessert, and then a movie or game type of activity.
Although it's such a simple tradition now, it's something we've really been enjoying and looking forward to. And after a stressful week, it's always awesome to spend some quality time with my favorite guy and do something a little out of the ordinary…even if we're rocking sweatpants at home while doing it!
The takeaway lesson from this is to not forget about your marriage while you're busy building up your home business. Being successful in business doesn't feel like much of an accomplishment if you don't have someone you love to share it with! 🙂
Related: 34 Frugal and Fun Date Ideas
14. Have downtime as a family on the weekends
During the early months of being a work-at-home Mom, I made the mistake of trading my husband's time off of work on the weekends in for me working on Saturdays and Sundays instead. That meant that for the first few months of Little Miss's life, there wasn't a lot of quality family time happening.
And I was probably too tired and feeling too crazed to even realize it to be honest! Ever since I realized I was sacrificing a lot of family time just to get work done, I've been trying very consciously to not work on the weekends anymore unless I absolutely have to.
It's actually pretty surprising, because as soon as I told myself that I couldn't work on the weekends unless it was a necessity, I found myself getting a lot more done during the week. Funny how that works, right?
Even if you can't take off Saturdays and Sundays entirely from working, try to carve out a few hours each day that is dedicated for downtime to enjoy with your family and have some quality bonding together. These years we have young kids in our homes are so short and precious, I seriously doubt any of us will look back and say "I wish I had worked more and spent less time with my babies".
15. Let go of the idea that you can do it all
You cannot do it all. I know that if you're like me, you like to pretend you are superwoman and have your shit together in every single aspect of your life.
But I'm here to tell you that's physically impossible. If any other Mom out there is trying to give you the perception that she has it all together, you should feel leery of trusting her. Seriously.
Perfectionism doesn't exist, and striving to reach something that just isn't possible is not only a waste of your time and energy, but a waste of the amazing talents you have.
Stop trying to be perfect at everything you do, and instead focus on the things you love to do and that you do well. The best way to work through this is to use the worksheet I provided at the beginning of this post (you can also grab it below at the bottom of this post), and fill out the two lists for "things I do" and "things I don't do".
For instance, my list might look something like this:
Things I do:
Spend amazing quality time with my daughter on a daily basis. (I will never get this time with her back and am so grateful every day to be able to be home with her.)
Follow my professional passions through this blog and freelancing. (I freaking love what I do for a living!)
Make quality time with my husband a priority. (After Little Miss is in bed, we try our best to quickly wrap up any lose ends with work for the day and spend at least an hour with each other.)
Things I don't do:
Cook homemade dinners 7 nights a week. (We order pizza sometimes, no one has died yet 😉 . My hubby and daughter are actually quite pleased about this arrangement.)
Anything that overwhelms me or takes away too much time from my family. (I don't go to every party I'm invited to and I don't commit to obligations on Sundays if I want to spend some downtime with my family.)
Look super put together every day. (I typically throw my hair up in a top knot, spend 5 minutes putting makeup on, and put on a clean pair of yoga leggings. I'm happiest when I'm comfortable and can crawl on the floor with my kid. I don't care about fashion or how my hair is styled, and won't ever pretend to.)
Take some time to fill out your worksheet with your own list of the things you do and do not do. You might be surprised by how much clarity this exercise can bring you! And please don't compare your "things I do" and "things I don't do" with my own examples listed above. Just because something is or isn't a priority for me in my own life doesn't mean that it should be for you too.
Related: What to Do When You Feel Like You're Failing
Being a work-at-home Mom isn't for the faint of heart, but if you are on this path or want to be on this path, I truly don't think there is a better option for Moms who want to be at home with their babies while also making money.
I hope these tips help you to stay sane as a work-at-home Mom, and make your life a bit easier too!
Now it's your turn – what helps you to stay sane as a work-at-home Mom? What are some things you don't do that help you let go of being a perfectionist? Share with us below!!
Don't forget to grab your free worksheet!