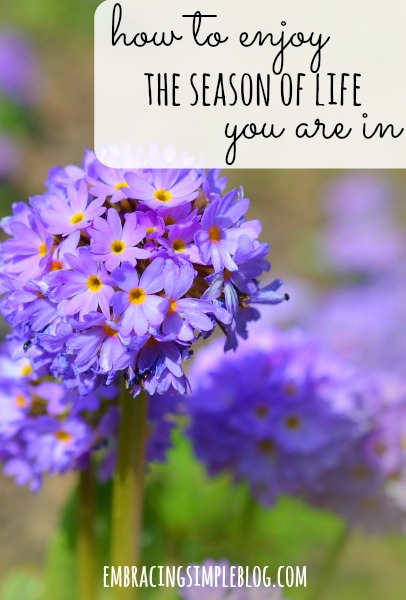 Lately I've been struggling a lot with being able to fully enjoy this season of life I'm currently in. There is always something that needs to be maintained or cleaned in our house, as well as freelance work that I need to get done, on top of taking care of Little Miss during the day. It's not that I'm unable to handle everything on my plate, but that by "doing it all", I find myself not really enjoying it all as much as I should.
Don't get me wrong, I consider myself to be a very happy person in general, I just don't think that I enjoy living in the moment as much as I should. It's funny because I've always looked forward to this current season of my life where I would have my own family, home, and work that I love. So why am I not enjoying it as much as I should be?
I recently took some time to reflect on this and realized that I allow myself to get so caught up in what needs to be done on a daily basis or ways that I can get ahead, that I sometimes just forget to sit down, relax, and bask in the awesomeness that is my life. We may not be living a life of luxury, but I think we've created a pretty damn good life for ourselves and there is no reason why I shouldn't be fully present and enjoying it.
I started thinking about what I can do to change my outlook and live my life in a way that I won't have any regrets once my kids are all grown. It makes me tear up when I think about how quickly my baby girl has been growing – where did the last 10 months go?! Sometimes I think I am so focused on being super mom and trying to juggle my workload with her that I really don't take the time to enjoy each stage that we go through. I just worry about trying to check as much off my to-do list as possible most days without losing my sanity at the same time.
The fact is, I enjoy my work and being able to make money doing something I love all at home. At the same time, I realize that this passion sometimes comes at the expense of being able to fully enjoy my family at times. The two often conflict with each other in a fight for my time and attention, and my work has won more times than I care to admit. There are many weeknights and weekends that I forfeit time with my hubby and daughter so that I can get work done. Lately as I've been just looking at my daughter and thinking about how quickly she's grown, I'm realizing more and more that I will never get this time at home back with her.
I will always be able to find a way to do the work I love and make money from my passions, but I won't always have little ones at home that want to snuggle and just simply spend time with me. Because I came to this realization, I'm making it my new mission to give myself permission to slow down and fully enjoy this time at home with my kids (Little Miss now, and hopefully a sibling for her in the next year or two) as much as possible the next few years.
I enjoy being able to work during her naps and in the early mornings at times, but I'm growing tired of working through nights and weekends and watching that opportunity for more family time slip right by. It is getting in the way of allowing me to fully enjoy this time in our lives where we have little ones running around our house. I've decided to not actively pursue any new freelance work, and just to continue working with the clients that I already have. It feels strange for this Type-A overachiever to just be on "cruise" setting when I'm used to being on "full throttle", but I know this is going to be key for me finding more balance in my life.
I'm making more of an effort to embrace this season of my life in all of its glory and try not to be too hard on myself for not excelling in areas of my life that don't directly pertain to my family. As much as I like to think I can do it all, I know in my heart that I can't do it all well.
The more I thought about this idea, I came up with some benefits of enjoying the season of life you're in, as well as ways to find contentment and just enjoy the here and now that I wanted to share with you all!
The benefits of enjoying the season of life you're in:
Feeling content and happy with life overall
Making the most of the here and now
Not having regrets in the future as you look back on this time in your life
Tips for finding contentment and enjoying the season of life you're in:
1. Figure out what is most important
Write down 3-4 things that are most important to you in life right now. Realize that some of these things may not be on your list in a few years, and that's okay. Make sure that what you spend your time on is a direct reflection of the 3-4 things that are currently the most important to you.
2. Make your to-do list shorter
I have been so guilty of making such long to-do lists lately that there is no way I could accomplish it all over the course of several days, much less in one day. I am then left feeling unaccomplished at the end of the day, since I am barely able to make a dent in what I wanted to get done. Be reasonable with what you are able to get done on any given day and keep it to 2-3 priority tasks.
3. Enjoy the process of accomplishing your to-do list
Rushing through tasks the entire way isn't a good way to slow down and appreciate your life for what it is. I enjoy accomplishing my to-do list so much more when I make it fun to get through. For example, singing and dancing with my daughter in between washing dishes or folding the laundry is a heck of a lot more fun than trying to do it all as quickly as possible while she's getting frustrated that I'm not paying attention to her. I find myself a lot more joyful when I have this mindset going into tasks.
4. Allow yourself to slow down
If you are like me and tend to feel guilt when you aren't as productive as you could be on any given day, try to cut yourself some slack. Sometimes it's just more important to spend time with family and friends or relax and unwind instead of fretting about what you need to accomplish. The work will always be there, but the people we love will not!
Final thoughts
Maybe you're a single person who is eager to find your soul mate and settle down, or a Mom like me who at times can't wait to be "out of the trenches" of baby and toddlerhood and have your kids in school full-time. Whatever your season of life is right now, I encourage you to slow down and just enjoy it. Time truly does go by so quickly, and you will never again experience the same moments that you are right now. Take the time to appreciate it and soak up everything this season of life has to offer you!
Do you have a difficult time slowing down and enjoying the season of life that you're in? What are some ways that help you feel more content?