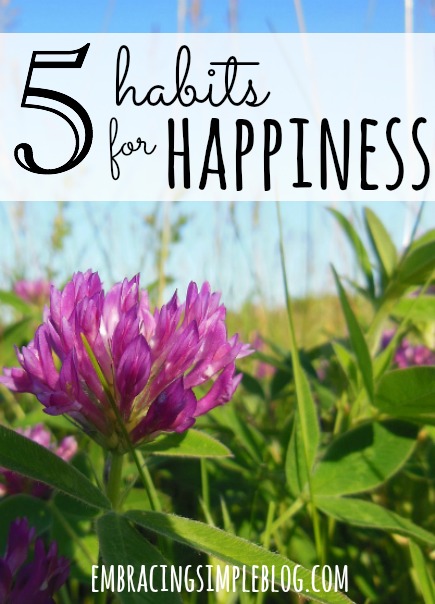 Lately I've been doing a lot of thinking about what makes happy people so darn happy. I know it has nothing to do with wealth or possessions, but I wanted to dig a little bit deeper and get down to the key components of what truly makes someone happy. Who wouldn't want to know the secrets of living a happier life?
When I think of the happiest people I know, there are a few key traits and habits that come to mind about each of them that seem to be pretty consistent across the board. I've compiled a list of these habits, as well as different strategies for how to go about achieving them in your own life. I've been trying to adopt more of these habits myself and have experienced more overall happiness as an immediate result.
Perhaps some of these might be obvious ways to achieve happiness, but I know that I can lose sight of these myself when life gets busy and I get caught up in the day-to-day craziness. It's always good to have gentle reminders.
Here are some great habits for happiness, as well as tips for how to help you implement them in your own life!
Habits for happiness:
1. Practice kindness
I found this article discussing the link between kindness and happiness and it states, "A study in 2005 by Hebrew University in Israel noted that there is a link between kindness and a gene that releases dopamine. Dopamine is a chemical in the brain that makes us feel happy. So, not only does kindness make the person on the receiving end feel good, it makes the person being kind feel good as well."
How awesome is it that there is scientific proof that being kind to others can increase our own happiness as well! There are so many easy and fun ways to show kindness to those around you.
Some ideas for practicing kindness in your life:
Volunteer for a cause you are passionate about. If you are having a difficult time finding somewhere nearby to volunteer your time, volunteermatch.org might be a wonderful resource to find a cause that will be a good fit for you.
Reach out to a friend, co-worker, or even a stranger who looks lonely or seems to be struggling with something.
Do something as simple as paying for the coffee of the person in line behind you. I had that happen to me once when a stranger picked up my tab, and not only did it completely make my day, but it gave me an opportunity to continue to spread the kindness and pay for the person behind me as well.
2. Set goals and a strategy to achieve them
Have you ever been completely immersed in something and lost all track of time, only to find yourself coming up for air a few hours later and feeling really great about how productive you were? When we are working toward achieving something we are passionate about, it gives us a sense of purpose and meaning. That is a guaranteed way to increase your level of happiness!
Some ideas for how to go about achieving your goals:
Make a list of your goals and place them somewhere that you will see them throughout the day.
Sit down and review your goals every night while making your to-do list for the next day, and be sure that you are considering your goals when deciding what tasks need to be accomplished. You can't achieve your goals if you don't plan the time to do so!
Find an accountability partner to help you stay on track.
3. Adopt a positive mindset
Some of the most miserable people I've ever known have been ones who I could always count on to see the negative in any given situation. When you have a positive mindset, you are more able to experience the gratitude you have for all that is good in your life. It also allows you to be more optimistic when something doesn't go as planned.
Having a positive mindset can truly make all the difference in the world when it comes to achieving a high level of happiness.
Some ideas for how to adopt a positive mindset:
Spend more time with positive people in your life, and less time with the negatives ones. Positivity and negativity are equally contagious, be cautious about which one you become infected with. (tweet that)
Write down 3 things you are grateful for at the end of each day.
Stop wasting time beating yourself up over mistakes you've made or things you are no longer in control of; dwelling on negative thoughts doesn't leave much room for the positive ones.
4. Exercise
I think this is something that everyone is aware of when it comes to increasing happiness. We all also know that it's easier said than done to actually make the time for it! For me, it's important to make exercise fun. Otherwise I just dread it and it won't happen on a consistent basis.
Some ideas for making exercise fun:
If you have kids, get outside and play with them! Throw around a football or frisbee, have races to see who can run from point A to point B the quickest, or see who can swing the highest.
Go for a walk with a friend. Having a good conversation with a close friend is sure to make the time pass quickly, and you'll be getting in some socialization and exercise at the same time. The perfect combo!
5. Have a few close relationships
While it is great to have a large network of many friends, it can be very difficult to maintain close relationships with so many people. It it much better to have a few close relationships with quality friends that you can count on, rather than a large group of friends that are merely acquaintances. As I get older and have less time to spend on cultivating friendships, this one has become more and more important to me. I would much rather have a couple of really great friends that I know are there for me when I need them and spend my time being able to grow those particular relationships.
Are there any other habits that you find bring happiness into your life?
I hope this post made you smile and inspired you 🙂 . Please feel free to spread the joy with others and share on Facebook, Pinterest, Twitter, or anywhere else your heart desires!