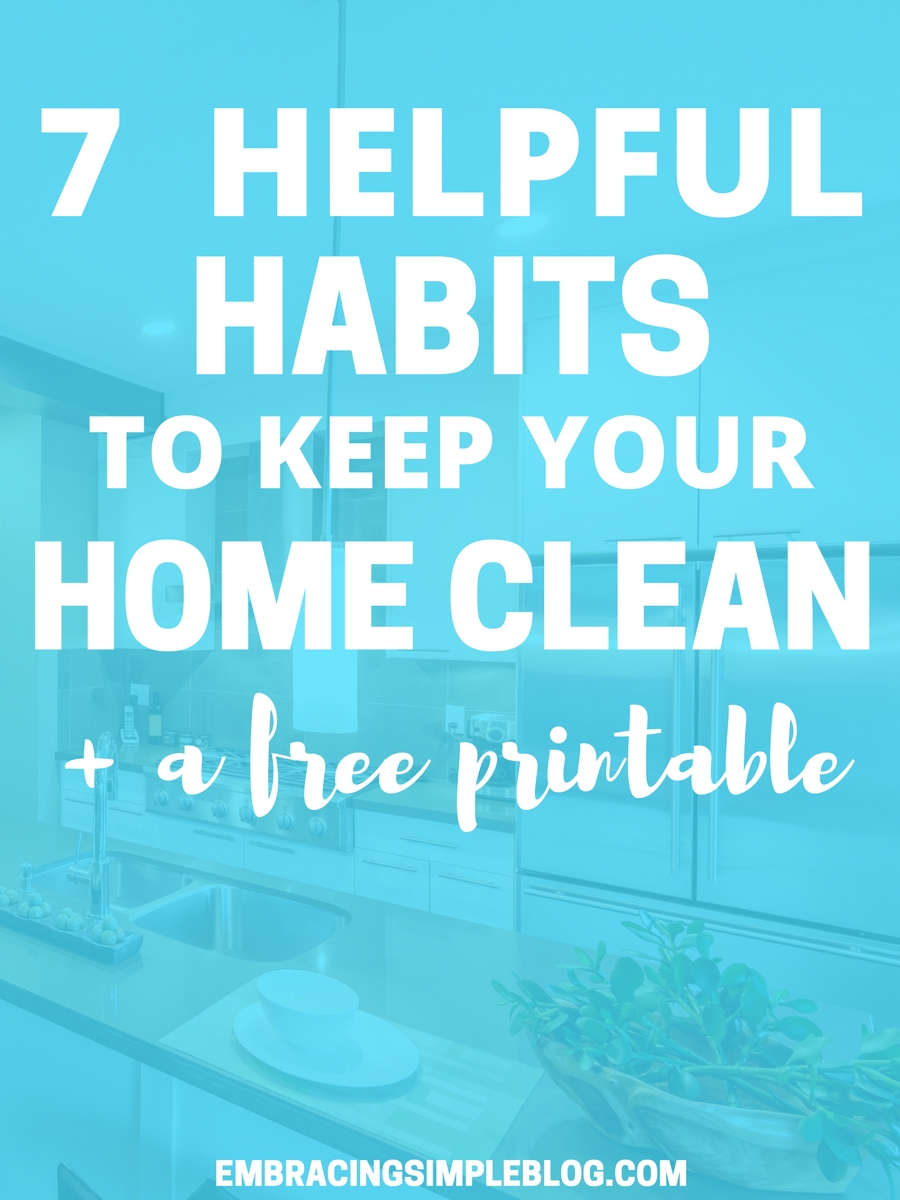 A few weeks ago I sat at my kitchen table that was piled high with paperwork I needed to sort through and took a good look around me. There were mounds of dirty dishes, crumbs that were days old, and toys strewn everywhere.
I couldn't help but wonder what the hell had happened.
In that moment, I had some kind of epiphany that this wasn't some rare anomaly of a day where things were just a bit more hectic than usual. Oh no, this had become the normal of what my house now looked like.
And you know what? It didn't feel good at all. I really enjoy having a clean home, so it made me sad to think that my current messy environment was probably bringing my overall mood down a bit.
I wondered how I got to this place where my house felt like a constant disaster and I could never seem to catch up. Especially when earlier this year I felt like I had mastered the art of keeping a decently clean home despite having a toddler tornado running around and being a work from home Mom.
My mind began to race in trying to determine what I had been doing earlier this year that helped me to keep my home so much more orderly than it currently was.
I finally came to the realization that I had subconsciously developed habits that were the sole reason my home had stayed clean during that time. I wasn't even aware I had developed these habits, but looking back it occurred to me that those daily routines I adopted were the small (but significant) difference in me having a home that felt peaceful versus chaotic.
The past few weeks I've re-adopted some of my former habits and have to say, they really do make such a difference in keeping my home more picked up. And as a result, I feel more relaxed and at peace with spending so much time here!
I wanted to share some of these habits that have helped me to keep my home clean in case you are struggling like I was and left wondering how to get back on track with making your home an oasis that you love to spend time in!
I also created a printable checklist for you to have easy access to these tips, so you can use it as a visual reminder or reference it later on. Be sure to fill out the form below to grab it for free! ?
7 helpful habits to keep your home clean:
1. Load and turn on your dishwasher every night, and then unload every morning
Dishes are my least favorite household chore to tackle, which is super unfortunate because it's probably the one chore I have to do the most often too. I would seriously rather scrub 5 toilets than do 5 minutes of washing dishes….and yes, I'm weird 😉
One thing I've found that really helps me is to get into a super consistent routine with my dish washing so that there are never huge mounds of dishes waiting for me. If I let dishes pile up, I might as well write them off as a lost cause because there's a high probability I'm not touching them for a few days (not like this has ever happened…whoops!).
I've now gotten into the habit of loading up my dishwasher all throughout the day as we eat meals, and then turning it on every single night. Our dishwasher is usually full after just one day, but even if it's not quite full yet, I still turn it on to get everything cleaned.
Then every morning I unload the clean dishes so we are left with a nice, empty dishwasher to put our dirty dishes into throughout the day. Easy peasy! Making this space for dirty dishes first thing in the morning helps me to not be deterred in dealing with them after every meal because there's really no excuse to not pick up after myself then.
2. Do at least one load of laundry every day
I know laundry is typically labeled as a "least favorite" chore for a lot of people, but for some reason it's always been one of the chores I actually enjoy! Unless there are bodily fluids from sick kids involved….then I hate it as much as everyone else. Hah!
One thing I've found that makes laundry more enjoyable for me is that I try to complete one entire load a day. This usually involves throwing a load of clothes into the washer first thing in the morning, moving them into the dryer around lunch or dinnertime, and then folding and putting everything away before I go to bed.
This means that on any given day, there are typically no clothes sitting on the floor of my laundry room. It's great to feel like I never need to do marathon laundry and folding sessions, and I find myself enjoying the 5 minutes or so that I'm forced to sit down every night to fold clothes.
Related: 5 Reasons You're Failing at Staying Clutter-Free
3. Regularly declutter
This is a habit that really helps to keep your home from getting too chaotic with extra stuff you don't need anymore! I love regularly going through our closets and random drawers throughout the house and figuring out what we can donate or toss.
I find that just because a particular item served me well last month, doesn't mean it necessarily still serves its purpose or is useful to me this month. And if there's one thing I can't stand, it's having things around our house that are not needed, wanted, or used. They are wasting space and need to go!
SIGN UP FOR MY FREE COURSE! If you'd like tips + strategies to help you declutter your home, be sure to click here to sign up for Simplify, my FREE 4-week course 🙂
4. Put items away as you use them
This is more of an ideal than something that I'm actually able to do on a 100% consistent basis, but it's something I strive for nonetheless!
It's so much easier to pick things up as you go rather than needing a huge cleaning session all at once. Some of my favorite routines to implement this particular habit are:
Putting dishes in the dishwasher or hand washing them right after I'm done eating or cooking.
Putting away my makeup and other toiletries every morning after I get ready for the day.
Throwing dirty clothes in the hamper right after taking them off.
These routines sound so simple that you wouldn't think they make that big of a difference in the overall state of your home, but I promise you they really do! Spending just an extra minute or two to pick up after yourself can make your life so much easier and make keeping your house tidy feel almost effortless.
Related: Tips and Tricks for Quick and Easy Cleaning
5. Spend 15 minutes tidying up every night before bed
This one habit alone is golden for keeping your house tidy, especially if you have kids or aren't super great at picking up after yourself throughout the day.
One of my favorite things to do to get my house back in order after a particularly chaotic day is to set a timer for 15 minutes and make it my own personal challenge to see how much I can tidy up and clean during that time frame. My hubby is usually in charge of bath time for Little Miss, so I typically use that time when she's preoccupied to tackle tidying up our house.
It's a great way to "reset" your house for the next day and go to bed feeling good about having a clean home. Waking up the next morning to everything picked up is the cherry on top too, I love waking up to a clean home!
Related: How to Keep Your Home Clutter-Free with Young Kids
6. Take your shoes off right when you come home
This is a great habit to adopt for multiple reasons. Not only does taking your shoes off right away help you keep them from being scattered all around your home, but it also cuts down on the amount of dirt and mess you are tracking throughout the house.
I've personally always found it to be rather gross to wear shoes in my home. You are tracking all kinds of nastiness from the outside world into your cozy abode, and making it that much harder on yourself to keep up with washing your floors.
If you really like wearing shoes in your house, consider investing in a pair of indoor shoes that you change into when you get home that never get to step foot outside. It will help you a ton in keeping your home cleaner without much extra work on your part.
Related: 19 Cleaning Hacks to Make Your Life Easier
7. Deal with items as soon as they enter your home
This concerns everything from mail to even items you've just brought home from the store. If you deal with each item as soon as it enters your home, you don't give things a chance to build up and then become an overwhelming pile of stuff you have to deal with all at once.
Instilling simple routines like sorting the mail as you bring it in and finding a home for new items you've just purchased can make such a huge difference in keeping the clutter around your home at bay. Put things where they're supposed to go right away so that you don't have to deal with an even bigger mess later on!
Do you have any habits that help you in keeping your home clean? Let me know in the comments below!
Don't forget to grab your free printable!