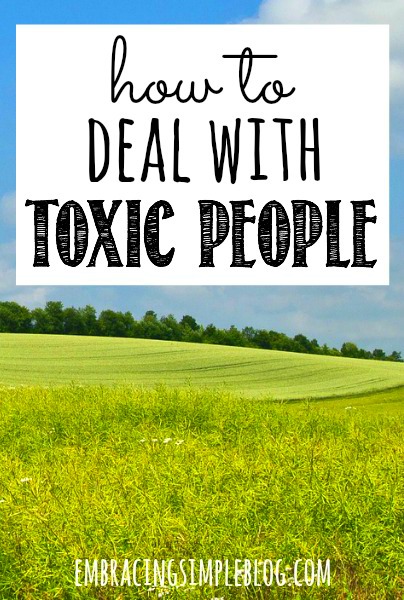 Lately I've been giving a lot of thought to toxic people and how we all deal with them. When I was younger, I think I definitely put up with a lot more toxic behavior than I would nowadays.
Labeling someone as "toxic" doesn't necessarily mean they are emotionally abusive, but they do typically judge others, spread negativity, and have a gift for making you feel the exact same way after being in their presence.
A simple phone call or chat with them can leave you feeling heavy-hearted, stressed out, or in a foul mood. Who wants to feel like that?!
I used to allow the toxic people in my life to drain my energy & positive attitude and affect my mood for the remainder of the day. Sometimes associating with them even turned me into the toxic person. Whether it was a co-worker, a friend, or even a family member, there are several instances now when I look back that I should have been more proactive in limiting my contact with those people. I would have been much happier at the time as a result.
At this stage of my life, I'm extremely protective of my inner peace and will fight like hell if someone is trying to ruin that for me. Some may view that as selfish behavior, but I think that sometimes you deserve to be selfish and guarded about how you let others affect you. The way I see it, if someone or something takes away from your ability to feel happy and peaceful, they need to be either dealt with or removed from your life.
How to stop wasting your energy on toxic people:
Identify the toxic people in your life
This is the first and most important step! Take some time to reflect on your interactions with everyone in your life and how you feel after talking to certain individuals. Do you find yourself in a bad mood or having a negative disposition towards life in general after every time you speak to someone? Evaluate your relationships and see which ones are having positive or negative impacts on your happiness and well-being.
Stop listening to their complaints
When you find yourself getting sucked into a conversation that is revolving on complaints and breeding negativity, you need to tune those complaints out. Whether it's changing the topic of the conversation, or even finding an excuse to physically leave the conversation, nothing good can come of listening to incessant complaining or negative remarks.
Drown them with positivity
If you really want to send them for a loop, go beyond just tuning out their complaints and instead drown them with positive remarks. Toxic people don't usually take well to the conversation being abruptly changed to something positive.
Find a way to put a positive spin on their negative remark and send the conversation spiraling to a happy place. If they are looking for someone to unload their negative energy onto in the future, they likely won't be coming to you again!
Don't spend one-on-one time with them
Hang out in groups if at all possible. For example – if it's a co-worker who has toxic energy and you find yourself being forced into social situations with this person, try to include others if at all possible. This way you are not the only one on the receiving end of the negativity and there are others to help you absorb the negative comments and try to put a positive spin on the conversation.
Don't take it personally
Toxic people are generally toxic to everyone around them, not just you. Don't take their behavior personally or as a direct reflection of you. They tend to not think very highly of themselves, and are displacing that negativity onto others as a way to cope. Their behavior has everything to do with them and nothing to do with you.
Have some self-respect
Perhaps this is someone who you've been friends with since grade school or is even your spouse. It can be hard to accept that their toxic behavior is impacting you in a negative way, but dealing with it is something that you need to make a priority.
You deserve to be happy and surround yourself with people who only lift you up and allow you to be the best "you" possible. You owe it to yourself to have enough self-respect to do what's best for you and your well-being
Surround yourself with positive people
This is by far the easiest way to combat toxic people in your life! Fill your life up with positive people who radiate good energy and encourage you to be the best "you" that you can be.
These are the people that build you up and have faith in your ability to do whatever you set your mind to. They don't judge you for being who you are, and are supportive and genuinely happy for you when you succeed.
Stop spending time with them
This proves to be much more difficult if they are co-workers or close family, but try to at least drastically decrease the amount of time you spend with them.
If someone is affecting the way you view yourself or the world around you in a negative light and is preventing you from being the absolute best person you can be, there is absolutely no reason why that person should still be in your life.
I understand that sometimes this can be a parent or perhaps even your own child you are dealing with, which would make this whole process significantly more difficult to get through.
If this person is in your closest inner circle, I would definitely suggest sitting down and having a conversation with them about how their behavior has had a direct impact on you in a negative way, and that things need to change.
You might be presenting a great opportunity for them to reevaluate their disposition towards life and help them turn their attitude around for the better.
Have you ever had to deal with someone who was toxic to your happiness? Do you have any tips to share that helped you in that situation?