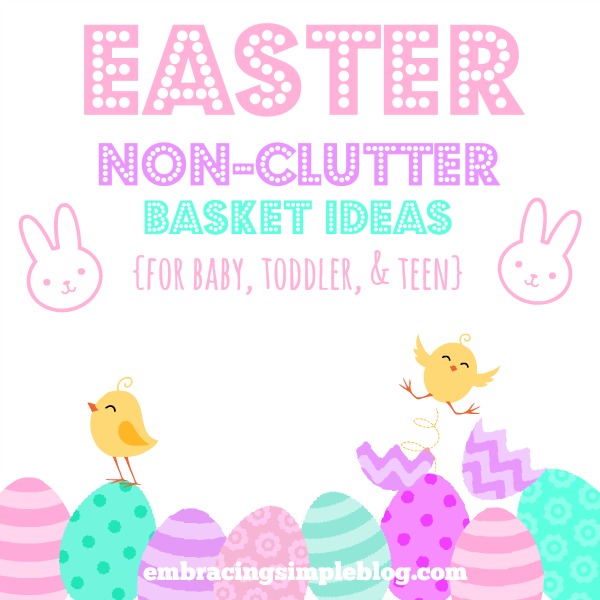 Hi Friends!
I'm really excited to share some fun, non-clutter Easter basket ideas I've rounded up. I truly had a blast putting this together!
I initially was only going to do Easter basket ideas for babies and include items that Little Miss either has (and adores), as well as what the big bunny has planned for her basket. But then I was having way too much fun and my idea really mushroomed into what turned out to be a pretty comprehensive non-clutter Easter basket ideas guide for everybunny on Easter morning.
I'll all for giving kids a little bit of candy in their Easter basket. I mean, how can you deny those angelic faces of chocolate bunnies, jelly beans, and Cadbury creme eggs?! Unfortunately at 8-months-old, Little Miss is too young to indulge in the sweets that her Mama would just steal from her loves oh so much. It got me thinking about alternatives to candy that would still look adorable paired together in a basket, while also not turning into clutter around the house once Easter morning is over.
I went with the overall theme of spring & summer, and many of these items such as new clothes for the upcoming warmer weather, are things I would need to purchase for her in a few weeks anyway. I love to kill two birds!
I've put together some ideas grouped by baby, toddler & younger kids, and then older kids & teens. Also, I owe an advanced apology to the Mamas of boys out there. I have just my one daughter, so mostly girl-specific items are what inspired me for my guide, but you can definitely take these ideas and put a boy spin on them! 🙂
Non-Clutter Gift Guide: Easter Basket Ideas for All Ages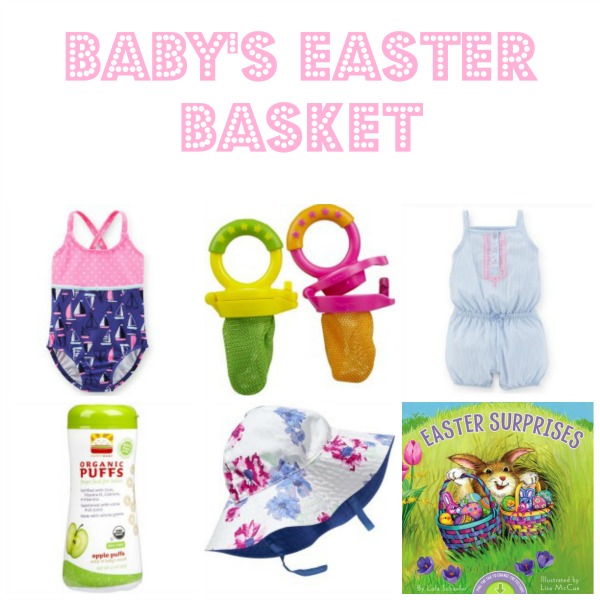 Sailboat Swimsuit // Mesh Fresh Food Feeder //  Stripe Romper
Organic Puffs Snacks // Sun Hat // Easter Surprises Book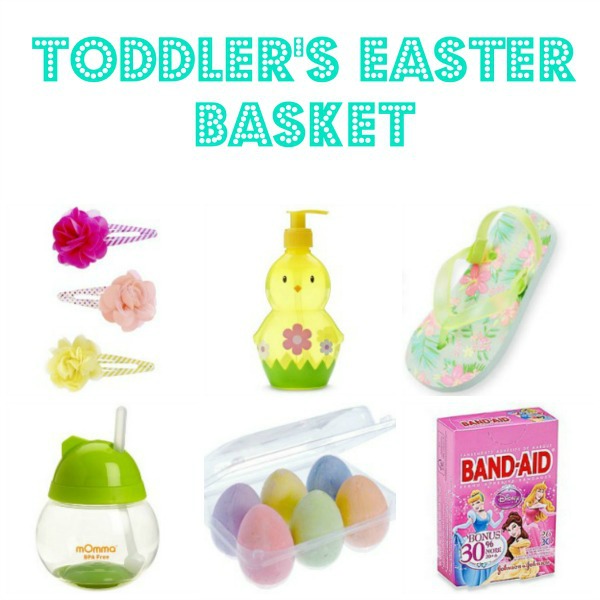 Flower Hair Clips // Chick Hand Soap // Flip Flops
Straw Sippy Cup // Egg Sidewalk Chalk // Fun Band-Aids
Nail Polish // Floral Note Cube // Pastel Socks
Lotion // Eos Lip Balm // Gift Card
 
I hope these ideas were helpful in giving you inspiration for some non-candy and non-clutter goodies for your little bunny's basket!
If you enjoyed this post, I invite you to subscribe to receive notifications when I share non-clutter gift guides I will be putting together for all the upcoming holidays!
*There are affiliate links in this post.